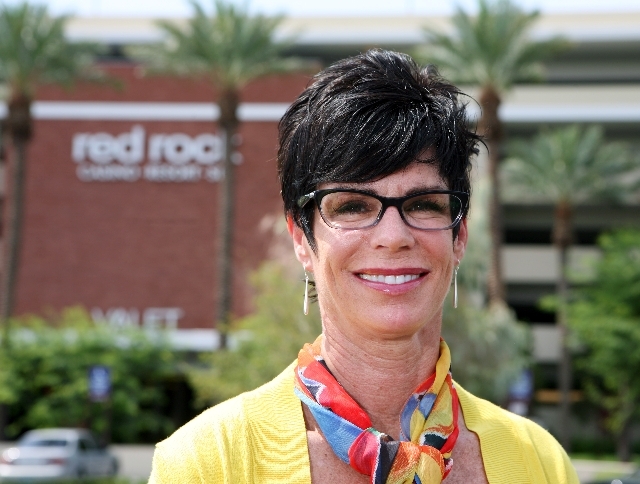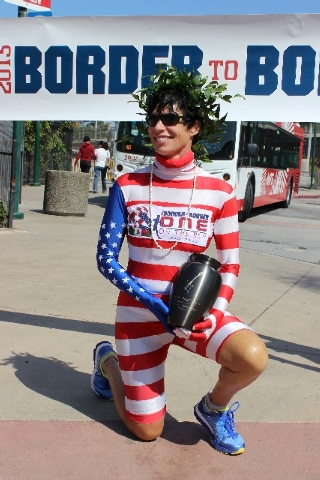 Don't tell Helene Neville it can't be done. The northwest Las Vegas resident has battled Hodgkin's lymphoma, a type of cancer, by taking up long-distance running. And by all accounts, she is beating the odds.
Neville has organized the 2013 National Nurses Health Institute: Charting a Course for Change event at Red Rock Resort in October. The speaker series includes the National Nurses Half Marathon & 5K, with the motto "Not Just For Nurses."
In fact, anyone can sign up. Neville said that originally, she was thinking of setting up a half marathon in New York or the Midwest, but when she saw Red Rock Canyon, it was no contest. Besides, that's where she said she would go when she was feeling sick, to relax and appreciate nature.
The half marathon is set to start at 6 a.m. Oct. 13 at the termination of the Scenic Loop Drive and finish at the Red Rock Canyon Visitor Center. Kirsten Cannon, Bureau of Land Management spokeswoman, said the loop sees four to six running events each year. Races are set up so runners are facing oncoming traffic.
"We place cones out during races to better protect runners, but we advise that drivers exercise extra caution and leave plenty of room for runners," she said.
Neville said she had no idea she had Hodgkin's lymphoma "and I was a nurse at the time. The weird thing was, I had an earache, and I went to multiple doctors. … By the time I was diagnosed, I couldn't even walk."
The cancer had abscessed in her head. Between 1991 and 1998, she had three brain surgeries. One day in 1998, her doctors told her it was time to get her affairs in order. She went home and decided she had to create happy memories for her two children. She also realized that her bucket list included running a marathon. Neville had run track in middle school and high school, but now she went for distance. She signed up for a local marathon in nearby Chicago.
She and her sons, then ages 11 and 13, jumped in her car, set the trip odometer and drove 26.2 miles to get an idea of how far she'd have to go. She was not deterred.
"I thought, 'That can't be too hard,' " she said.
But her training got sidetracked. She was able to run only six times before the marathon. The day of the race, she hung back, listening to others talking around her.
"There were, like, 40,000 people … and everybody's comparing notes on how they've trained and what method they used, how many times they'd done a 20-mile-long run, and I just stood there praying that nobody would ask me," she said.
The gun went off, and Neville told herself to "just keep going." She finished in 4 hours and 28 minutes. Since then, she's run 26 more marathons, added body building and mountain climbing to her hobbies and then tackled running across the country.
In 2010, she ran from Ocean Beach, Calif., to Atlantic Beach, Fla., taking 93 days to complete the 2,520-mile course. Some days she put in as many as 50 miles.
"I was looking to make an impact and help people on a larger scale," she said of why she began long-distance running.
She used the run to raise money for an underserved school in Philadelphia. In June, she completed a run from Vancouver, British Columbia, to Tijuana, Mexico, covering 1,500 miles in 45 days. Along the way, she made appearances at hospitals and talked to fellow nurses and health professionals.
Neville inspired fellow nurse Amy Ross, director of medical oncology at Phelps County Regional Medical Center in Rolla, Mo. Ross was already a recreational
runner. After meeting Neville at a nursing conference in May 2012, she was inspired to train for distance under Neville's guidance, qualifying for the 2014 Boston Marathon. She has inspired her coworkers to do 5Ks, whether walking or running.
"I told them that, as director of the unit, they'd better show up," Ross joked. "… Nurses are used to taking care of everyone else. After they're done with their 12-hour shifts, they're so tired, people don't" make the effort to exercise.
Neville knows the benefits of exercising. Even when the Hodgkin's put her back in the hospital, she'd return to running after being discharged and beat it back again. Working within the health profession, she said, made her discouraged to see colleagues who didn't make an effort to be active.
"If you tell a patient to eat right and exercise, and you don't (follow that advice), the credibility is really lost," Neville said. "There was nothing out there for a nurse, by a nurse, so I wrote my first book."
The result was "Nurses In Shape, The Right Dose," which she self-published in 2010. She has written another book, "One On The Run, 93 Days Across America," which she published in 2012.
"I'm not trying to get people to run across the country but to reach for the dream, whatever dream that they have, whether it's getting off the couch or doing a 5K, doing something," she said. "If I can do what I've done, maybe they can do something, maybe (their dream) is not so impossible."
The 5K costs $65, and the half marathon is $80. For more information, visit national
nurseshalfmarathon.com.
Contact Summerlin/Summerlin South View reporter Jan Hogan at jhogan@viewnews.com or 702-387-2949.
National Nurses Half Marathon & 5K
The National Nurses Half Marathon & 5K is set to start at 6 a.m. Oct. 13 at the termination of Red Rock Canyon's Scenic Loop Drive and finish at the Red Rock Canyon Visitor Center. The 5K is set for 6:30 a.m. The cost is $65 for the 5K and $80 for the half marathon. Any funds raised will go to Edna Adan University Hospital in Somaliland, East Africa.
For more information, visit nationalnurseshalfmarathon.com.