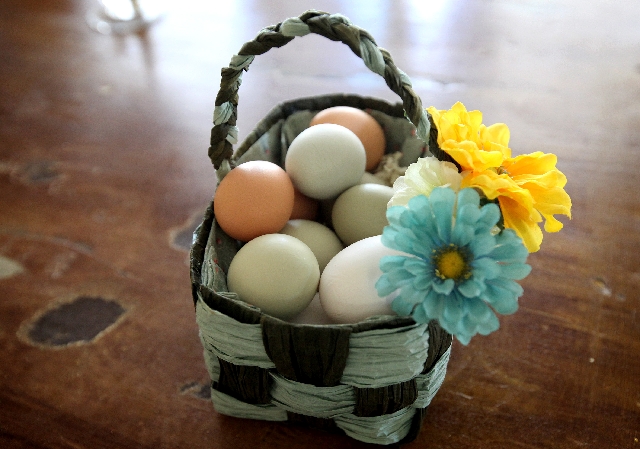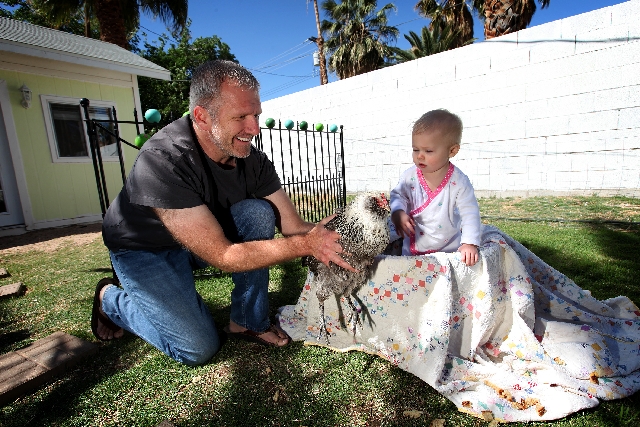 If you are driving through a downtown neighborhood, don't be surprised to find a chicken crossing the road.
Fowl is fair game, according to the city of Las Vegas' chicken ordinance, and downtown residents such as Steve Spann and his six chickens are taking full advantage.
The ordinance allows residents to keep poultry within 350 feet of neighbors' properties with written consent from the neighbors . Crowing roosters, however, are prohibited.
"They're just amazing creatures, very social," said Spann, who previously lived in Garden Valley, Texas, where he raised as many as 30 hens.
His love of chickens began years ago when he sent a friend 2,000 live crickets in the mail. Spann's friend, in return, sent him 30 chicks.
After discovering that backyard chickens were legal in the Historic John S. Park neighborhood just south of Charleston Boulevard, Spann ordered a dozen marans.
"The company sends them to you a couple days after they hatch," he said.
The Spanns raised the lot for a few months until, in the modest backyard, the droppings became too much.
"It is much easier to manage with only six," said Spann's wife, Mary Ellen Spann.
The husband and wife gave five of the hens to their neighbor Mel Lewis, a Las Vegas firefighter who said the stress from his job often followed him home until he made some new feathered friends.
"I like to come home and just sit and watch them." Lewis said. "They're better than television, some of the antics they get into."
Lewis said that since he started tending to the farm animals, his blood pressure dropped and he is less stressed.
Lewis' pampered poultry live in an air-conditioned backyard coop outfitted with running water and powered by solar panels.
The Spanns said they agreed their roommates are nice to have around.
"They are really entertaining," she said. "When I'm doing my morning stretches in the casita, they stand in front of the (glass) door, just watching me."
Trifecta Gallery owner and fellow John S. Park neighborhood resident Marty Walsh has a chicken of her own : a bantam that she named Spicy who appeared in her eucalyptus tree one day.
"We have no idea where she came from, but I'm happy she's here," Walsh said. "She's somebody to have coffee with in the morning."
The eggs are also a benefit. Lewis said his five hens lay about four eggs a day.
"The free-range eggs you can buy at the store are obviously better, but these eggs are even better," he said of the small, incongruent eggs of blue and green.
Steve Spann said his hens produce about five eggs a day.
"(The eggs) are so much better than store-bought," he said. "It makes me wonder what kind of stuff is put in the store-bought eggs."
The Spann flock has been clucking around downtown for seven months, and Mary Ellen Spann said she and her husband have no plans of eating members of the brood.
"The feather plucking is a bit of a deterrent," she said.
The downtown chicken owners see their fowl as something more than a food source. The hens are closer to pets.
"They give you way more than you put in," Walsh said. "There is something very basic about it — that back-to-the-land feeling."
Contact Paradise/Downtown View reporter Nolan Lister at nlister@viewnews.com or 702-383-0492.