Choral concerts vary from folk songs to masses
February 26, 2013 - 12:00 am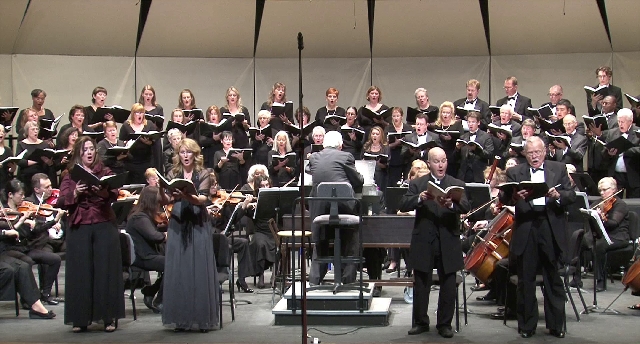 A number of choral groups are planning spring concerts. Here is a look at four of them:
SOUTHERN NEVADA MUSICAL ARTS SOCIETY
The Southern Nevada Musical Arts Society is celebrating its 50th season. The group plans to present "The World Beloved: A Bluegrass Mass" by Carol Barnett at 7:30 p.m. Saturday and 3 p.m. Sunday at the College of Southern Nevada's Nicholas J. Horn Theatre, 3200 E. Cheyenne Ave., in North Las Vegas.
Tickets are $15, $12 for seniors, students, the disabled and military personnel. For tickets, call 702-651-5483.
Also, its chorus and orchestra plan to perform "Lord Nelson Mass" by Joseph Haydn at 3 p.m. April 28 at Artemus W. Ham Hall at the University of Nevada, Las Vegas, 4505 S. Maryland Parkway. Soprano Amy Cofield Williamson and bass baritone Neil Wilson are the slated soloists.
Tickets can be purchased at the UNLV Performing Center box office or by calling 702-895-2787. For more information, visit snmas.com.
This year also marks the 45th anniversary of Dr. Douglas Peterson, its resident conductor. Peterson, 87, was heavily involved in setting up UNLV's music program. He retired as emeritus associate professor of music at UNLV in 2003, having taught for 36 years.
"It was called the Nevada Southern University then," he said. "It was a barren campus with gravel roads."
Peterson said the highlight of last season was a tossup between its Mendelssohn concert and the "Mass of the Children" by John Rutter. The latter drew talent from the Greenspun Junior High chorus.
"It attracted quite a bit of excitement, even across the country," he said. "John Rutter's music is very popular and has quite a following. … Engaging some of the school population is something we try to do."
DESERT CHORALE
Desert Chorale's Easter concert is slated for 7:30 p.m. March 17 at The Church of Jesus Christ of Latter-day Saints, 4040 E. Wyoming Ave., near Gateway Avenue. Desert Chorale is celebrating its 30th anniversary this year and has appeared, by invitation, nine times in the Temple Square Concert Series in Salt Lake City.
Founder and director Nancy Helm said it began as a small choir at the LDS church and kept growing.
"Did I have any idea it would last 30 years? Absolutely not," she said. "But not only has it lasted 30 years, but I have four grandchildren who've been in it, and one of them has been a featured soloist."
It performs all genres and averages about 60 members. All are required to audition and to read music.
In 2006 it appeared in Toronto, where it was the featured guest of the Boris Brott Summer Music Festival. It also has been to New York City, where it sang at the Washington National Cathedral and the John F. Kennedy Center for the Performing Arts.
Helm said appearing afar provided "an excellent representation of Las Vegas and what Las Vegas has to offer beyond the Strip. We've found when we've gone that it generates a lot of interest –– 'Oh, people really live there, and you really do have art' –– so I think that's a big plus for Las Vegas."
Admission to the concert is free. For more information, call 702-531-3550 or 702-375-1139, or visit thedesertchorale.org.
LAS VEGAS MASTER SINGERS
The Las Vegas Master Singers plan to present "Around the World" at 3 p.m. Sunday at the Doc Rando Recital Hall at UNLV. It is set to feature the Del Webb Middle School choirs and include African spirituals, Latin American pieces and American folk songs.
Tickets start at $8, $5 for seniors 62 or older, students and the disabled. For more information, call the UNLV Performing Center box office at 702-895-2787.
"The Time for Singing Has Come" is planned for 3:30 p.m. April 7 at Grace in the Desert Episcopal Church, 2004 Spring Gate Lane, where high school guest choirs will be introduced. Season flex-pass tickets are available for $30.
For more information, visit lvmastersingers.com.
The Master Singers have been known to perform with the Las Vegas Philharmonic and the UNLV orchestra. The group was founded in 1993 by Susan L. Johnson and involved about two dozen vocalists, she said, who came together to sing "for the joy of it."
Now it has a large group of as many as 120 singers and a chamber group of 30. Participants for both groups must audition before acceptance. Some have bachelor or master's degrees in music, while others have occupations across the board.
But they are all "people who are enthused by choral music," said Jonathan Baltera, assistant conductor and president of the board of directors.
"The people with music degrees bring expertise and experience in a lot of forms of music, but with people who maybe don't have degrees, they bring a lot of excitement to choir that people who have been doing music maybe don't have. So you hit both sides –– people with expertise and people who bring a lot of excitement."
The number of performances varies by year.
MYRON HEATON CHORALE
The Myron Heaton Chorale is a communitywide chorus that was founded in 1990 and draws from professional singers in the Las Vegas Valley.
Myron Heaton plans a performance of Wolfgang Amadeus Mozart's "Mass in C Minor" at 7 p.m. March 10 at The Lakes Lutheran Church, 8200 W. Sahara Ave. Tickets are $10. For more information, visit myronheatonchorale.org.
In its early years, MHC sponsored such diverse performing groups as a dance company, a show choir and a children's chorus. Those spun off on their own in 1997, and only the chorale now carries the Heaton banner.
"Our overall mission is to explore the highest standards of choral music and explore new choral music, as well as revivals of great classics from the past," said Myron Heaton, the group's founder.
The group has gone to Europe six times, including performing in St. Peter's Basilica at the Vatican and Notre Dame Cathedral in Paris. It's also been invited to Mexico three times and to China once. In 2012, it went to San Francisco to perform. This year will see a tour of the Eastern Seaboard.
The performance will feature a masterwork by Mozart called "Grand Mass in C Minor." It was a piece Mozart did not complete. Heaton, as a musicologist, studied the composer's intent and filled in the missing sections.
"I haven't composed anything new," he said. "I've used Mozart's music, but it's music that he put into other places, other locations, that he had intended to use for the Mass."
Contact Summerlin/Summerlin South View reporter Jan Hogan at jhogan@viewnews.com or 702-387-2949.