City of Las Vegas quietly reopens Huntridge Circle Park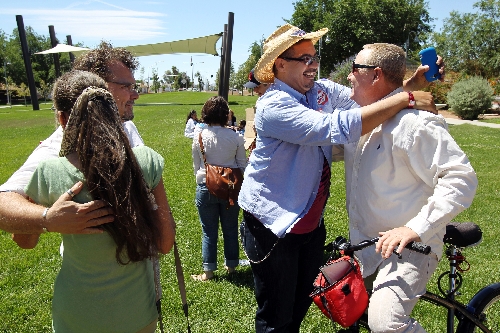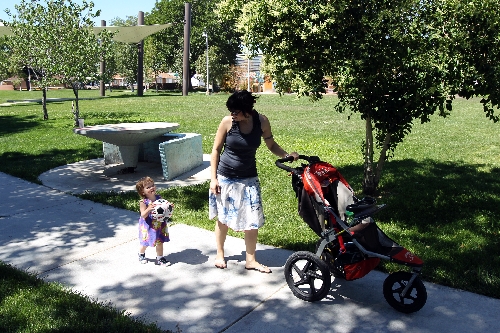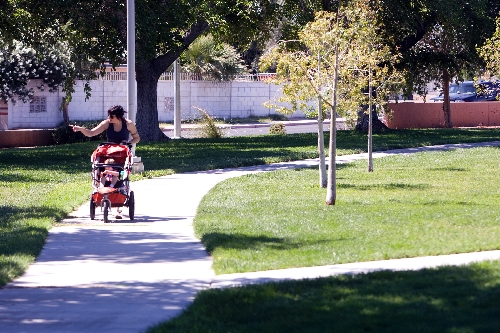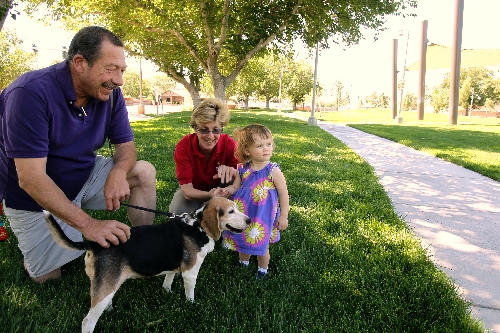 The quick and quiet reopening of Huntridge Circle Park last month came as a surprise to many in the neighborhood.
Las Vegas city officials were silent about its Memorial Day weekend opening. As of press time, even the city's website still listed the troubled park as closed.
But Mayor Pro Tem Gary Reese, who represents Ward 3, where the park is located, knew several weeks in advance because he authorized the park's opening.
Reese said he gave the green light to open the park after a recent meeting with members of the Las Vegas Veterans Memorial Foundation. The group is so far behind financially that the park would have been closed for another two years waiting for them to catch up and build the proposed veterans memorial, Reese added.
The memorial, which is expected to occupy about half of the park, is estimated to cost $800,000 to $1.2 million — all of which was promised to be raised in private donations by the foundation. The project's website has since shut down.
"I'm not one of those people who do things for political gain. I'm out of (City Council) in a couple of meetings," Reese said. "… I just hope the neighbors appreciate the park and use it like it's supposed to (be used)."
The city shut down the park in 2006 because of ongoing safety issues involving the homeless that included the fatal stabbing of a homeless man.
"People were popping pills in there, and there were all kinds of needles and syringes," Reese said. "It was a haven for them. We had people beating up and killing each other. There were more reported fights, too."
Reese was instrumental in the council's 2009 passing of a picnic pavilion or special event permit process for residents who want to drink in the park as a result of the safety and trash issues.
Brown and white "Park Open" signs suddenly appeared at the park on Maryland Parkway near Charleston Boulevard. The park is scheduled to be open on a trial basis from 7 a.m. to 9 p.m. Saturdays and Sundays, said Jace Radke, city spokesman.
It was unknown how long the trial period will last. Las Vegas marshals will patrol the area during that time.
"A park should be opened seven days a week, but I don't want to see anything happen again," Reese said. "We still have neighbors concerned about safety. When the park was open, the crime rate was up high. Since it's been closed, it's down low."
Some neighbors discovered the park was open that Friday, which meant city offices were closed. Some said the move was politically motivated. The park has been a debate topic for Ward 3 candidates Bob Coffin and Adriana Martinez. Both pledged to reopen the park should they be elected to office.
Most, like Lance Kirk, president of the West Huntridge Neighborhood Association, were happy the park is now open but expressed concern about a lack of communication between city officials and residents.
"I expected more of an outreach. We want to work with you. What do we need to do?" said Kirk, who has been outspoken about reopening the park. "Yes, it's good to open the park, but opening it doesn't necessarily mean things that happened before won't happen again."
Las Vegas real estate agent and neighborhood activist Jack LeVine said he was "flabbergasted" at how it was reopened.
"There were no press releases," LeVine said. "The neighborhood associations weren't contacted. The activists weren't contacted."
As for the lack of publicity, Reese makes no apologies.
"I felt like whenever you get four or five people together, they don't always agree on everything, and we would just open it quietly," he said. "We felt like because of the holidays, we just needed to go in there.
"I'm going to be gone in a month, and hopefully the person who takes over my job will be able to go in there and make sure it stays open. I've got the promise from the park marshals that it's patrolled and taken care of."
In a few weeks, city officials plan to open Doug Selby Family Park at the intersection of East Washington Avenue and Sandhill Road in Sunrise, Reese added.
Contact Downtown and North Las Vegas View reporter Kristi Jourdan at kjourdan@viewnews.com or 383-0492.