Club serves as resource for those considering pet birds
November 13, 2015 - 2:30 pm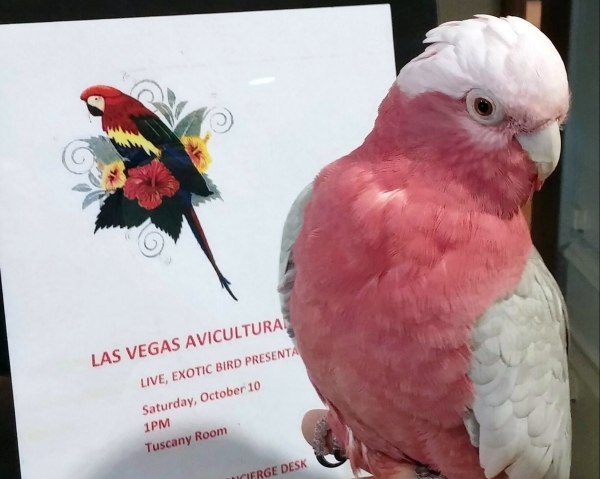 It's typically only a matter of time before people hear about the Las Vegas Avicultural Society while doing their homework before purchasing a bird.
"I wanted a parrot," said Cindy Holub. "I did research because you have to do research because you have to know what you're getting, or you're going to have trouble. Having a parrot is not like having a dog or a cat. They need specialized attention, specialized vets."
Holub now owns four pionus parrots: two maximilian's pionus, one bronze-winged and one coral-billed. She also has since joined the society, also known as the Las Vegas Bird Club, and likes that it serves as an informational resource for taking care of her birds.
The group was founded in 1977 and studies foreign and native birds, spreads awareness about them, offers information on caring for birds in captivity and strives to help preserve threatened species. The club has about 70 active members.
"We focus on education and awareness of domestic birds, especially parrots, but we do have members that specialize in pigeons and doves," said Noel Benoit, group secretary. "Our focus is on the birds we have at home that we keep in cages."
Benoit, who said he owns 14 parrots and one canary, said birds should not be considered domestic, despite the fact that they are commonly kept as pets.
"When we say domestic birds, we consider them exotics," he said. "We do not consider them tamed because they are wild creatures. Parrots have been part of human life for about 200 years, compared to tens of thousands of years for cats and dogs."
The group's Fall Bird Mart was held Oct. 18 at the Henderson Convention Center, 200 S. Water St., which offered cages, perches, bird food, bird toys, arts and crafts and other items. Avian veterinarians are typically guest speakers at the events, which help raise funds for the club. People are welcome to bring their birds.
"The birds sit there right on the table with us or they stand," said Carol Bell, group president. "Interaction and stimulation are really good for birds."
The events are held from 9 a.m. to 3 p.m. on the third Sunday every May and October at the Henderson Convention Center. Admission is $7 per person or free for children 10 or younger. The group also meets at the venue monthly at 1 p.m. on the second Sunday, and the session is open to the public.
"We start with a bird of the month, and then we invite speakers," Bell said. "The speakers really vary. We get avian vets to come in. They'll talk about health and the importance of checking your bird."
Speakers have included people from Gilcrease Nature Sanctuary, 8103 Racel St.; the Roos-N-More Zoo, 746 Snowden Ranch Road in Moapa; the Best Friends Sanctuary in Utah, the Southwest Wildlife Foundation and internationally renowned avian educators, such as Robin Shewokis.
Bell said she became interested in birds in 2009, when her husband, Bob Manning, brought home an Amazon parrot. She later learned about the Las Vegas Avicultural Society, attended one of its meetings and liked what she saw: people spending time with their birds and learning about caring for them.
"I said to my husband, 'We're joining,' because I knew nothing," Bell said. "Six years later, I'm president of the club."
Benoit, who grew up in a rural area in Vermont, said he has always loved birds. In fact, he took a bird observation course in seventh grade and studied the creatures.
"We had to learn to identify at least 100 species of birds by flight, by sound and by sight," he said.
Still, Benoit said he did not own a bird until 13 years ago, when he met his husband, Ken Hebert, who adopted a parrot in 2006. Hebert is a veterinary technician and also is a member of the Las Vegas Avicultural Society, Benoit said. Manning belongs to the group, too.
Club members stressed the importance of having some knowledge about caring for birds before acquiring them.
"Do research to look at the different types of birds, then find out where they come from and about their habitat, then go to a resource like Gilcrease to see how they are cared for," Benoit said.
Adopting a bird is better than acquiring a baby one because they are easier to care for and benefit animal shelters, Benoit added.
Club members said prospective owners also should be aware that birds are noisy, as well as messy because they throw their food due to foraging habits.
"Cockatoos from Australia and Southwest Asia make dust," Bell added. "It's on your wall; you pet your bird, and it's on your clothes. You also can breathe in the dust. New bird owners also should get used to handling their birds in case of emergency. Also, you don't want a bird sitting in a cage for the rest of its life."
Membership with the society costs $25 a year, and members of people's households can join for $10 more.
Visit lasvegasbirdclub.com.
— To reach Henderson View reporter Cassandra Keenan, email ckeenan@viewnews.com or call 702-383-0278. Find her on Twitter: @CassandraKNews.
Las Vegas Avicultural Society
Meetings 1 p.m., second Sunday of the month
Henderson Convention Center, 200 S. Water St.
Open to the public
Membership: $25 a year; others in member's household: $10