Community forum warns about scams targeting Las Vegas' senior population
September 15, 2016 - 5:00 am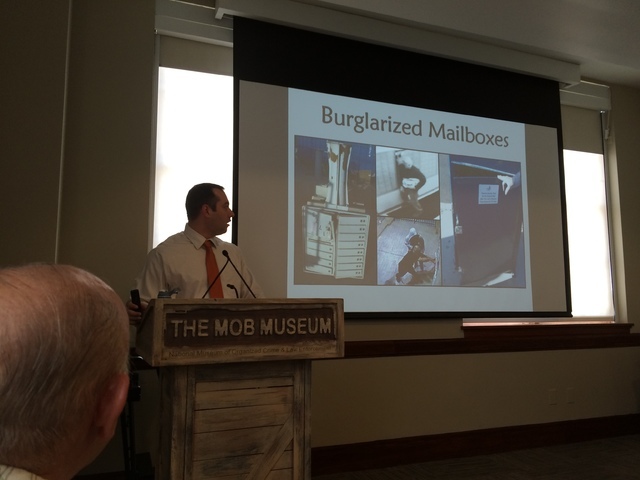 When it comes to ways to run scams on seniors, the sky's the limit.
As much as 26 percent of the U.S. adult population falls victim to telemarketing scams each year, and 57 percent of those people are age 50 or older, according to a 2001 AARP study. Locally, the Metropolitan Police Department investigates roughly 400 to 500 cases each year that fall under "elder abuse," a blanket term that does not specify the type of crime. Legally, the term "elder" constitutes those age 60 or older.
At a community seminar offered Aug. 21 through NV Energy at the Mob Museum, 300 Stewart Ave., Metro Detective Chris Grivas spoke about the various ways older people can be scammed out of money.
"We've seen multiple cases where a nurse is caring for someone, and then (after their death), a mysterious will shows up, leaving all the money to the nurse," Grivas said. "We see it all the time."
He told of one situation where the grandson's girlfriend had racked up thousands of dollars of debt on the grandfather's new credit cards, including one for Victoria's Secret.
"When I asked him, 'Do you know what Victoria's Secret is?', he had no clue," Grivas said. " 'No.' 'What about Amazon?' He went, 'Is that in Brazil?' So, this is an issue. And a lot of times, this happens because people aren't seeing their statements."
Thanks to the internet, scams now operate internationally and 24/7. The bail bond scam is popular right now, Metro said. A caller will say that Little Johnny, your grandson, is in jail and needs funds to get out. Either call Johnny's parents or do an inmate search at the county website.
"Don't give them your credit card number over the phone," Grivas said. "By the time you realize what's happening and report it as stolen, that card is maxed out."
Another popular scam is when someone calls to say there's something wrong with your computer and they can fix it if you give them remote access. They then purge it for any personal information.
Pat S., who lives in eastern Las Vegas and declined to use her last name, said she'd gotten a call like that recently.
"He was saying, 'Do this, do this, do that, now press that button'," she said. "And when he said, 'Press that button. See it? Press it, press it,' something told me not to do it. He got too excited. I hung up the phone and realized after the fact that that was what he was trying to get me to do."
Another scam: Get a call from someone claiming to be with some police agency saying there's a warrant for your arrest. The victim is told that paying a fee will make it go away, just hand over a credit card number.
Retired Dr. Len Kreisler, a Summerlin resident, said, "I get calls every few months about winning something, or about my credit card. I hang up on those. I used to get ridiculous letters from Nigeria too. Their English was atrocious."
The Federal Trade Commission found that telemarketing accounted for 19 percent of all fraud complaints reported in 2010.
The bottom line is, if you aren't sure about something you're being asked to do, don't do it.
If the IRS calls and say you owe past taxes and to pay by credit card, don't believe them, the audience was told. The IRS does not contact people by phone, nor does it operate that fast.
"Look how long it took them to nab Al Capone for income tax evasion," Metro Sgt. Troyce Krumme said.
"No one's going to call to say you won the lottery that you didn't enter, and if you just pay this wealth transfer fee, you'll get the money," Grivas added.
Some email scams look legitimate, they said, using a logo from an established company. But when you click on it, you're redirected to a different site. Back out and delete the email.
Not all scams are high tech. Dumpster diving is popular for getting credit card and bank statements. Crosscut shredding will thwart that. Also, don't advertise on Facebook that you're away on vacation. Install security doors, use window protection, put lights on timers if going away and install motion-activated outdoor lights.
Ways to keep from being a victim include: not leaving mail in your car where it is visible; not carrying your Social Security card; not carrying your passwords; taking outgoing mail to the post office; not giving out your credit card number over the phone or when answering an email; routinely checking your credit report at a secure site such as annualcreditreport.com; and, if using a wireless router, running a virus scan often.
Report elderly abuse to Metro's Abuse/Neglect Unit at 702-828-3364.
To reach Summerlin Area View reporter Jan Hogan, email jhogan@viewnews.com or call 702-387-2949.