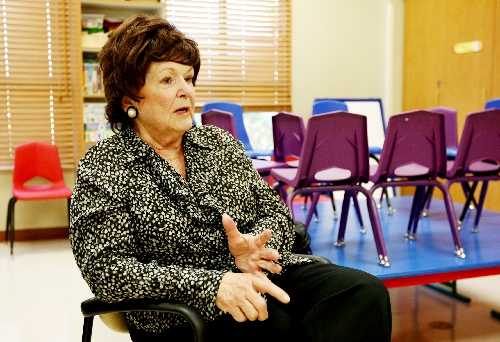 With its kempt Scotch '80s homes on one end and its aging infrastructure on the other, Ward 1 seems to be a tale of two cities.
About 100,000 people live in one of the city's oldest areas, battling graffiti, drug houses, decaying sidewalks and abandoned homes. Squatters have taken over on some properties, at times, pirating electricity and other utilities.
In a classroom at the Mirabelli Community Center, 6200 Hargrove Ave., Councilwoman Lois Tarkanian addresses the ups and downs of her ward.
"The infrastructure is starting to fall apart," she said.
Tarkanian, who joined the council in 2005 after a special election and has been re-elected twice, paints a picture of a struggling community desperately seeking resources to keep the area going — a tale well-known in other parts of the city.
West Sahara Avenue at South Decatur Boulevard, on the city side, was pummeled economically. Once-thriving businesses are now closing their doors. The national closing of Borders bookstores, which had one location at the intersection, was another financial blow to the community.
Making sure residents know what city resources are available has proved difficult, Tarkanian said.
"The biggest key is people," she said. "Will we make everybody happy? No, but we'll make 90 percent pleased with what we're doing. There's always more we wish we could do, but we can't do it because of the economy or some other problem."
Keeping existing businesses while attracting new ones also has posed a challenge, she said.
"There's a very strong emphasis on redeveloping and encouraging new businesses," the 77-year-old said. "There are continuing efforts in having people use our resources."
The ward has relied heavily on the creation of neighborhood associations, where smaller communities group together to partner with the city, have their needs met and take personal responsibility for the area in which they live. Ward 1 has more neighborhood associations than any other ward, according to city officials.
"There's a very big emphasis on community involvement," Tarkanian said. "You cannot change the problems of an older ward unless you have everybody helping."
J. Patrick Mulhall is president of the Artesian Heights Neighborhood Association, bordered by Arville Street on the west, Charleston Boulevard to the north, Oakey Boulevard on the south and Hinson Street on the east. The association brought neighbors closer together with shovels and rakes and held the community accountable, Mulhall said.
"But when the bottom fell out of the market, we ended up with a lot of homes that are vacant," the 72-year-old said. "It really put a dent in what the neighborhood was. It could have gotten a lot worse if we didn't know each other, and we looked out for things that were going on and tried to get them stopped before they happened."
That includes squatters who occupy abandoned homes.
"They just come and go," Mulhall said.
The city's redevelopment program is starting to have a presence in the ward, Tarkanian said.
Bus stops, sidewalks and other aesthetic projects are in the works, thanks in part to funds awarded by the Legislature.
"Some people complained — they didn't want to tell the state we're blighted, but it's just a bureaucratic term," she said. "We have places in our ward that are on the edge and could become blighted areas. … We have people who use (abandoned) homes as if they were their own. They steal electricity from the neighborhood."
Banks that handle foreclosed properties often fall short on their upkeep efforts, but the city is monitoring these properties more efficiently, Tarkanian added.
"We want to develop the feeling of community, not just static groups but the feeling that we're together in this and can overcome problems together."
Contact View reporter Kristi Jourdan at kjourdan@viewnews.com or 383-0492.
Contact Lois Tarkanian
Ward 1 residents who would like to contact Councilwoman Lois Tarkanian can reach her office by phone at 229-6405, by fax at 382-8558 or by mail at City Hall, 10th Floor, 400 Stewart Ave., Las Vegas, NV 89101.
For more Ward 1 information or to send her an email, visit lasvegasnevada.gov/government/4915.htm.