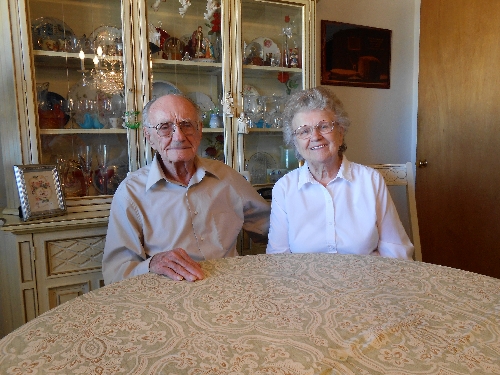 It is one of those fairy tale endings , "They lived happily ever after."
After 70 years of marriage, longtime downtown Las Vegas residents Arthur and Lillian Richert said they would not change a thing.
Lillian Rasmussen came to Las Vegas in 1942 on a train with gas-powered lamps – the newer trains were commandeered for the war efforts – to meet her eventual husband, Arthur Richert.
"All I knew of Las Vegas was it was where Carole Lombard died," Lillian Richert said.
Originally from Arco, Minn., she said she was amazed by the hustle and bustle of the burgeoning Las Vegas.
"This was such a lively place," she said. "It took us just three days to decide to stay."
Arthur Richert arrived in Las Vegas a few years earlier after enlisting in the U.S. Air Force. He was stationed at Nellis Air Force Base, which at the time was known as the Las Vegas Army and Air Force Gunnery School.
"There wasn't much to (the city)," he said. "When I first arrived, I was staying at a motel just off of east Fremont Street and everything behind it (to the north) was desert."
He said he wrote his love in Minnesota often and always asked her to join him in the desert.
"I told her all the other airmen's wives moved here," he said, laughing.
Arthur said those first years were lean, and the newly weds mostly played cards with friends, including soon-to-be Las Vegas Mayor Oran Gragson – who at the time owned a furniture store – and his wife.
"When you make $21 a month, you don't do much," Arthur said.
But the couple managed to have some fun around town every so often.
"I remember standing in line at 3 in the morning at the Silver Slipper for the 49-cent breakfast," Lillian Richert said. "We had plenty of good times."
Eventually, Arthur , under the mentorship of Gragson, opened the Las Vegas Furniture store on Fourth Street.
In 1955, having been married more than 10 years, the couple built their house near Eastern and St. Louis avenues.
"We put the insulation in ourselves," Arthur said. "The contractor told us, 'It's your house. You can do whatever you want to it.' We were the only house in the neighborhood to have insulation."
It was in that house that they raised their five children, had their paper delivered by a young Wayne Newton and played cards with the mayor.
The key to a long and happy marriage, they said, is being best friends.
"They really are best friends," said Allen Richert, their youngest son.
So the 94-year-old Arthur and his 88-year-old wife look back on their lives – admiring the hotel floats during parades on Fremont Street, running a Sixth Street hotel together, watching the first atomic bomb tests from Mount Charleston and shooting craps with Howard Hughes – with fondness.
Oct. 11 was their 70th anniversary, and the couple spent it in their home with nearly 20 friends and family members.
Contact Paradise/Downtown View reporter Nolan Lister at nlister@viewnews.com or 702-383-0492.