Creative community assists 12-year-old with mission to help mom
November 12, 2015 - 1:07 pm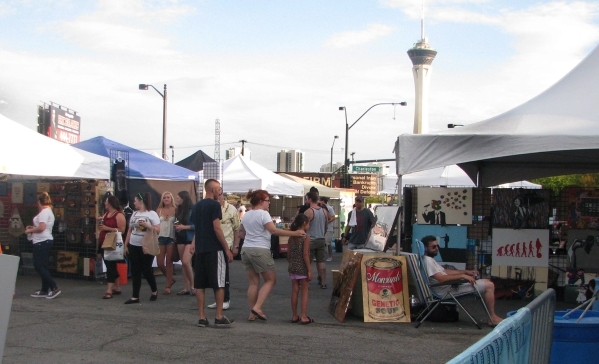 Last year, Jace Ricciuti decided that he had to do something to help out people like his mother, Michele Phillips, who has chronic inflammatory demyelinating polyneuropathy, a degenerative neurological disorder. His solution was to organize a fundraising event bringing together artists, craftspeople and food trucks to raise money for the foundation he created, CIDP Will Not Win.
Jace is 12.
"We were driving somewhere, talking, and he was thinking about it, and he knew I was fine for the time being," Phillips said. "I've been able to take care of myself so far, but we've met other people who haven't been able to afford to take care of things because they don't have the money. He started working out the plan right then."
For the second annual event, the Art2 Downtown Arts Festival will not only bring back the artists and craftspeople in booths and food trucks in the parking lot beside Art Square, 1025 S. First St., but it will add games for kids.
"That was one of the things we felt we were missing last year," Phillips said. "We didn't think we had enough things for the kids to do."
The festival also includes a silent auction and raffle, with the proceeds going to the foundation.
"The foundation raises funds for treatment for those affected by the disease and to support further research efforts," Jace said. "My goal is to raise $800 million dollars for all the people in the world that have CIDP to receive treatment."
Initially, the funds were delivered directly to the people suffering from the disorder, but the foundation now has an agreement with Northwestern Memorial Hospital in Wisconsin, which is providing stem cell treatments.
"We're doing medical grants directly through the hospital," Phillips said. "Right now, there's no cure. You can manage it, but ultimately, you're in a wheelchair, and you can't move your arms or legs."
Jace and his mother don't focus on that; instead, they work on moving forward, helping out as best they can and hoping that something will come along that will help those with the disorder.
The Art2 Downtown Arts Festival is scheduled from 11 a.m. to 9 p.m. Nov. 14 next to Art Square, 1025 S. First St. Admission is free. Visit art2downtownartsfestival.com.
— To reach East Valley View reporter F. Andrew Taylor, email ataylor@viewnews.com or call 702-380-4532.
Art2 Downtown Arts Festival
Nov. 14 , 11 a.m. to 9 p.m.
Art Square parking lot, 1025 S. First St.
Admission: free
Artists, craftspeople, live painting, musical entertainment, games and crafts for kids, face painting,food trucks
Silent auction and raffle to benefit CIDP Will Not Win