Crime and safety news from around the valley, April 28-May 4, 2016
April 27, 2016 - 10:45 am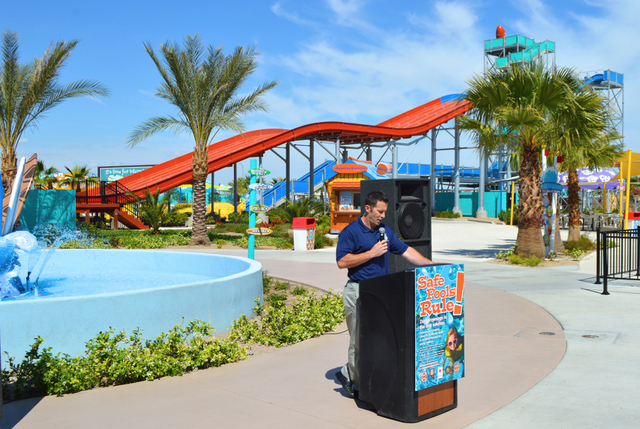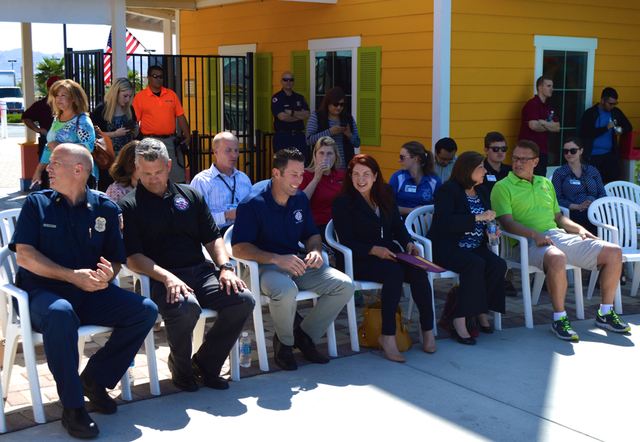 Repaving to cause lane closures: As of April 25, road repaving projects along sections of Russell and Pecos roads will cause periodic lane closures during the next few months. Russell between Mountain Vista Street and Galleria Drive will frequently be reduced to one lane in each direction. The initial lane closures are expected to last about a week, with additional lane closures occurring periodically during the next four weeks. The specific lane closures will change during the project, although the intention is to maintain as many lanes as possible in each direction. This section of Russell typically has two lanes in each direction. Pecos between Sunset and Flamingo roads will frequently be reduced to two lanes or a single lane in each direction. The specific lane closures will change frequently during this work on Pecos, which is expected to last about three months. Pecos typically has three lanes in direction. Drivers should expect additional traffic congestion and significant delays in these areas and are encouraged to find alternate routes to avoid these areas during the construction.
Mother's Day shopping event: For the second year, Smith's will invite children from The Shade Tree to shop for free Mother's Day gifts at 2:30 p.m. May 2 at Smith's, 2255 Las Vegas Blvd. North. In addition to gifts for their mothers, Smith's will also have activity stations for the children, such as cookie and card decorating, creating gifts for their pets, gift-wrapping and more. While the children are shopping, their mothers can take a Wellness Walk through the store with a Smith's pharmacist, which will address meal planning, understanding food labels, ailments, illnesses and general health topics. Each child will be paired with a Smith's Women's Edge member during the event. Women's Edge is Smith's employee membership program, which aims to promote diversity, inclusion and create a sense of community among the company's female leaders.
Henderson groundskeeping: Henderson fire stations are to be maintained by those working off fines and court-ordered community service hours. The city's Alternative Sentencing Department's Work Program has taken over weekly landscaping duties. The program incorporates participant rehabilitation with work along city-owned trails, weekly abatement on city-owned lots, graffiti removal on block walls, boarding up vacant homes and performing litter removal. Visit cityofhenderson.com.
New Henderson judge: Henderson Mayor Andy Hafen and the members of the City Council voted April 20 to appoint current Justice of the Peace Rodney Burr to fill a vacancy on the Henderson Municipal Court bench. He will serve the remainder of the existing term of the late Judge Diana Hampton, who died while in office in March. The appointment will expire in June of 2017.
Air quality control officer sought: Clark County's Department of Air Quality is accepting applications for an independent contractor to serve as an air pollution control hearing officer for a two-year term. Those interested must fill out the department's application form. Visit clarkcountynv.gov/depts/airquality/pages/default.aspx or call 702-455-3126. The form must be completed and submitted to the Department's office at 4701 W. Russell Road by 4 p.m. April 29.
Summer Aquatics Job Fair: The city of Henderson is hosting its fair from 10 a.m. to 3 p.m. April 30 at Henderson Multigenerational Aquatic Complex, 250 S. Green Valley Parkway. The fair focuses on hiring part-time and seasonal lifeguards in support of the city's 10 pools and aquatic complexes during the summer swim season. Candidates are encouraged to bring a resume, if they have one, and a photo ID, such as a driver's license or student ID. The minimum age to apply for a position is 16, and it is recommended that a parent or guardian accompany those younger than 18. Attendees are encouraged to apply prior to the event at cityofhenderson.com. Visit cityofhenderson.com or call 702-267-5829.
Law Day celebration: The Clark County Law Library is set to host two free public presentations about Miranda law starting at 1 p.m. May 2 at 309 S. Third St. The public can also stop by the Law Library's Reference Desk on Law Day to receive a complimentary copy of the U.S. Constitution, while supplies last. The 2016 theme of Law Day is Miranda: More than Words, and featured speakers for the Law Library's event are professor Ian C. Bartrum of UNLV's Boyd School of Law, and Amy Rose, legal director of the ACLU of Nevada. Call 702-455-4696 or email AskInfo@ClarkCountyNV.gov.
Shredding event: A free paper shredding event is planned at 10 a.m. May 7 in the parking lot of the Centennial Hills Active Adult Center, 6601 N. Buffalo Drive. The limit is five boxes per vehicle.
Safe Summer Nights: The free events are planned through May 26 and are to include music, children's games, face painting and free refreshments while supplies last, along with community health and resource fairs. The Metropolitan Police Department's Mounted Police Unit will visit each event with horses, and Three Square food bank will deliver 300 5-pound bags of fresh produce for residents at each event. Events are planned from:
— 5:30 to 7:30 p.m. April 28 at Booker Elementary School, 2277 N. Martin L. King Blvd.
— 5 to 7 p.m. May 5 at McWilliams Elementary School, 1315 Hiawatha Road.
— 5 to 7 p.m. May 12 at Kelly Elementary School, 1900 J St.
— 4 to 6 p.m. May 19 at Hewetson Elementary School, 701 N. 20th St.
— 4 to 6 p.m. May 26 at Hollingsworth Elementary School, 1776 E. Ogden Ave.
Call Lisa Campbell at 702-229-5406.
Senior Safety Fair: The Clark County Law Library and several county agencies and community organizations plan to participate in a Senior Safety Fair from 12:30 to 3:30 p.m. May 25 in the second-floor ballroom at Santa Fe Station, 4949 N. Rancho Drive. It is set to include a resource fair featuring several local senior service providers and safety presentations on a variety of topics, including fire prevention, natural disaster preparedness, safety in public places, cyber security and protection from fraud and scams. Uniformed members of local police and fire departments and utility companies also will participate in a fashion show at 1:30 p.m. to help seniors recognize authentic representatives of the organizations. Door prizes will be given away, and a grand prize drawing will occur at 3 p.m. Visit clarkcountynv.gov.
Citizens Police Academy: The Henderson Police Department is accepting applications for the 14-week academy, which is set to meet from 6 to 9 p.m. Tuesdays from Aug. 9 through Nov. 8. During the program, residents experience a condensed version of the actual police academy. Some of the topics are: radio and communication training, community policing, use of force, gang enforcement, crime scene investigation, detention center procedures, criminal justice overview, domestic violence and criminalistics. Applicants must live or work in the city of Henderson, be at least 18 years old and have no felony, gross misdemeanor or misdemeanor convictions. The deadline for applications is July 1. Contact Henderson Police Training Officer David Woolman at 702-267-4865. Applications and background check forms can be picked up at the East Police Station, 223 Lead St., or by visiting cityofhenderson.com.
ONGOING
Community education classes: Nevada Legal Services is offering free community education classes on legal topics from 1 to 3 p.m. every first Wednesday at the VA Center, 916 W. Owens Ave. Upcoming topics are Family Law, May 4; Veterans Benefits, June 1; Bankruptcy, July 6; and Veterans, Aug. 3.
RTC and Waze partnership: The Regional Transportation Commission of Southern Nevada is partnering with Waze's Connected Citizens Program to enable the app's users to access real-time, government-reported data on road construction, traffic accidents and road closures. Visit SouthernNevadaStrong.org.
Southern Nevada emergency smartphone app: Clark County and the cities of Henderson, Las Vegas and North Las Vegas have partnered to create a smartphone app to help the Southern Nevada community prepare for and respond to emergencies. Available for free download to iPhone and Android phones, the Southern Nevada Community Preparedness app offers personalized emergency preparedness plans; access to news, real-time weather alerts, evacuation routes and emergency shelter information; the ability to receive emergency alerts; suggestions on what to do before, during and after an emergency; the ability to share safety a status; and the option to connect to social media sites. Visit equickseries.com/eoc32003/core/v1/getApp.
Wetlands Park safety: Clark County, the Metropolitan Police Department and many other agencies and community groups announced an interagency effort today to crack down on crime at Clark County Wetlands Park. Clark County Commissioner Chris Giunchigliani, whose District E in the central Las Vegas Valley includes the park, has worked closely with Metro and other community partners to fight vandalism, graffiti, illegal shooting, underage drinking and other issues in the park. At 2,900 acres, it is the valley's largest and most undeveloped park. The Las Vegas Wash flows through the area, creating a vast haven for wildlife and desert foliage and posing a challenge for law enforcement. Much of the problem activity occurs after dark on weekend nights or on spring and summer nights when school is out of session. Local officials are hoping to reach area teens, young adults and their parents about issues in the park and efforts to make it safe. Efforts include more policing with K9 and air patrol units, and a greater presence of Clark County Park Police and other agencies. Concerned residents are encouraged to call 311 to report suspicious activity.
Firearm safety classes: The free classes are planned at 6 p.m. the last Tuesday of the month at Bass Pro Shops, 8200 Dean Martin Drive. All skill levels can attend. Kevin McNair, NRA Certified Firearms instructor, Range Safety Officer, Multi-State CCW instructor, Nevada Department of Wildlife Hunter Education Instructor, Facilitator of NSSF's Project Childsafe and First Shots Programs, owner of Tactical West of Las Vegas and member of the Bass Pro Shops Hunting Pro Staff, is set to be on hand. Visit tacticalwest.com, email tacticalwest@yahoo.com or call 702-866-0078.
Community safety forum: The Mob Museum, 300 Stewart Ave., plans to continue its 2016 Community Safety Forums from 2 to 3 p.m. the third Sunday of the month. They are sponsored by NV Energy and are free and open to the public. Attendance at a forum presentation includes free general admission to the museum following the presentation as well as live streaming of the event. Visit themobmuseum.org.
Rape Crisis Center seeks volunteers: The Rape Crisis Center is increasing the number of volunteer training sessions in 2016 to better meet the needs of sexual assault victims and their families. This year, the center will offer three 50-hour five-week training sessions in late winter, summer and fall. Those who are interested in participating must complete an application and set up an interview prior to the beginning of training. Interviews are being scheduled. Volunteer training is a total of 50 hours and includes learning about the services of the center, community resources for sexual assault victims, how to respond to individuals in crisis, how the investigation and criminal justice process works for sexual assault cases, and numerous other topics. New volunteers must be at least 21 and be able to successfully pass a background check, drug screening and commit to a minimum of six months of volunteer service of at least six hours per week. Volunteers of varying age, gender identity, racial and ethnic background, sexual orientation, and language abilities are encouraged to apply. Call 702-385-2153.
Yellow Dot program: The 2015 Nevada Legislature passed AB 176, bringing the Yellow Dot program to Nevada. AAA Nevada recently announced it is the primary sponsor of the program. The voluntary program has participants provide important medical information about themselves and their passengers in the glovebox of their vehicles. First responders are alerted that this information is in the vehicle by a yellow dot decal placed in the lower left corner of the rear window. Residents can pick up a free Yellow Dot kit at one of more than 40 participating locations across the valley. For a list, visit rtcsnv.com/yellowdot, or to request the kit, call 702-676-1754 or email YD@rtcsnv.com.
Report illegal discharge activity: The Nevada Department of Transportation urges residents to protect water quality through prevention by reporting illicit drainage and discharge onto state roads and transportation facilities. Illicit discharge is anything entering a roadway drainage system that is not natural stormwater. Pesticides, construction dirt or materials, as well as materials from neighboring properties and roadway runoff containing fertilizers, vehicle oil and chemicals are examples. New legislation grants NDOT rights to issue permits for certain water discharges onto state roadways, as well as assess fines if needed. Illicit discharge onto state transportation facilities can be reported by contacting 775-888-7013 with the location and type of drainage or discharge. For more information, visit nevadadot.com/stormwater. In addition, a pollutant spill impacting a Nevada waterway must be reported to the Nevada Division of Environmental Protection's spill reporting hotline at 888-331-6337.
Fraudulent contractor: The Nevada State Contractors Board is issuing a Consumer Alert to warn Southern Nevada residents, specifically those located in and around North Las Vegas, that unlicensed contractor and convicted felon, Michael Delbridge, is back out in the community and taking advantage of unsuspecting homeowners. In the two weeks since his release, the board has received three additional complaints from homeowners that Delbridge has taken their money with little to no work performed. Each of these cases are pending approval from the District Attorney's Office to prosecute on related unlicensed contractor charges. Delbridge has preyed on unsuspecting homeowners, usually seniors, by claiming to be a licensed contractor, underbidding the job, promising to absorb the cost of all fees and permits associated with the project, and asking for a 50 percent cash deposit so he can take advantage of his "vendor sales," allowing the homeowner to get a better deal on materials. Delbridge then performs a small percentage of the work using hired help in most cases and then abandons the project. After abandoning, Delbridge has offered his victims a refund of all or part of the homeowner's money, yet has failed to do so, generally citing a number of excuses. Delbridge has operated under the names, "Southwest Construction," "Roadrunner Construction" and "Michael Delbridge Construction." On April 22, 2015, he pleaded guilty to felony charges of engaging in business without a license. The board encourages anyone looking to have work performed on their home to always verify a contractor's license number on the Board's website or contact the board directly at 702-486-1100 before signing a contract.
CONSTRUCTION UPDATES
Interstate 15 median upgrades: The Nevada Department of Transportation will be making nightly high mast lighting improvements along the center median of Interstate 15 between Russell Road and Sahara Avenue from 9 p.m. to 5 a.m. through May 8. There will be one northbound lane closure each night along the 4-mile stretch. Visit nvroads.com.
Lane closures: The westbound 215 Beltway between the Warm Springs bridge and the Airport Connector is reduced to three travel lanes until mid-July. The breakdown lane along the center median of eastbound 215 in the area will also be blocked until mid-July. These changes are needed to facilitate construction of a new bridge that will be part of the Phase 2 Airport Connector Project, which includes widening the off-ramp from eastbound 215 to Warm Springs Road and construction of a new bridge for that off-ramp, and the widening of a bridge carrying westbound 215 traffic over the Airport Connector. The entire project is expected to be finished in fall 2017. Visit ClarkCountyNV.gov/PubWorks, call 702-455-6000 or email at InTheWorks@ClarkCountyNV.gov.
U.S. Highway 95 repairs: The Nevada Department of Transportation is making bridge repairs along a 1/3-mile stretch of northbound U.S. Highway 95 between Las Vegas Boulevard and Main Street in downtown Las Vegas. Work will result in a 24-hour lane reduction along northbound U.S. 95 between Eastern Avenue and the Spaghetti Bowl interchange through May 3; the Las Vegas Boulevard on-ramp onto northbound U.S. 95 will also be closed during the same time frame. Motorists should use caution while traveling through the work zone, heed construction signage, and take alternate routes, if possible. Visit nvroads.com.
State Route 160 interchange upgrade: The Nevada Department of Transportation is conducting a $2.37 million project involving traffic signal, pedestrian crossing, paving and sidewalk upgrades along state Route 160 (Blue Diamond Road) at El Capitan Way and Fort Apache Road. Daily traffic along the impacted stretch of roadway averages up to 42,000 vehicles. Construction is set to begin next month, with anticipated completion in early October. Motorists should use caution while travelling through the work zone, heed construction signage and take alternate routes, if possible. Visit nvroads.com.
Tropicana Avenue project: Drivers are advised to use caution on Tropicana Avenue from Lindell Road to Decatur Boulevard as periodic lane closures take place through June due to a project to add a new traffic signal and repave the road. The signal will be added at Tropicana and Lindell, and the paving will include parts of the intersections at Tropicana and Lindell and Tropicana and Decatur.
Seeing Orange: As Southern Nevada rebounds from the economic recession, it is experiencing growth in population and development. In response, the Regional Transportation Commission of Southern Nevada launched Seeing Orange, a campaign to provide the public with information about construction projects. The community can call 702-928-2663 or visit seeingorangenv.com to submit questions and get project information.
Pedestrian bridges upgrades: The Nevada Department of Transportation is performing a $30 million upgrade to the 22-year-old pedestrian bridges at Tropicana Avenue and Las Vegas Boulevard. Construction will begin with utility work at the intersection. Work on the south bridge will begin in June and proceed counterclockwise. Lane closures will take place from 2 to 10 a.m. Monday through Friday. Two lanes of traffic will remain open in each direction at all times; traffic cones will be removed when work isn't occurring. Construction is being phased and scheduled around large events, shows and conventions in cooperation with MGM Resorts International, Penn National Gaming, and the Las Vegas Convention and Visitors Authority, which is providing a portion of the project funding. The project will replace 16 escalators (four at each corner) with new state-of-the-art equipment, while installing new low-energy glass and air-conditioning units to the elevators. Aesthetic improvements call for placing new tempered glass wind screens and polished aluminum composite material panel cladding as well as new lighted hand railings. Bridge enhancements are scheduled for completion by mid-2018.
U.S. Highway 95 bridge repairs: The Nevada Department of Transportation is planning to make bridge repairs along a 1/3-mile stretch of northbound U.S. Highway 95 between Las Vegas Boulevard and Main Street in Las Vegas starting April 3. Repairs call for a polymer concrete patch and overlay to nearly 50-year-old supporting freeway bridge structures. Work will occur six nights a week, not including Saturday, from 7 p.m. to 5 a.m. through April 23, with northbound U.S. 95 lane restrictions as well as alternating northbound onramp closures at Las Vegas Boulevard and Casino Center Drive. At least one lane of traffic will remain open. Day and nighttime work will follow April 24 through June 15, which is the anticipated completion date; two lanes of traffic will remain open at all times, although there will still be alternating northbound onramp closures at Las Vegas Boulevard and Casino Center Drive. No work will occur over Memorial Day weekend. Visit nvroads.com
Airport Connector Project construction: Ongoing construction of the Airport Connector Project will reduce the number of travel lanes on a half-mile section of the eastbound 215 Beltway between Exit 10 (Sunset Road, McCarran Airport) and Exit 9 (Warm Springs Road) for the next 15 months. This section of the beltway typically has four traffic lanes but will be reduced to three lanes until spring 2017. The lane reduction is necessary while crews install new storm-drain facilities, build a new retaining wall, and reconstruct a ramp linking to the Warm Springs Road exit. This construction will not impact traffic on the westbound beltway at this time. Previously enacted lane restrictions and closures will remain in place, including the closure of the ramp that brings traffic from Sunset Road to the southbound Airport Connector, and lane reductions on southbound Airport Connector as vehicles exit the tunnel. Also, access to the northbound Airport Connector from George Crockett Road remains closed. These closures are all part of the Phase 2 Airport Connector Project, which includes construction of a new flyover ramp and bridge connecting southbound Airport Connector to the eastbound beltway, widening the off-ramp from the eastbound beltway to Warm Springs Road and construction of a new bridge for that off-ramp, and the widening of a bridge carrying westbound beltway traffic over the Airport Connector. The entire project is expected to be finished in fall 2017. Additional lane closures and lane shifts are expected during the project, and notice of those traffic impacts will be provided on electronic message boards in the area and through Clark County social media sites. The Public Works Department has set up a page at ClarkCountyNV.gov/PubWorks to provide details on the scope of the project. The public can also contact the department at 702-455-6000 or via email at InTheWorks@ClarkCountyNV.gov.
U.S. Highway 95 lane restrictions: In an effort to give a major upgrade to Stephanie Street, U.S. Highway 95 northbound lanes and southbound lanes will shift to use a temporary lane for about 30 days starting the week of Feb. 14. The work is part of the $18.5 million Stephanie Street Bridge and Roadway project. Work began in June 2015 and is scheduled to be completed in April 2016. It includes a new two-lane bridge on Stephanie over U.S. 95 to augment the current two-lane structure, along with construction of the new Stufflebeam Avenue to intersect with Stephanie Street. Bicycle and pedestrian features will be added along both roadways, including slightly elevated bike lanes on Stephanie Street and Stufflebeam Avenue.
Flood control project: A flood control and road widening project that started Feb. 15 will cause lane shifts and lane closures on Rainbow Boulevard between Sunset and Russell roads for about 15 months. That section of Rainbow will be reduced to one lane in each direction from 9 p.m. Monday to 5 a.m. Tuesday, and for those same hours overnight Tuesday, Wednesday and Thursday. Moving forward, this same lane reduction will be in place from 9 p.m. to 5 a.m. Sunday nights through Friday mornings daily. Also, lane shifts will be in place from 5 a.m. to 9 p.m. every day, with two travel lanes open to traffic in each direction during those hours. The project is expected to be complete sometime in April 2017. The project includes the installation of a new flood control tunnel under approximately 1.3 miles of Rainbow between Sunset and Russell Roads. There will also be some work on storm drain infrastructure facilities and underground utilities near adjacent to Rainbow on Sunset, Russell, Post Road, Sobb Avenue, Patrick Lane and Oquendo Road. When complete, the flood control improvements will remove the flood zone designation from the rural neighborhoods that are east of Rainbow, south of Hacienda, north of Sunset and west of Jones Boulevard. Also, as part of this project, Rainbow will be widened to provide three continuous lanes of travel in each direction from Sunset to Russell. The widening, which entails filling gaps in the pavement and paving the road shoulder, will be done first to accommodate the lane shifts for the flood control work. Visit rtcsnv.com/fri.
State Route 160 changes: The Nevada Department of Transportation awarded a $16.5 million contract to Aggregate Industries SWR Inc. for a 5-mile widening of state Route 160 (Blue Diamond Road) in southwest Clark County. The project will widen the highway from two lanes to four travel lanes between Mile Marker 10.89 (just past state Route 159 or the Red Rock Canyon Road junction) and Mile Marker 16.63. The improvements will flatten side slope shoulders for safer vehicle turnouts while installing new drainage pipe and tortoise fencing. Other work consists of placing barrier and guardrails as well as hydro-seeding 38 acres. Construction will entail moving enough dirt to fill 1,800 average sized swimming pools, and enough placing asphalt to pave 8,000 driveways. The project is scheduled for completion in early 2017. Although the speed limit will be lowered to 55 mph during construction, one lane will remain open at all times. Visit nvroads.com.
Boulder Highway improvements: The Nevada Department of Transportation is planning on making several pedestrian safety improvements to Boulder Highway (state Route 582) in 2016 and 2017, including an overhead rapid flashing beacon and Danish-offset median island at Boulder Highway and Sun Valley Drive, near the Eastside Cannery. NDOT will also be lowering the speed limit from 55 mph to 45 mph along a two-mile stretch of Boulder Highway from Galleria Drive north in early 2016.