Crime and safety news from around the valley, Aug. 25-31, 2016
August 24, 2016 - 11:40 am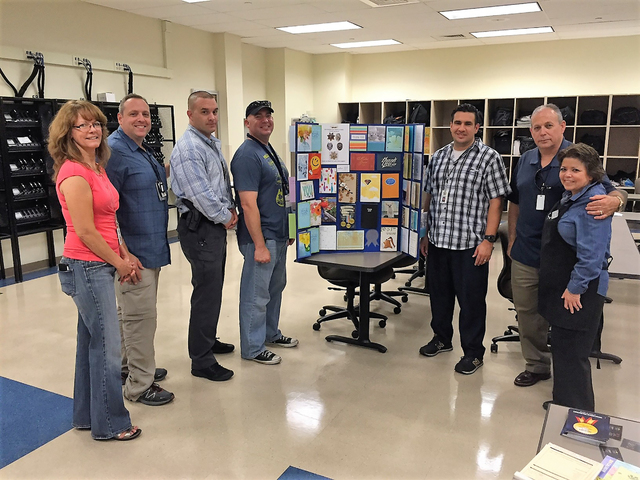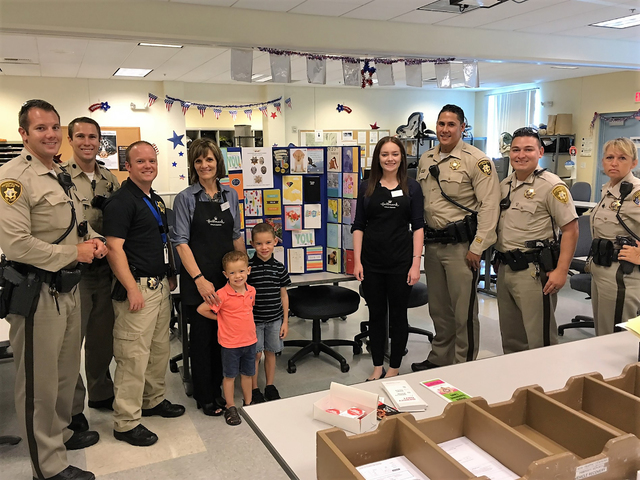 Yappy Hour: The Hydrant Club event set to benefit the effort for K9 police vests is planned from 6:30 to 9 p.m. Aug. 26 at 109 N. Ninth St. The suggested door donation of $10 and all cash raised by raffle baskets go to LV Injury Prevention. The event is for those 21 or older, and pets are welcome with proof of vaccination. Call 702-721-9663 or visit tinyurl.com/k9vestssupport.
Citizen Review Board: The board is seeking qualified applicants to objectively review citizen complaints and Internal Affairs Investigations filed against Metropolitan Police Department peace officers and corrections officers. The board is expected to fill at least five vacancies on its board for an upcoming term, which begins on Jan. 2, 2017, and ends Jan. 1, 2020. Applications must be received by Sept. 6. Membership on the board is voluntary and unpaid. To be eligible, applicants must be residents of unincorporated Clark County or the city of Las Vegas, cannot have any felony convictions, cannot be an elected official, cannot be a present or former Metro police officer, peace officer or corrections officer, or the spouse, sibling or parent of a Metro peace officer. Potential members must have a flexible schedule. All members who are selected must complete two mandatory training sessions each year, attend the Citizen Police Academy a police ride-along, and complete 50 hours of training prior to serving on the board. Visit citizenreviewboard.com.
Bee attack tips: On Aug. 4, the Clark County Fire Department responded to a report of a bee sting attack in the southwest valley at the corner of Colored Wind Avenue and Wispy Winds Street. Exterminators were working to remove bees from a home near Grand Canyon Drive and West Oquendo Road, and a worker not wearing protective clothing was stung hundreds of times. The patient was transported with life-threatening injuries to Southern Hills Hospital. Bee safety tips include:
— Do not disturb bees if encountered. Remain calm and quietly move away until bees are out of sight.
— If bees attack, run away in a straight line and take shelter inside a car or building as soon as possible.
— If under attack, use your arms and hands or shirt to shield your face and eyes from stings. The more you flail your arms, the more agitated the bees will get.
Visit clarkcountynv.gov/fire/Pages/BeeSafetyInformation.aspx.
IRS spoofing calls: The Henderson Police Department is warning residents of a new scam involving persons calling and identifying themselves as employees of the Internal Revenue Service with an added twist, Caller ID "spoofing." In Henderson, the resident's phone Caller ID reads "Henderson Police Department, 702-267-4750." The scammers demand payment with iTunes gift cards or direct deposit to a bank account. According to the FCC, Caller ID spoofing occurs when a caller deliberately falsifies the information transmitted to your Caller ID display. If you are unsure if you are receiving a call from the Henderson Police Department or a scammer, hang up and call 702-267-5633 to verify the phone call.
NDOT and law enforcement training: The Nevada Department of Transportation's Project Neon is aiding federal law enforcement officials by providing practice venues for skills training, including breach techniques. As part of the nearly $1 billion widening of Interstate 15 between the Spaghetti Bowl interchange and Sahara Avenue, the department has acquired several buildings and properties necessary for the freeway expansion and improvements. The department has allowed law enforcement officials to use vacated buildings for training prior to demolition.
Southbound 95 ramp closure: The Nevada Department of Transportation will close the southbound U.S. Highway 95 exit to Rancho Drive through mid-September. The closure is required as part of Project Neon. Visit NDOTProjectNeon.com or call 702-293-6366.
Hot weather tips for pets: When outdoor temperatures reach the 80s, the temperature inside a parked car can get to over 100 degrees in minutes, and asphalt temperatures can reach 140 degrees. Heatstroke in dogs includes restlessness, heavy panting, vomiting, lethargy, and lack of appetite or coordination. Get the animal into shade, and lower the dog's body temperature by providing the dog with water, applying a cold towel to the animal's head and chest, or immersing the dog in tepid (not ice cold) water, and call a veterinarian. Tips to keep pets cool include: keep dogs indoors; provide water and shade; walk your dog, don't run him; avoid hot cars altogether; never transport animals in the bed of a pickup truck; avoid hot pavement; and use a cooling vest or mat.
Active shooter course: Vegas PBS' Global Online Advance Learning service is offering Active Shooter Response as August's Course of the Month. The first 1,000 students can receive the online course free with promo code YF9469J9; subsequent participants will still be able to take the course at a discounted price. The goal of the course is to provide life-saving knowledge during an active shooter event, including learning about warning signs, how people react, being familiar with your surroundings, protecting yourself and what happens when law enforcement arrives on scene. Visit VegasPBS.learn.com or call 702-799-1010, extension 5363.
Fire restrictions: The Spring Mountains National Recreation Area on the Humboldt-Toiyabe National Forest has entered into both Stage II Fire Restrictions and area-wide shooting closure. The restrictions will remain in place until Sept. 30 or when forest officials determine that conditions have changed sufficiently to reduce the risk of human-caused wildfire. The SMNRA has had several human-caused fires in the last month, started by unattended campfires and recreational shooting. Additionally a number of lightning fires have occurred in the area. As of July 21, the following fire restrictions will apply on the SMNRA:
— All campfires, charcoal grills, and stove fires (wood, charcoal, and coal burning) are prohibited, including in developed recreation sites. Portable cooking stoves utilizing liquefied or bottled fuel sources continue to be allowed.
— Smoking is allowed only in an enclosed vehicle or building.
— Discharging a firearm is prohibited, except while engaged in a lawful hunt pursuant to state and federal regulations.
— Fireworks, exploding targets (for example Tannerite), and incendiary or tracer ammo are always prohibited on public lands.
— Park your vehicle away from dry grass. Wildfires have been started by hot vehicles parked in dry grass.
Funds for forensic science center: NevadaCSI announced the launch of a fundraising project to raise $30 million in private donations to build a forensic science center in Southern Nevada. Funds are needed for construction of a facility that will include labs for blood alcohol, blood drug, DNA, drug analysis, fingerprints, and firearms evidence; and a multi-bay facility for crime scene investigation personnel to process large evidence items such as vehicles. Visit NevadaCSI.com.
Law classes: Nevada Legal Services and the Clark County Law Library are offering a free series of monthly classes through November at 309 S. Third St., Suite 400. Call 702-455-4696 to register. The topics and schedule are:
— Estate Planning: from 1 to 3 p.m. Wednesdays Sept. 21 and Nov. 16.
— Probate for Estates Under $100,000: from 3 to 5 p.m. Aug. 26.
Exhibitors for Community Expo: The city of Henderson Fire and Police departments are seeking businesses, civic groups and nonprofits to exhibit in the Henderson Community Expo 2016-National Night Out, planned from 11 a.m. to 3 p.m. Oct. 15 at the Galleria at Sunset mall, 1300 W. Sunset Road. The departments host the annual expo to increase public awareness for, and access to, the health and safety resources available in Southern Nevada. The expo incorporates National Night Out, a community-building campaign. Exhibitors should offer products and services to the community that promote health and wellness, crime and fire prevention, and public safety. Interactive demonstrations and activities that appeal to all age groups are encouraged. The event is open to the public, and admission is free. The registration fee of $115 or $25 for nonprofits includes one 10-foot by 10-foot tent canopy, one 8-foot table and two chairs. The exhibitor registration deadline is Sept. 29. Visit cityofhenderson.com or call the Henderson Fire Department at 702-267-2222.
ONGOING
Green pools: County commissioners are asking the public to help rid the valley of green pools by reporting backyard blight to local code enforcement agencies. Green pools are pools that have been neglected for so long that their water has turned green from algae and bacteria. To report, call 702-455-4191 or file a complaint through the county website at ClarkCountyNV.gov.
Community court grant: The Las Vegas Township Justice Court was selected as one of 10 sites nationwide to win the 2016 Community Court Grant awarded by the U.S. Department of Justice's Bureau of Justice Assistance in partnership with the Center for Court Innovation. As a selected site, the Las Vegas Township Community Court will receive $200,000, as well as technical assistance from the Center for Court Innovation to implement a community court. Community courts respond to quality-of-life crimes — low-level, nonviolent, petty crimes that collectively undermine public safety and people's sense of well-being in the community. The Las Vegas Community Court will focus on goals of reducing recidivism rates, protecting public safety and property, and improving the quality of life within the community. As part of their sentence, offenders are ordered by the court to pay back the communities they've harmed through visible community service projects such as painting over graffiti, beautifying neighborhood parks, and cleaning up litter and debris from public streets. Community courts also link offenders to services designed to help them address the underlying issues fueling their criminal behavior such as drug and alcohol treatment, mental health services, job training, and public benefits. Call Sherri Parris at 702-671-3421 or visit courtinnovation.org/topic/community-court.
RTC and Waze partnership: The Regional Transportation Commission of Southern Nevada is partnering with Waze's Connected Citizens Program to enable the app's users to access real-time, government-reported data on road construction, traffic accidents and road closures. Visit SeeingOrangeNV.com.
Southern Nevada emergency smartphone app: Clark County and the cities of Henderson, Las Vegas and North Las Vegas have partnered to create a smartphone app to help the Southern Nevada community prepare for and respond to emergencies. Available for free download to iPhone and Android phones, the Southern Nevada Community Preparedness app offers personalized emergency preparedness plans; access to news, real-time weather alerts, evacuation routes and emergency shelter information; the ability to receive emergency alerts; suggestions on what to do before, during and after an emergency; and the option to connect to social media sites. Visit equickseries.com/eoc32003/core/v1/getApp.
Wetlands Park safety: Clark County, the Metropolitan Police Department and many other agencies and community groups announced an interagency effort to crack down on crime at Clark County Wetlands Park. Clark County Commissioner Chris Giunchigliani, whose District E in the central Las Vegas Valley includes the park, has worked closely with Metro and other community partners to fight vandalism, graffiti, illegal shooting, underage drinking and other issues in the park. At 2,900 acres, it is the valley's largest and most undeveloped park. The Las Vegas Wash flows through the area, creating a vast haven for wildlife and desert foliage and posing a challenge for law enforcement. Much of the problem activity occurs after dark on weekend nights or on spring and summer nights when school is out of session. Local officials are hoping to reach area teens, young adults and their parents about issues in the park and efforts to make it safe. Efforts include more policing with K9 and air patrol units, and a greater presence of Clark County Park Police and other agencies. Concerned residents are encouraged to call 311 to report suspicious activity.
Firearm safety classes: The free classes are planned at 6 p.m. the last Tuesday of the month at Bass Pro Shops, 8200 Dean Martin Drive. People of all skill levels can attend. Kevin McNair, NRA Certified Firearms instructor, Range Safety Officer, Multi-State CCW instructor, Nevada Department of Wildlife Hunter Education Instructor, Facilitator of NSSF's Project Childsafe and First Shots Programs, owner of Tactical West of Las Vegas and member of the Bass Pro Shops Hunting pro staff, is set to be on hand. Visit tacticalwest.com, email tacticalwest@yahoo.com or call 702-866-0078.
RTC allowing public comment session: The public will get the chance to speak to the Regional Transportation Commission through August for transit changes that would start Nov. 6. Multiple major roads will be affected, including South Maryland Parkway and Horizon Ridge Parkway. This will take place at the Bonneville Transit Center, 101 E. Bonneville Ave., from 7 a.m. to 6 p.m. Call 702-676-1606 48 hours before the meeting.
Community safety forum: The Mob Museum, 300 Stewart Ave., plans to continue its 2016 Community Safety Forums from 2 to 3 p.m. the third Sunday of the month. They are sponsored by NV Energy and are free and open to the public. Attendance at a forum presentation includes free general admission to the museum following the presentation as well as live streaming of the event. Visit themobmuseum.org.
Rape Crisis Center seeks volunteers: The Rape Crisis Center is increasing the number of volunteer training sessions to better meet the needs of sexual assault victims and their families. This year, the center will offer three 50-hour five-week training sessions in late winter, summer and fall. Those who are interested in participating must complete an application and set up an interview prior to the beginning of training. Interviews are being scheduled. Volunteer training is a total of 50 hours and includes learning about the services of the center, community resources for sexual assault victims, how to respond to individuals in crisis, how the investigation and criminal justice process works for sexual assault cases, and numerous other topics. New volunteers must be at least 21 and be able to successfully pass a background check, drug screening and commit to a minimum of six months of volunteer service of at least six hours per week. Volunteers of varying age, gender identity, racial and ethnic background, sexual orientation, and language abilities are encouraged to apply. Call 702-385-2153.
Yellow Dot program: The 2015 Nevada Legislature passed AB 176, bringing the Yellow Dot program to Nevada. AAA Nevada recently announced it is the primary sponsor of the program. The voluntary program has participants provide important medical information about themselves and their passengers in the glovebox of their vehicles. First responders are alerted that this information is in the vehicle by a yellow dot decal placed in the lower left corner of the rear window. Residents can pick up a free Yellow Dot kit at one of more than 40 participating locations across the valley. For a list, visit rtcsnv.com/yellowdot, or to request the kit, call 702-676-1754 or email YD@rtcsnv.com.
Report illegal discharge activity: The Nevada Department of Transportation urges residents to protect water quality through prevention by reporting illicit drainage and discharge onto state roads and transportation facilities. Illicit discharge is anything entering a roadway drainage system that is not natural stormwater. Pesticides, construction dirt or materials, as well as materials from neighboring properties and roadway runoff containing fertilizers, vehicle oil and chemicals are examples. New legislation grants NDOT rights to issue permits for certain water discharges onto state roadways, as well as assess fines if needed. Illicit discharge onto state transportation facilities can be reported by calling 775-888-7013 with the location and type of drainage or discharge. For more information, visit nevadadot.com/stormwater. In addition, a pollutant spill affecting a Nevada waterway must be reported to the Nevada Division of Environmental Protection's spill reporting hotline at 888-331-6337.
CONSTRUCTION UPDATES
Buffalo and Cimarron construction: Through mid-October, roadway improvements will be performed on Buffalo Drive and Cimarron Road between Sky Pointe Drive and Grand Teton Drive and on Elkhorn Road from U.S. Highway 95 to Tenaya Way. Work hours are 7 a.m. to 4 p.m. Monday through Friday. Traffic generally will be restricted to one lane in each direction 24/7 until construction is completed. The work consists of removal and reconstruction of deteriorated areas of pavement; full-width, structural pavement mill and pavement overlay; median island modifications and enhancements; and installation of new traffic delineation. Vehicle lanes will be reconfigured, and bicycle lanes will be installed. Motorists are advised to use Tenaya Way and Durango Drive for traveling north and south, and Grand Teton Drive for traveling east and west, as alternate routes. Call 702-229-6227.
Project Neon interactive map: The Nevada Department of Transportation has added an interactive map to its Project Neon website that shows up-to-the-hour active and upcoming construction work along with associated traffic delays, restrictions and detours. Visit NDOTProjectNeon.com or call 702-293-6366.
Seeing Orange: As Southern Nevada rebounds from the economic recession, it is experiencing growth in population and development. In response, the Regional Transportation Commission of Southern Nevada launched Seeing Orange, a campaign to provide the public with information about construction projects. Members of the community can call 702-928-2663 or visit seeingorangenv.com to submit questions and get project information.
East Tropicana Avenue improvements: In February, the Nevada Department of Transportation began a $7.67 million upgrade of East Tropicana Avenue (state Route 593) between Eastern Avenue and Boulder Highway. Aggregate Industries-SWR is the general contractor. The 4-mile project calls for mill-and-pave overlay, raised median islands, and electrical wiring, among other things, resulting in periodic traffic restrictions in both directions. Construction is scheduled to finish in October.
Interstate 15 widening: A 5-mile widening of Interstate 15 is planned between Craig Road and Speedway Boulevard. Work is scheduled to start in September, with anticipated completion by early 2018. Although construction will take place during daytime and nighttime hours, at least two lanes of traffic will remain open at all times in each direction during peak use hours. The project will expand the highway from four to six travel lanes in each direction, plus install new lighting, signage and landscaping that features weathered steel art sculptures. Other work calls for drainage improvements as well as widening and seismic upgrades to four overpass structures at Range Road and the Union Pacific Railroad tracks. Visit nvroads.com.
Pedestrian bridge construction: On June 12, the Nevada Department of Transportation started upgrading the 22-year-old pedestrian bridges at Tropicana Avenue (state Route 593) and Las Vegas Boulevard. From 10 p.m. to 8 a.m. Sunday through Friday through Dec. 23, construction will take place in the middle of the intersection, extending roughly 1,200 feet in each direction from the intersection midpoint. Lanes must reopen daily by 7:30 a.m. with all traffic cones removed by 8 a.m. The $30 million project calls for replacing 16 escalators (four at each corner) with new state-of-the-art equipment, while installing new low-energy glass and air-conditioning units to the elevators. Aesthetic bridge improvements entail placing new tempered glass wind screens and polished aluminum composite material panel cladding as well as new lighted hand railings. The 16-foot-wide, 165-foot-long concrete-and-steel structures each have 17-foot clearance heights. Construction is being phased and scheduled around large events, shows and conventions in cooperation with MGM Resorts International, Penn National Gaming, and the Las Vegas Convention and Visitors Authority. Visit nvroads.com. Construction is expected to finish by mid-2018.
Cable installation: The Summerlin Parkway Cable Barrier Safety Rail Project began June 5. The city of Las Vegas project addresses the Summerlin Parkway median from Buffalo Drive to the 215 Beltway. Night-time work in the Summerlin Parkway median from Buffalo Drive to Town Center Drive continues. The left lane in both directions will remain closed in the work areas from 7 p.m. to 6 a.m. Sunday evenings to Friday mornings through mid-August. During daytime hours 6 a.m. to 7 p.m., only the left shoulders are closed and all travel lanes are open to traffic in both directions. Phase 3 work to install cable barrier rail in the median from Town Center Drive to the 215 Bruce Woodbury Beltway is planned to begin in mid-August and continue for approximately two months. Work hours during this phase are expected to continue to be from 5 a.m. to 3 p.m., Monday through Friday.
Main Street work: The city of Las Vegas started work on the storm drain, street, sidewalk, traffic signal, street lighting and landscaping improvements along Main Street and Commerce Street between Las Vegas Boulevard and Bonneville Avenue May 9. The $36 million project is expected to take approximately 28 months to complete, through the fall of 2018. Motorists can expect traffic delays in the area while the work is being done. The project will primarily restrict traffic along Main Street between Bonneville and Gass avenues through August, along Commerce Street between Garces Avenue and Oakey Boulevard through May 2017 and then along Main Street between Gass and Las Vegas Boulevard from May 2017 to fall 2018. Main Street and Commerce Street will primarily remain open at all times during construction, as will access to all adjacent properties. Visit rtcsnv.com/fri.
Elementary schools upgrades: The city of Las Vegas is set to begin work on a pedestrian safety project that includes construction of curb extensions, which extend the sidewalks into the street, and/or median islands at 12 elementary school locations. For a list, visit LasVegasNevada.gov and click latest news.
Repaving to cause lane closures: Road repaving projects along sections of Russell and Pecos roads will cause periodic lane closures during the next few months. Russell between Mountain Vista Street and Galleria Drive will frequently be reduced to one lane in each direction. The initial lane closures are expected to last about a week, with additional lane closures occurring periodically during the next four weeks. The specific lane closures will change during the project, although the intention is to maintain as many lanes as possible in each direction. This section of Russell typically has two lanes in each direction. Pecos between Sunset and Flamingo roads will frequently be reduced to two lanes or a single lane in each direction. The specific lane closures will change frequently during this work on Pecos, which is expected to last about three months. Pecos typically has three lanes in direction. Drivers should expect additional traffic congestion and significant delays in these areas and are encouraged to find alternate routes to avoid these areas during the construction.
State Route 160 interchange upgrade: The Nevada Department of Transportation is conducting a $2.37 million project involving traffic signal, pedestrian crossing, paving and sidewalk upgrades along state Route 160 (Blue Diamond Road) at El Capitan Way and Fort Apache Road. Daily traffic along the impacted stretch of roadway averages up to 42,000 vehicles. Construction was set to begin in June, with anticipated completion in early October. Motorists should use caution while traveling through the work zone, heed construction signage and take alternate routes, if possible. Visit nvroads.com.
State Route 160 changes: The Nevada Department of Transportation awarded a $16.5 million contract to Aggregate Industries SWR Inc. for a 5-mile widening of state Route 160 (Blue Diamond Road) in southwest Clark County. The project will widen the highway from two lanes to four travel lanes between Mile Marker 10.89 (just past state Route 159 or the Red Rock Canyon Road junction) and Mile Marker 16.63. The improvements will flatten side slope shoulders for safer vehicle turnouts while installing new drainage pipe and tortoise fencing. Other work consists of placing barrier and guardrails as well as hydro-seeding 38 acres. Construction will entail moving enough dirt to fill 1,800 average sized swimming pools, and enough placing asphalt to pave 8,000 driveways. The project is scheduled for completion in early 2017. Although the speed limit will be lowered to 55 mph during construction, one lane will remain open at all times. Visit nvroads.com.
Airport Connector Project construction: Ongoing construction of the Airport Connector Project will reduce the number of travel lanes on a half-mile section of the eastbound 215 Beltway between Exit 10 (Sunset Road, McCarran Airport) and Exit 9 (Warm Springs Road) for the next year-plus. This section of the beltway typically has four traffic lanes but will be reduced to three lanes until spring 2017. The lane reduction is necessary while crews install new storm-drain facilities, build a new retaining wall, and reconstruct a ramp linking to the Warm Springs Road exit. This construction will not impact traffic on the westbound beltway at this time. Previously enacted lane restrictions and closures will remain in place, including the closure of the ramp that brings traffic from Sunset Road to the southbound Airport Connector, and lane reductions on southbound Airport Connector as vehicles exit the tunnel. Also, access to the northbound Airport Connector from George Crockett Road remains closed. These closures are all part of the Phase 2 Airport Connector Project, which includes construction of a new flyover ramp and bridge connecting southbound Airport Connector to the eastbound beltway, widening the off-ramp from the eastbound beltway to Warm Springs Road and construction of a new bridge for that off-ramp, and the widening of a bridge carrying westbound beltway traffic over the Airport Connector. The entire project is expected to be finished in fall 2017. Additional lane closures and lane shifts are expected during the project, and notice of those traffic impacts will be provided on electronic message boards in the area and through Clark County social media sites. The Public Works Department has set up a page at ClarkCountyNV.gov/PubWorks to provide details on the scope of the project. The public can also contact the department at 702-455-6000 or via email at InTheWorks@ClarkCountyNV.gov.
Flood control project: A flood control and road widening project that started Feb. 15 will cause lane shifts and lane closures on Rainbow Boulevard between Sunset and Russell roads for about 15 months. That section of Rainbow will be reduced to one lane in each direction from 9 p.m. Monday to 5 a.m. Tuesday and for those same hours overnight Tuesday, Wednesday and Thursday. Moving forward, this same lane reduction will be in place from 9 p.m. to 5 a.m. Sunday nights through Friday mornings daily. Also, lane shifts will be in place from 5 a.m. to 9 p.m. every day, with two travel lanes open to traffic in each direction during those hours. The project is expected to be complete in April 2017. The project includes the installation of a new flood control tunnel under approximately 1.3 miles of Rainbow between Sunset and Russell roads. There will also be some work on storm drain infrastructure facilities and underground utilities near adjacent to Rainbow on Sunset, Russell, Post Road, Sobb Avenue, Patrick Lane and Oquendo Road. When complete, the flood control improvements will remove the flood zone designation from the rural neighborhoods that are east of Rainbow, south of Hacienda, north of Sunset and west of Jones Boulevard. Also, as part of this project, Rainbow will be widened to provide three continuous lanes of travel in each direction from Sunset to Russell. The widening, which entails filling gaps in the pavement and paving the road shoulder, will be done first to accommodate the lane shifts for the flood control work. Visit rtcsnv.com/fri.
Boulder Highway improvements: The Nevada Department of Transportation is planning to make several pedestrian safety improvements to Boulder Highway (state Route 582) in 2016 and 2017, including an overhead rapid flashing beacon and Danish-offset median island at Boulder Highway and Sun Valley Drive, near the Eastside Cannery. NDOT has since lowered the speed limit from 55 mph to 45 mph along a 2-mile stretch of Boulder Highway from Galleria Drive north.