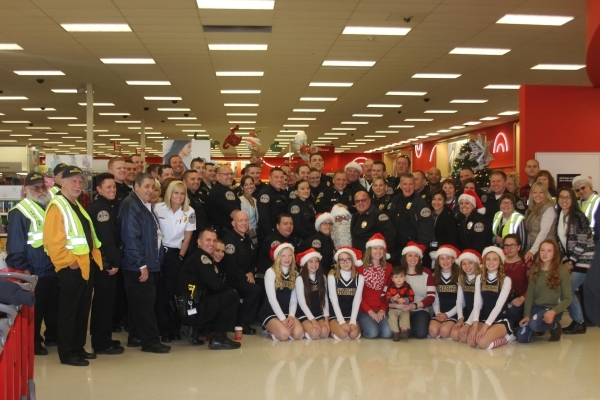 Click it or Ticket results: Henderson Police officers, assisted by Nye County deputies, used saturation patrols Nov. 20-Dec. 7 and stopped 438 motorists during the Click It or Ticket seat belt enforcement effort. Officers handed out 12 seat belt violations, issued 148 tickets to motorists for speeding and 31 citations for cellphone violations. The officers also issued a number of tickets for drivers with no insurance, registration violations and driving on a revoked, suspended or expired driver's license.
Las Vegas Municipal Court awarded: The American Motorcyclist Association has awarded the Las Vegas Municipal Court the 2015 Motorcycle Safety Award, marking the first time a court has been honored by the AMA. The Las Vegas Municipal Court is the first in the country to implement a three-step traffic school program for motorcyclists found guilty by plea or trial of a moving traffic violation.
Driver dies after leaving roadway: An 88-year-old Henderson man heading the wrong way on a Henderson road died Dec. 6 after his car ran off the roadway and crashed in the desert. The man was driving a Mercedes E350 the wrong way on the eastbound lanes of St. Rose Parkway near Maryland Parkway about 3:40 a.m. when he left the roadway, struck a cement drainage cover, several large rocks and a berm before coming to a stop about 350 feet into the desert. A preliminary investigation indicated that speed does not appear to be a factor in the crash. It is unknown at this time if drugs or alcohol were involved. The crash remains under investigation. An autopsy will determine if a medical episode occurred prior to the car leaving the roadway.
Firefighters donation: The Las Vegas Firefighters Local 1285 donated $984 to Honor Flight Southern Nevada, a nonprofit with the mission of escorting World War II veterans to the memorials in Washington, D.C., that stand in their honor. The donation came from proceeds collected from the firefighters' Veterans T-shirt Fundraiser held throughout November.
Fill the truck: The annual Fill the Fire Truck holiday toy drive co-hosted by Firefighters of Southern Nevada Burn Foundation is planned through Dec. 20. The public can drop off unwrapped toys or gift card donations at any Clark County Fire Station from 9 a.m. to 5 p.m. daily. The toys will be distributed to children through local charities and churches. For dates and times of collection events outside some Wal-Mart stores, call 702-485-6820 or visit theburnfoundation.org.
Henderson road improvements: On Nov. 17, Mayor Andy Hafen and the Henderson City Council approved improvement projects to two heavily traveled roadways in Henderson. The improvements will include major upgrades, making the roadways safer for drivers, bicyclists and pedestrians through Fuel Revenue Indexing funding. The $16.8 million project will widen Volunteer Boulevard to four lanes from Executive Airport Drive to Las Vegas Boulevard. The project will also include drainage improvements that will help prevent flooding and standing water in the area. A $7.3 million project was also approved for improvements to Racetrack Road. The project will include four travel lanes on Racetrack Road from Boulder Highway to Burkholder Boulevard and two travel lanes on Racetrack Road from Burkholder Boulevard to Athens Avenue. There will also be bike lanes added. Visit rtcsnv.com/fri.
Henderson accreditation: In November, the Henderson Police Department's Communications Bureau was awarded the Accreditation Certification from the Commission on Accreditation for Law Enforcement Agencies Inc. in Miami, Fla.
NDOT soil testing: The Nevada Department of Transportation is planning to start geotechnical exploration drilling along the east and west sides of Interstate 15 between Sahara Avenue and U.S. Highway 95 at Martin Luther King Boulevard through Jan. 15. The daytime work is related to soil testing for Project Neon. Kiewit Infrastructure West Co. is the design-build general contractor. There will be some temporary noise and vibration disruptions as well as moving lane restrictions. Call the Project Neon hotline at 702-486-0486; the Spanish hotline at 702-384-1694; or visit the project website at NDOTProjectNeon.com.
Radon tests available: Free radon test kits are available through Feb. 29 at University of Nevada Cooperative Extension offices and partner locations statewide. Radon, a naturally occurring radioactive gas, comes from the ground and can enter homes and accumulate to elevated concentrations. At elevated concentrations, the odorless, colorless gas can raise the risk of lung cancer for unsuspecting homeowners. For more information or a list of free kit locations, visit radonnv.com, or call the Radon Hotline at 888-723-6610.
Firefighters offer tree safety: The Professional Firefighters of Nevada produced a Christmas tree safety PSA, offering tips to prevent home fires caused by indoor Christmas trees. The English version is viewable by visiting bit.ly/1MZjmgT and the Spanish version by visiting bit.ly/1jBS0mt.
NVEnergy offers holiday tips: NV Energy recommends the following holiday lighting conservation and safety tips: 1. Switch to safe, long-lasting, energy-efficient LED (light emitting diode) holiday lights whenever possible. 2. Use a timer to reliably turn off lights during daylight hours and other specified times. 3. Don't overload your electric circuits. 4. Adhere to manufacturer's designations and locations of use (indoor vs. outdoor). 5. Outdoor lighting should have insulated electrical cords and be plugged into a ground fault interrupter-protected receptacle only. 6. Don't run extension cords under rugs, around furniture legs, or across doorways. 7. Keep all plugs and connectors off the ground, away from puddles and sprinklers. 8. Make sure there's a bulb in each socket of a light string even if it is burned out. 9. Keep your natural tree well-watered to prevent bulbs from igniting dry branches. Never use electrical decorations on metal trees. 10. Ensure that the electrical setup is safe from small children and pets. For more energy-saving tips, visit nvenergy.com/home/saveenergy/energytips.cfm.
Report illegal discharge activity: The Nevada Department of Transportation urges residents to protect water quality through prevention by reporting illicit drainage and discharge onto state roads and transportation facilities. Illicit discharge is anything entering a roadway drainage system that is not natural stormwater. Pesticides, construction dirt or materials, as well as materials from neighboring properties and roadway runoff containing fertilizers, vehicle oil and chemicals are examples. New legislation grants NDOT rights to issue permits for certain water discharges onto state roadways, as well as assess fines if needed. Illicit discharge onto state transportation facilities can be reported by contacting 775-888-7013 with the location and type of drainage or discharge. For more information, visit nevadadot.com/stormwater. In addition, a pollutant spill impacting a Nevada waterway must be reported to the Nevada Division of Environmental Protection's spill reporting hotline at 888-331-6337.
NDOT road repairs: The Nevada Department of Transportation is set make $250,000 in concrete bridge deck and paving repairs along southbound Interstate 15 between Lake Mead Boulevard and the U.S. Highway 95 interchange as well as north and southbound U.S. Highway 95 from Eastern Avenue to Martin Luther King Boulevard in Las Vegas. Galt Development is the general contractor. Work was set to occur during weekday nights from 9 p.m. to 5 a.m. through Jan. 15. One to two travel lanes will be restricted while work occurs. Visit nvroads.com.
Tropicana Avenue upgrade: The Nevada Department of Transportation plans to upgrade East Tropicana Avenue between Eastern Avenue and Boulder Highway from January through fall 2016. The $7.67 million upgrade is slated to include new asphalt pavement, raised median islands and widened sidewalks. The project is aimed at preventing additional roadway cracking and deterioration and providing pedestrian enhancements, the department said. Work is expected to take place primarily during overnight hours. Visit nvroads.com.
State Route 160 upgrades: The Nevada Department of Transportation plans the $794,000, 21-mile project through early January in Clark County to improve cable median barriers. The project is set to create 14 new paved median crossovers between mileposts 22 and 43.16 to allow emergency personnel to safely cross the highway as needed. Visit nvroads.com.