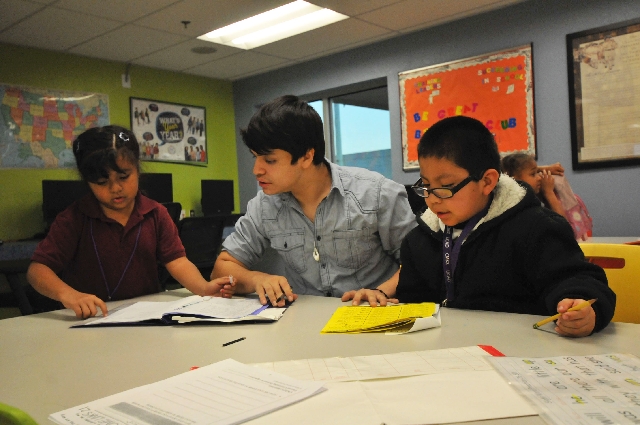 Rancho High School senior Jorge Corral is at the James Clubhouse of the Boys & Girls Clubs of Las Vegas every day unless he is sick. He volunteers to help with anything and everything –– tutoring younger kids, mentoring others and even cleaning the bathrooms because there is no janitor.
For all of his efforts, Corral, 18, was named the Boys & Girls Clubs of Las Vegas' 2013 Youth of the Year.
"He's basically like another staff member here," said Josh Gainey, teen director at the James Clubhouse, 2530 E. Carey Ave. "Jorge is the epitome of what a club member should be."
It is just the beginning of his journey, Corral hopes.
He will compete this month against students from other Boys & Girls Clubs across Nevada for a $1,000 college scholarship and a trip to the regional competition. If he wins, Corral will receive an additional $10,000 scholarship and be flown to Washington, D.C., to meet President Barack Obama and compete for an additional $50,000 scholarship.
Corral plans to attend the University of Nevada, Las Vegas after graduation. He wants to major in architecture, minor in photography and also study computer animation. He is already taking photography and animation classes at Rancho, 1900 E. Searles Ave.
The potential scholarship money would be a big help, Corral said, because his family, which includes a 12-year-old sister and a 2-year-old brother, is struggling financially.
The Youth of the Year award recognizes members "who have made outstanding contributions to their families, schools, communities and Boys & Girls Clubs while overcoming personal challenges and obstacles," according to a release by the Boys & Girls Clubs.
That is a good summary of Corral. He plays sports and is involved with multiple clubs at Rancho, while taking honors and Advanced Placement classes. The club said he has volunteered more than 500 hours since he joined three years ago. And he usually stays until the club closes its doors at 8 p.m.
"He is always trying to help out the other teens," Gainey said. "He helps with their homework. He tries to help other teens with their problems … The younger kids love Jorge."
Corral is also "really good about making sacrifices for other kids," Gainey said, recalling when Corral gave up his spot on a field trip last year so another club member could go.
"He gladly said, 'No, you should go,' " Gainey said. "He knew how much it meant to the other guys, even though he would have loved to go. He did what was right. That's just kind of what he does. That's very typical of Jorge."
Corral said he was "ecstatic" when told in January that he had won the award. He said it was his plan all along.
When he joined the club three years ago, Corral saw another member win the award and made it his goal to do the same.
"I didn't know what it was," Corral said. "I had no idea how to get it, but I wanted it.
"I was hoping I was going to get it because it's my senior year. It makes me feel good that I won it for Las Vegas … I want to keep going farther and farther. I gave myself another goal, and that's going to D.C."
Corral will have to give a speech and conduct interviews with multiple judges in Carson City on March 12 and 13 before he can move on. Corral said he is not nervous about speaking in front of people.
"It's all from my heart, so it shouldn't be too hard to say it," he said.
Gainey said he is confident in Corral's chances at the state competition.
"He's one of the most amazing kids I've had the opportunity to work with," Gainey said. "… I'm glad he's been able to learn and grow here and I've been able to be a part of that. He's a wonderful kid, and he's going to accomplish whatever goal he sets his mind to."
Contact View education reporter Jeff Mosier at jmosier@viewnews.com or 702-224-5524.