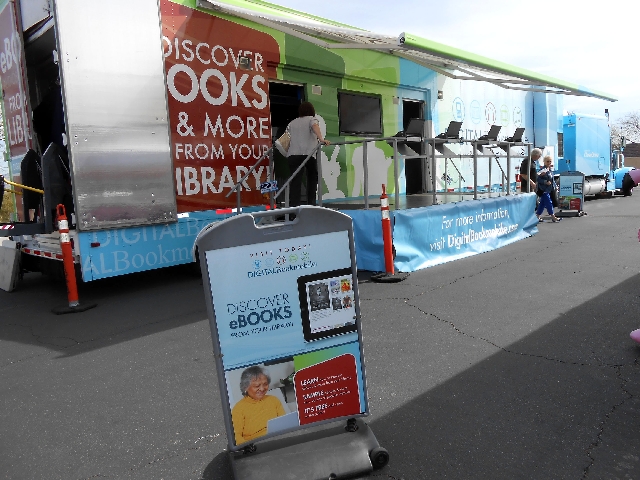 Bookmobiles used to carry books. Nowadays, they carry iPads, Kindles and BlackBerry devices.
The Digital Bookmobile visited the Summerlin Library, 1771 Inner Circle Drive, March 25 as part of its national tour. The 74-foot trailer was parked out front, with balloons and pop-up tents adding to its visibility. It offered a high-tech experience with hands-on digital download instruction.
Lauren Stokes, virtual branch manager for the Las Vegas-Clark County Library District, supervised the event and said changing technology has revolutionized how libraries operate.
"We started in 2004 with this," she said of electronic library access. "At that time, it was audio books that were the big attraction. … The people who were listening to e-books really caught on to it. It wasn't until 2010, when Amazon came out with the Kindle, and that marketing really boosted the e-book. It was the seniors who jumped on the bandwagon first."
She said that was because of e-readers allowing one to increase the type size of a book for failing eyesight and that it was a lot less weight to carry around. In Clark County, the library patron can opt for a seven-, 14- or 21-day borrowing period.
On board the Digital Bookmobile, a corridor led from one display to the next. Many were flat screens with touch capability. Their user-friendly prompts led one to search for books in various ways –– by author, title, subject or publisher. Another display had only a placard but touted how e-books allowed one to highlight passages and included electronic bookmarks and the capacity for keyword searches.
Another plus with e-books is there is never a late fee. The books automatically erase themselves at the end of their borrow period.
Nancy Zimmerman came from Henderson to see the bookmobile so she could learn how to download audio books. She said she likes to listen to them when walking or doing chores. She goes through about two or three a week.
"It'll be a lot cheaper than purchasing them," Zimmerman said. "It makes doing the mundane things so much better, more enjoyable."
Mike Aiken, 10, was there to learn about the homework help program because "sometimes it's hard, and sometimes it's easy."
He may have been there for homework help, but that didn't mean he couldn't check out the BlackBerry on display.
Kristijan Medic, digital media events specialist with the Digital Bookmobile, said many parents will get devices as gifts.
"They'll bring in their device and go, 'How do I do this?' "
Other people know the basics but have more specific questions, such as how to add to their wish list or find what books people are recommending.
Medic said about 300 people would visit the bookmobile that day. About 90 percent would be adults. The event included a treasure hunt with the answers inside the bookmobile. The prize was a Sony PRS-Y1 Wi-Fi E-Reader.
The library district recently partnered with RBdigital to allow cardholders access to their favorite magazines via their Internet-enabled device inside or outside of the library.
This allows unlimited simultaneous access to a collection of 200 complete digital magazines that can be viewed on platforms such as computers, smartphones, tablets and other Internet-
enabled devices. There are no holds or checkout periods.
"Adults are the ones who are trying to get into the technology," Medic said.
Medic said the iPad was his favorite, as he could access his email, go on Facebook, update his Twitter account and read. He said it was the most user-friendly. He said the Kindle Fire was another top contender in his opinion. It is not very expensive, he said, and allows email access, all by touch.
The display had various e-reading devices, including Windows and Mac computers, iPhone, iPad, Android, BlackBerry, Windows Phone 7, Kindle, Sony Reader and NOOK.
Library cardholders can check out digital titles anytime, anywhere by visiting search.overdrive.com. One can download 50 books at a time.
"Other libraries do five, maybe 10," Medic said. "Your library is definitely generous."
The traveling exhibit went to the Clark County Library 1401 E. Flamingo Road, March 26. The Digital Bookmobile is operated by OverDrive, which provides e-book-lending platforms for more than 18,000 libraries worldwide. For more information, visit digitalbookmobile.com.
The library district has hosted the Digital Bookmobile at various branches throughout the valley since 2009.
Medic said libraries would not be replaced by electronic devices.
"There's nothing that will ever replace the look, the feel, the smell of a book," he said. "There will always be a place for a library."
Contact Summerlin/Summerlin South View reporter Jan Hogan at jhogan@viewnews.com or 702-387-2949.