Dining events and news for Oct. 6-12, 2016
October 5, 2016 - 1:54 pm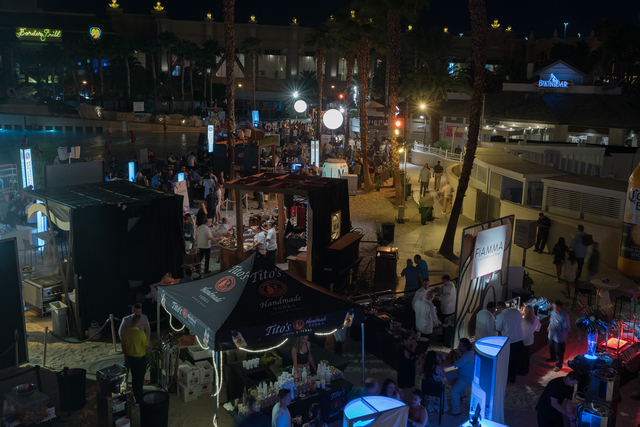 Breast Cancer Awareness: Through October, the Silver Sevens Hotel & Casino is offering food and drink specials with a portion of each sale benefiting the American Cancer Society. Visit affinitygaming.com.
Wine Tasting Club: A free wine tasting event with hors d'oeuvres is planned from 6 to 7 p.m. Oct. 6 at Crazy Pita at Town Square Las Vegas, 6605 Las Vegas Blvd. South. Children are permitted with an accomanying adult, but attendees must be 21 or older to participate. Call 702-778-3310/
Hearty Soups & Stews: The class, offered by Les Kincaid through UNLV Continuing Education, is planned from 6 to 8:30 p.m. Oct. 18 and 25 at Ferguson Enterprises, 4175 S. Grand Canyon Drive. The cost is $115. Register online at continuingeducation.unlv.edu or call 702-895-3394.
Wine & Food Tasting Extravaganza: The 17th annual event by Nathan Adelson Hospice is planned from 5:30 to 8 p.m. Oct. 20 at Gaudin Porsche, 6800 Redwood St. It serves as a fundraiser for the hospice's Pediatric Program and Families in Need Program. Attendees can try wines and cuisine, music and a silent auction and must be 21 or older. VIP tickets are $150 per person, which includes the VIP Reserve Experience pre-reception from 4:30 to 5:30 p.m. General admission tickets are $75 per person. Call Stephanie Forbes at 702-938-3910 or visit nahwine2016.auction-bid.org.
Downtown Brew Festival: The festival hosted by Motley Brews is planned from 4 to 9 p.m. Oct. 22 at the Clark County Amphitheater, 500 S. Grand Central Parkway. Tickets start at $35. Visit downtownbrewfestival.com.
Hallo-WINE Walk: The walk is scheduled from 5 to 8 p.m. Oct. 29 at Red Rock Resort, 11011 W. Charleston Blvd. Restaurants will host a variety of tasting stations for cocktail and wine enthusiasts. General admission is $39, and VIP admission is $49 plus tax and fees (includes a selection of light appetizers, cheese, crackers and veggies). Guests will receive a wine glass and tasting note book to have on hand during the journey, which will include a map of the property and locations of participating restaurants and lounges. Visit redrock.sclv.com.
Fundraising for a cure: Brio Tuscan Grille at Tivoli Village, 440 S. Rampart Blvd., is to donate $1 from every pink cocktail purchased from 4 to 8 p.m. Oct. 19 to Susan G. Komen of Southern Nevada. A non-alcoholic option is also available.
Third anniversary: Buddy V's Ristorante inside Grand Canal Shoppes at Venetian/Palazzo is celebrating its third anniversary at 6 p.m. Oct. 10 with a prix fixe dinner. The cost is $40 per person, not including beverages, tax or gratuity. Seats are limited. RSVP by calling 702-607-2355.
Frozen Fury XVIII: The event is set for Oct. 7 at Tom's Urban at New York-New York, 3790 Las Vegas Blvd. South. Guests can wear Los Angeles Kings gear, show their stub and get deals on food and drinks. Guests will also receive a 15 percent off coupon to use on another visit during the weekend. Visit tomsurban.com.
Love and Vine: Chefs from the Palazzo are set to feature wine and food pairings at the new event, planned from 7 to 10:30 p.m. Oct. 7 at the Azure Pool at the hotel, 3325 Las Vegas Blvd. South. Tickets are $104.58 or two for $185.72. Guests must be 21 or older. Visit venetian.com.
Edible Education Dinner: Create A Change Now is planning to host its second annual event from 6:30 p.m. to 9 p.m. Oct. 8 at Panevino, 246 Via Antonio Ave. This year's theme is Weighing in on Our Future, a look inside the obesity epidemic. Proceeds from the four-course dinner and silent auction benefit the organization. Hosted by 98.5-FM's Chet Buchanan, the four-course dinner will also feature live entertainment from the Las Vegas Academy of The Arts Jazz Combo, and a guest presentation by Dr. Tony Gumina as he discusses the childhood obesity epidemic in America. Tickets start at $150. Visit brownpapertickets.com/event/2586594, createachangenow.org or call 702-300-7399.
Taste the Rock: Red Rock Resort, 11011 W. Charleston Blvd., is planning a new Taste the Rock menu featuring small plates signature dishes from a variety of restaurants and lounges at the resort. Taste the Rock specials are available from 5 to 7 p.m. Monday through Friday inside each restaurant's bar area. Visit redrock.sclv.com.
Football viewing events
— Monday Night Pigskin Parties: The South Point Showroom will host weekly viewing parties throughout football season with cash prizes, food and drink specials and a featured drink of the month, Crown Royal Honey, with shots available for $4. Doors for the viewing parties will open at 4:30 p.m. Call 702-796-7111.
— Football viewing: Every Sunday and Monday, Sunset Station invites those 21 or older to the property's free football viewing party, to be held inside Club Madrid. The parties are hosted by sports book experts Chuck Esposito, director of race and sports book operations for Sunset Station, and Brian Blessing, host of Sports Book radio, am 1400 KSHP. Call 702-547-7777.
Party in The Park: Live music, outdoor celebrations and $5 shots are set to be available from 5 to 9 p.m. every Tuesday at The Park, 3782 Las Vegas Blvd. South. Visit theparkvegas.com.
Breakfast for teachers: Rise & Shine: A Steak and Eggs Place, 9827 W. Flamingo Road and 10690 Southern Highlands Parkway, are offering Clark County School District teachers 10 percent off their breakfast bills from through Oct. 31. Educators must bring a valid CCSD identification card. Visit bestbreakfastvegas.com.
Mondays Dark!: The cocktail offered at DW Bistro, 6115 S. Fort Apache Road, Suite 112, is a blend of Karma Silver Tequila, puree sweet hibiscus, fresh lemon and lime juice, DW Pomegranate Iced Tea, and DW Lemonade, garnished with a candied hibiscus flower. Sales of the drink support The Space, which is set to be the fundraiser's new home in 2017 at 3460 Cavaretta Court. Visit MondaysDark.com or thespacelv.com.
Chocolate tasting: Ethel M Chocolates are set to be tasted on the High Roller at The Linq, 3545 Las Vegas Blvd. South, from 5 to 8 p.m. every Thursday. Guests will learn about the origins of chocolate and how the pieces were created, all while focusing their attention on the aroma, taste and texture. The 30-minute (one rotation) event includes a chocolatier ambassador showcasing five types of pieces and the story behind them. A complimentary glass of wine is to be offered. Guests may book in advance or upgrade their current general admission ticket for an additional $15 per person. Standard admission pricing is $52 per person. A private cabin can be purchased for $1,500. Each chocolate tasting cabin can accommodate up to 15 guests. Call 702-322-0593 or visit HighRollerLV.com.
Chef series: The weekly event is planned from 6:30 to 7:30 p.m. Tuesdays at Whole Foods Market at Town Square Las Vegas, 6605 Las Vegas Blvd. South. Guests can view cooking demonstrations from the resort's executive chefs and learn how to prepare (and taste) the chefs' classic dishes and beverage concoctions.
Titanic Dinners: The events, in honor of late chef Bernard Tordjman, are planned from 4 to 9 p.m. Fridays at CB's Legacy, 2021 W. Sunset Road. Tordjman's protege, chef Enrique Delgado, is dedicating the events in honor of those who served aboard the RMS Titanic. Live jazz music is planned. The restaurant also plans wine pairing dinners from 4 to 9 p.m. the first Wednesday of the month for $55 per person, including food and wine specials. RSVP for either event by calling 702-558-3366. The restaurant's hours are from 4 to 9 p.m. Tuesday to Friday and 10:30 a.m. to 9 p.m. Saturday and Sunday.
Late-night events: Ferraro's Italian Restaurant and Wine Bar, 4480 Paradise Road, is planning a series of late-night events Thursdays. Call 702-364-5300.
Wine Pairing Dinners: The events honoring chef Bernard Tordjman are planned from 4 to 9 p.m. every first Wednesday at CB's Legacy, 2021 W. Sunset Road. They are $55 per person and include food and wine specials. RSVP by calling 702-702-558-3366.
Shake Shack partnership: Shake Shack at New York-New York resort announced its charitable partnership with the Children's Heart Foundation in Southern Nevada. Both Las Vegas Shake Shack locations are teaming up with local bakery The Cupcakery for two specialty concretes. Five percent of sales from the New York-New York's location-specific frozen custard concrete All Shook Up are to benefit the Children's Heart Foundation. At the Downtown Summerlin Shake Shack, guests can purchase the Red Velvet Rocks with 5 percent of sales benefiting Communities In Schools of Nevada. Visit chfn.org and CISNevada.org.
Vino With a View: The Ascaya development is planning the event with wine tastings and refreshments from 3 to 6 p.m. Wednesdays at 1 Ascaya Blvd. Call 702-978-5800.
Pokemon Go tuna tacos: Every Wednesday, Glutton, 616 E. Carson Ave., No. 110, is offering Pokemon Go players poke-style ahi tuna tacos for $3 each and two-for-one beers. Visit GluttonLV.com.
The Made Experience: Triple George Grill and the Mob Museum invite guests to travel back to a time when neighborhood speakeasys were a regular occurrence and classic mobsters ruled the town. The Made Experience is priced at $89 per person (two-guest minimum) and consists of a three-course prix fixe menu at Triple George Grill and a ticket to the Mob Museum. Visit tinyurl.com/madeexperience.