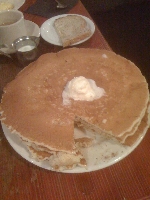 PICK OF THE WEEK:
SHUGE'S KITCHEN
1100 N. Martin Luther King Blvd.
at Washington Avenue, 834-4607
The phrase "home cooking" conjures up a host of memories, all of them different and unique to each one of us. But if your home cooking memories remind you of smothered fried pork chops or chitlins, then Shuge's is about to become your new "home cooking" home. Daily specials are neck bones (Monday), smothered chicken (Tuesday), pig feet (Wednesday), oxtails (Thursday) and turkey wings and dressing (Friday). Each comes with two sides, such as yams, greens, rice, potato salad, macaroni and cheese, fries, beans, fried okra or corn on the cob. Among the dinner plates are catfish filet, hot links, barbecue chicken, jumbo breaded shrimp and whiting fish filet. There are chicken fingers, chicken wings, fried chicken, ribs and Shuge's Burgers served with everything. Other sandwiches are turkey and cheese on a sub roll, beef hot link sausage, Philly cheese, and ham and cheese. Popular breakfasts are steak and eggs, hot cakes, chicken and waffles, and Shuge's Special, your choice of meat and choice of grits, hash browns or rice. Desserts are peach cobbler, banana pudding, sweet potato pie and pound cake. Dinner plates begin at $5.99 and breakfast at $3.99. Shuge's Kitchen is open from 7 a.m. to 8 p.m. daily.
— Jack Bulavsky