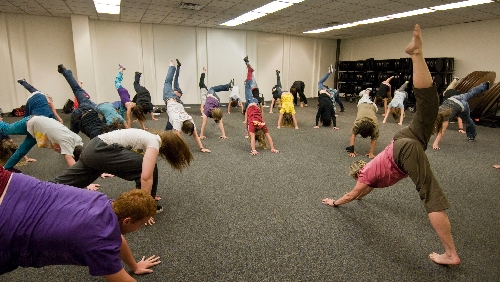 Main Street Station, 200 N. Main St., is a top 10 finalist for the 2011 America's Best Restroom Contest, presented by Cintas Corp. Voting is open to the public through Sept. 19. The nominated restroom is described as "a graffiti-covered segment of the oppressive wall that once separated East and West Berlin now serves as an appropriate function in the gentlemen's restroom in the main casino area, as it holds the urinals." Las Vegas has made it to the finals before, but no bathroom from Nevada has won the top honor. For more information or to vote, visit bestrestroom.com. Voting is scheduled to continue through Sept. 19.
AID FOR AIDS OF NEVADA EARNS INTERNATIONAL ACCREDITATION
Aid for AIDS of Nevada, 701 Shadow Lane, has been accredited by the Commission on Accreditation of Rehabilitation Facilities for a three-year period for its programs and care services. AFAN, a nonprofit organization that has provided HIV services in Clark County since 1984, has demonstrated that it meets the international standards for quality.
RAINBOW COMPANY YOUTH THEATRE AUDITIONS SCHEDULED FOR AUGUST
Open auditions for the Rainbow Company Youth Theatre student ensemble and for roles in "Charlotte's Web" are scheduled at 1 p.m. every Saturday in August at the Charleston Heights Arts Center, 800 S. Brush St. Participants are encouraged to dress comfortably in clothes that allow for movement. No prepared material is needed.
On Saturday , serious drama students between 10 and 18 are invited to audition for the student ensemble. Tuesday night meetings and classes are mandatory, and students are required to work on all four of the company's productions.
An open audition for roles in "Charlotte's Web" is scheduled on Aug. 27. Performances are scheduled Oct. 7-16 at the center.
For more information about scheduled auditions or how to join the student ensemble, call 229-6553.
City of LAS VEGAS TO OPEN
THREE NEW ART EXHIBITS
Artist Angela Bellamy's "The Pano Project" is scheduled to run Aug. 25 through Oct. 27 at Charleston Heights Arts Center, 800 S. Brush St. Gallery hours are 12:30 to 9 p.m. Wednesday through Friday and 10 a.m. to 7 p.m. Saturday. A free artist reception is scheduled from 6 to 8 p.m. Aug. 25. For more information, visit angela
bellamy.carbonmade.com or call
229-1012.
"The Best Little Pet Show in Vegas!" exhibition is scheduled to run Sept. 1 through Oct. 27 at the Bridge Gallery on the second floor of City Hall, 400 Stewart Ave. Gallery hours are 7 a.m. to 5:30 p.m. Monday through Thursday, excluding holidays. For more information, call 229-1012.
Artist Nja Onê is scheduled to show "Art Coming to Life/ Visual Arts Exhibit" from Sept. 14 through Nov. 5 at the West Las Vegas Arts Center, 947 W. Lake Mead Blvd. Gallery hours are 10 a.m. to 6 p.m. Wednesday through Friday and 9 a.m. to 5:30 p.m. Saturday. Meet the artist during a one-woman show, "Pennies from Heaven," at 2:30 p.m. Nov. 5 at the center. Call 229-4800 for more information.
WEDDING EVENT TO BENEFIT
AMERICAN CANCER SOCIETY
Crash a Wedding for breast cancer from 6 to 11 p.m. Aug. 27 at the Springs Preserve, 333 S. Valley View Blvd. All proceeds from the event will benefit the American Cancer Society and its programs. The schedule includes music, dancing, comedy, magic, carriage rides, silent auction, raffle and door prizes for participants who will be the guests at a real wedding.
For more information, visit
crashapinkwedding.webs.com.
LAS VEGAS HARVEST FESTIVAL SCHEDULED SEPT. 9-11 AT CASHMAN CENTER
The Las Vegas Harvest Festival, one of the largest indoor arts and crafts festivals in the West, is scheduled from 10 a.m. to 6 p.m. Sept. 9 and 10 and 10 a.m. to 5 p.m. Sept. 11 at the Cashman Center, 850 Las Vegas Blvd. North.
General admission is $9 or $7 for those 62 or older. Tickets for teens 13-14 are $4, and children 12 or younger will be admitted free with an adult. Group tickets are $5 each for groups of 10 or more if purchased in advance.
Adults and seniors can get a $2 discount with a donation of paper products, baby food, baby wipes or formula. The donations will be given to Safe Nest, a shelter for women and children.
Local charities also will benefit from Miss Spider's Tea Party, a series of interactive storyteller tea parties to be put on by the Royal Tea Society throughout the day Sept. 10 and 11. Tea is $5 per person, and children must be accompanied by an adult.
For more information, visit harvestfestival.com or call 451-0344.
heinrich YMCA PARTICIPATING
IN NATIONAL SCHOOL LUNCH PROGRAM
The Bill & Lillie Heinrich YMCA, 4141 Meadows Lane, is participating in the National School Lunch Program, a federally assisted meal program providing nutritionally balanced, low-cost or free lunches to students.
Children 2 to 18 can receive a free lunch at the Heinrich location from
11:30 a.m. to 1 p.m. Monday through Friday through Aug. 26.
For more information, call 877-9622.
Animal Foundation offers
low-cost sterilization
Pet owners who make and keep an appointment to have their dog or cat spayed or neutered at the Animal Foundation's Low-Cost Spay and Neuter Clinic, 655 N. Mojave Road, during August will receive free core vaccinations at the low-cost shot clinic for the remainder of the pet's life. The August Hot Shots promotion is introduced as summer temperatures and intake numbers continue to rise.
The Animal Foundation, Nevada's largest open-admission animal shelter, receives more than 50,000 animals annually. The foundation's intake numbers are higher than those of New York City and Los Angeles.
To reduce the number of unwanted pets in Southern Nevada, all four valley jurisdictions passed mandatory spay and neuter ordinances in 2010.
Procedures at the foundation's clinic start at $65. Core vaccinations include DAPPV, rabies, bordetella and deworming for dogs and FRVCPC, rabies and deworming for cats. For more information, call 384-3333.
Capture DOWNTOWN! photography COMPETITION voting to begin Sept. 1
Select your favorite photos online in the Capture Downtown! competition due to be hosted at lvrj.com from Sept. 1 through Sept. 22. Winners in the competition sponsored by the city of Las Vegas, the Downtown Las Vegas Alliance, Symphony Park and the Las Vegas Review-Journal are scheduled to be announced in October during the Symphony Park Lecture at the Historic Fifth Street School, 401 S. Fourth St.
For more information, visit downtownlasvegasalliance.com/capturedowntown.
KLEVEN CONTEMPORARY debuts new
exhibit IN EMERGENCY ARTS
"Justin Favela: New Paintings" is scheduled to run through Sept. 24 at Kleven Contemporary, 520 E. Fremont St., inside the Emergency Arts building. For more information about the exhibit or gallery hours, call 501-9093.
FREE CAREER DEVELOPMENT SEMINAR SCHEDULED FOR SATURDAY
The Las Vegas Chapter of 100 Black Men plans to sponsor a free career development seminar from 9 a.m. to noon Saturday at the Urban Chamber of Commerce Business Development Center, 1951 Stella Lake Drive. Registration deadline is Thursday. Space is limited to 25 attendees. For more information or to register, call 648-6222.
Smokey bear exhibit on display
at lied discovery children's museum
"Smokey Bear & Woodsey Owl: Home Sweet Home" is scheduled to be on display through Sept. 25 in the Cultural Gallery at the Lied Discovery Children's Museum, 833 Las Vegas Blvd. North.
The exhibit was developed by the Betty Brinn Children's Museum in collaboration with the U.S. Forest Service to spread the messages of wildfire prevention and wildlife conservation.
For more information, visit ldcm.org or call 382-3445.