Downtown residents find ways to beat the heat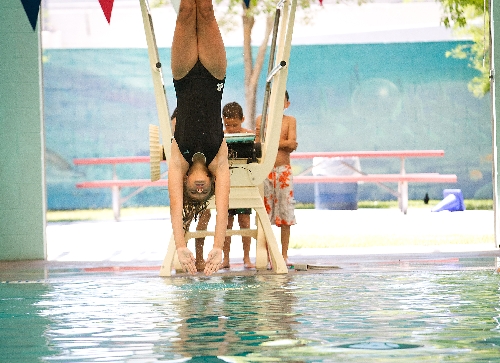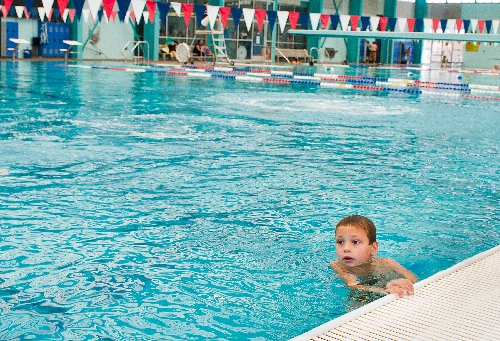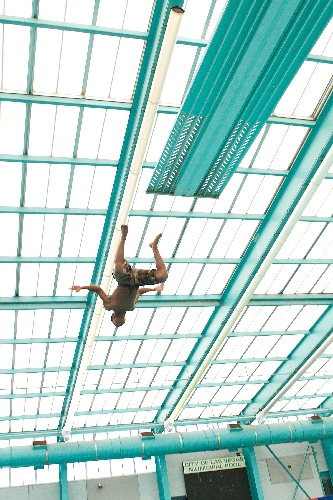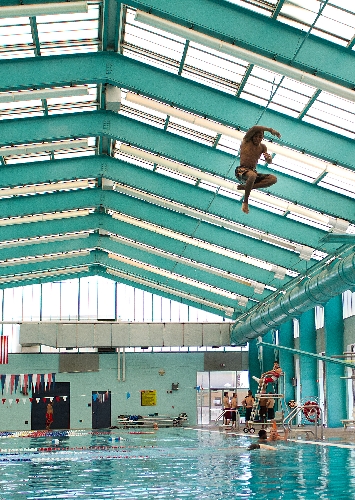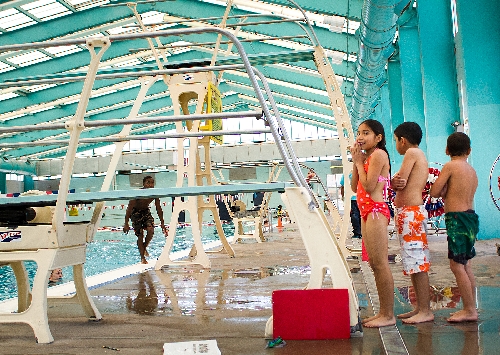 There's no escaping the sun's blistering rays as they roast the valley to triple-digit temperatures.
Even standing in the shade, it feels like someone is holding a blow dryer to your face.
The scorching heat radiates from city streets, melting solid blacktop into a squishy pool of gumminess that sticks to the heels of shoes.
In fact, Old Spice ranked Las Vegas as the second-sweatiest city in the country (behind Phoenix) in 2005 because of its average 100-plus-degree summer weather.
According to the National Weather Service, July 2010 was the hottest month recorded in Las Vegas since record keeping began in 1937. The high reached triple digits every day that month, with a sweltering average temperature of 96.2 degrees. That's what happens when you plop down civilization in the middle of a 25,000-square-mile desert. Thanks, Mojave.
But there are ways to cope with the oven-esque atmosphere.
Outside Luv-It Frozen Custard, 505 E. Oakey Blvd., customers clad in sunglasses, shorts and tanktops fanned themselves from the blanketing heat and chatted while waiting for their orders recently. Most rushed off to their cars to save their frozen treats from becoming liquid.
"It's too hot," one woman complained. "I want to get back to my air conditioning."
Just down the road at the world famous Gold and Silver Pawnshop, 713 Las Vegas Blvd. South, a long line of eager fans of the History Channel's "Pawn Stars" huddled under misters that sprayed cool water while they waited to catch a glimpse of their favorite television stars Rick Harrison and company. Similar water misters cooled off shoppers at Las Vegas Premium Outlets, 875 S. Grand Central Parkway.
Casinos along Fremont Street kept their doors open to blast cool air underneath the famed canopy. Some passers-by sought refuge in the doorways while others searched for a cold beverage. If casino door hopping isn't your style, the Golden Nugget offers a $30 million pool complex complete with a shark tank, a three-story water slide and 13 private cabanas. A 30-foot climb upstairs brings you to the top of the water slide that passes through The Tank, where you'll slide through sharks and schools of fish.
For those who want to hang indoors on Fremont East, a new indoor farmers market is scheduled to open Thursday at Azul, 115 N. Seventh St., in the yellow building near Ogden Avenue. The market is scheduled from 10 a.m. to 1 p.m. every Thursday. Free parking, local produce and live music are expected at the event, which is sponsored in partnership by Project Dinner Table, Fremont East and Nevada Grown.
The Stratosphere, 2000 Las Vegas Blvd. South, boasts its Level 8 Pool, a 67,000-square-foot deck, hot tub, poolside cafe and bar eight stories above the Strip, according to the hotel's website.
Over at the city's Municipal Pool, 431 E. Bonanza Road, the number of swimmers quadrupled after the school year ended. About 250 people came to cool off on this day, said David Lund, aquatic recreation leader with the pools department.
"A couple of our pools are averaging over 300 people per day," Lund said. "Come and join some of our programs and have fun at the pool. Wear your sunscreen or stay out of the sun. If you have to be out for extended periods of time, stay hydrated."
Lund also mentioned the county's cooling stations, which are scattered throughout the valley. These stations provide air-conditioned indoor shelter for temporary relief during the day and water to stay hydrated.
"We also have our splash parks in our park facilities," he added. "They can go run through the spray features and cool off that way, too."
Pool visits cost $1 for children and $2 for adults.
"It's a cheap way to cool off in the middle of 110-degree weather," Lund said.
Contact Downtown and North Las Vegas View reporter Kristi Jourdan at kjourdan@viewnews.com or 383-0492.