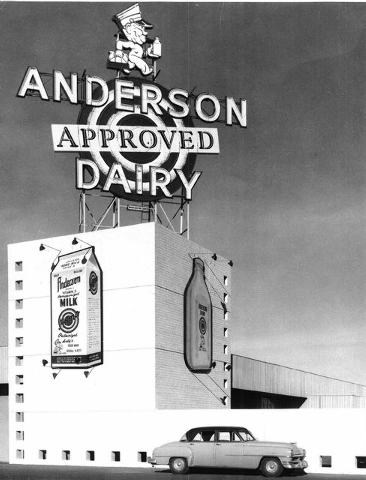 Anderson Dairy has been serving the valley for almost a century. The downtown headquarters is flanked to the north by Foremaster Lane and to the south by Searles Avenue. Both names have ties to the dairy.
Dairy farmer Harry Anderson came to Las Vegas in 1907, just two years after the land auction that helped establish the then-quiet railroad town. His farm was carved out of the forbidding desert way out of town, near what is now the University Medical Center. Anderson delivered milk from his small herd of 10 to 15 cows twice a day by horse-drawn wagon. In those days before refrigeration and before an ice house was built to produce ice for the valley, Anderson kept the milk cool by draping it with wet burlap.
When Anderson's business grew and expanded in the 1920s, it was relocated to the corner of Fifth and Hoover streets, just north of what is now the Soho Lofts. Around the same time, the dairy was sold to Kenneth Searles, but the well-established name was retained.
Carey Burke and Searles' son Kenneth Jr. were in Las Vegas High School's class of '55, and Burke remembers Searles as being well-off but approachable.
"They lived over by the Binions' ranch on Bonanza, and they had a pool that was filled by an artesian spring behind their property," Burke said. "I didn't see much of the father. He was at work a lot, but he always let us kids use the pool."
Burke said Kenneth Searles was important to the community and was involved in many of the city's civic organizations.
In addition to delivering milk, for many years the company operated a successful ice cream parlor where it also sold fresh milk and other dairy products.
In 1956 the company expanded again, building a state-of-the-art facility at its present location, 801 E. Searles Ave., which was named for Kenneth Searles. Family members are still involved in the operation.
The Foremaster family had been involved in the dairy business in one form or another for years. From 1923 to 1931, they had lived and operated a dairy on the property on which Anderson Dairy was eventually built. At the time of the move, Lamar Foremaster was the manager of Anderson Dairy and his brother Lloyd was a distributor for Arden Dairy, another valley dairy. The other street abutting the new building was named in honor of Lloyd's 20-year-old son, Clifford Lamar Foremaster, who died unexpectedly in 1955.
Although the milk cows are gone from the valley, the processing and packaging of Anderson Dairy milk is still done at the facility that was built on what was then the edge of town but is now considered in the heart of downtown Las Vegas. Tours for all ages are available by calling 702-642-7507, ext. 264.
Contact East Valley View reporter F. Andrew Taylor at ataylor@viewnews.com or 702-380-4532.