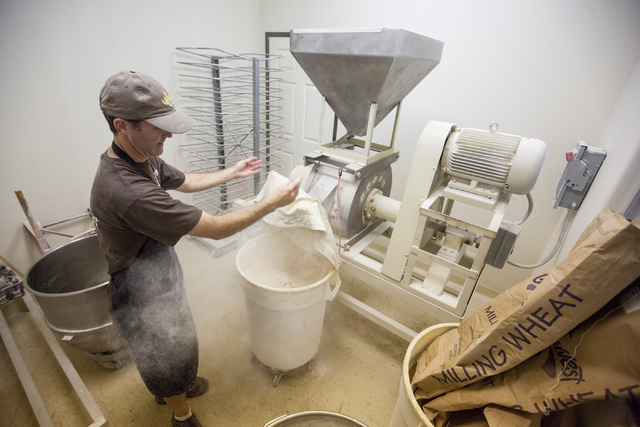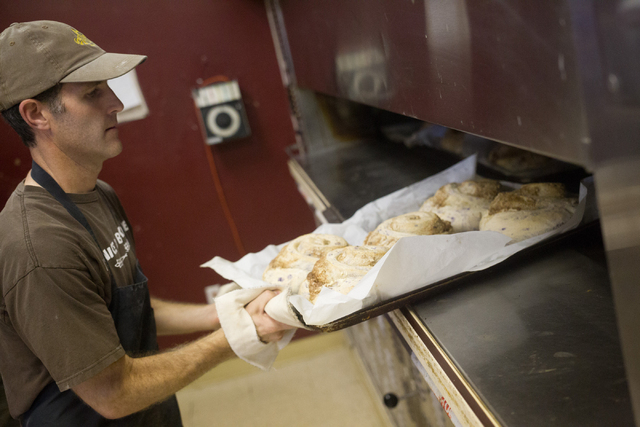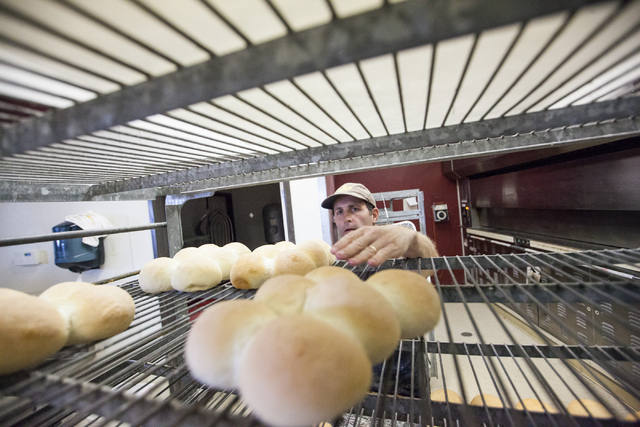 Most mornings, Marcus Stewart is up well before dawn doing the same job he began while in college. The work is physical, messy and precise, but he loves it, and he loves helping people pursue a healthier life.
Marcus and his wife, Tina Stewart, run two of the five Great Harvest Bread bakeries in the valley. Their store at 4800 E. Bonanza Road has been there for a decade, and they opened another at 6475 N. Decatur Blvd. 3½ years ago. The stores sell fresh, whole-grain bread, baked treats and sandwiches.
"We use the whole grain and grind our wheat fresh each morning because that's the way to make bread that's naturally good for you," Marcus Stewart said. "Most store-bought bread has preservatives and is enriched with vitamins and minerals to make up for what's been lost in the process and shipping time."
He explained that the hard shell or bran of a wheat kernel protects the interior endosperm and germ from decay. Each part of the wheat kernel provides an element of a complex carbohydrate. The bran provides fiber and vitamin B, the endosperm provides carbohydrates and protein and the germ, a small core that makes up 3 percent of the kernel, contains antioxidants, vitamins B and E and high-density lipoprotein, the good cholesterol recommended by cardiologists.
"Most of the large manufacturers separate the bran and the germ, and white flour ends up being mostly endosperm," he said. "Once you open the hard shell, the vitamins and minerals begin to decompose. It takes a few weeks or a month for the flour to lose most of the nutrients, which is usually long before the flour is mixed in to become part of bread."
That's why Marcus Stewart or one of his employees is up between 2 and 4 a.m. daily to grind the wheat, mix the dough, let it rise, cut it to size, knead it, let it rise again, bake it, let it cool, slice it and package it. Most of the bread is usually done by 7:30 or 8 a.m.
"I love to see the look on someone's face when they taste something good I made with my own hands," he said. "I love the interaction. I love the fact that I'm providing a good, healthy option for families. I'm making something that's helping people be healthier and live a better life."
Great Harvest Bread is a franchise, but that doesn't mean that each one is the same. Thousands of bread recipes are available to franchisees, who choose which ones to make and sell. They are free to experiment and create their own recipes, and often, those recipes are added to those available to all Great Harvest Bread stores. The sandwich and breakfast menu at the Stewarts' stores was chosen by Tina Stewart.
"There are standard sandwiches, but many customers prefer using the build-your-own list," she said. "You go through the list and circle the bread you want, the meat you want, the dressing, et cetera. That led to Tim's Fabulous Reuben being added to the menu, which is named after one of our employees, and Mike's Turkey Jack."
Marcus said Mike is a regular who comes to Great Harvest Bread two or three times a week and orders the same sandwich every time. The Stewarts decided to put it on the menu and name it in his honor.
Contact East Valley View reporter F. Andrew Taylor at ataylor@viewnews.com or 702-380-4532.