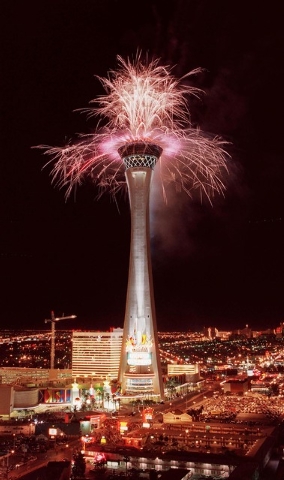 Unlike Henderson, Boulder City and North Las Vegas, the city of Las Vegas doesn't sponsor a fireworks display to celebrate Independence Day, but several private enterprises in the East valley area have it covered.
NIGHT OF FIRE
The NASCAR Whelen All-American Series annual Night of Fire is scheduled from 5 to 10 p.m. July 3 at the Las Vegas Motor Speedway, 7000 Las Vegas Blvd. North. The event is set to include several races including a 76-lap NASCAR Super Late Model race and waterless boat races where derelict boats are attached to the back of racing cars. Fireworks are scheduled near the end of the event. Tickets are $15 for adults and $8 for children.
LAS VEGAS 51S
The fireworks after the Las Vegas 51s game at Cashman Field, 850 Las Vegas Blvd. North, should be visible to most of downtown. The 51s are set to play Salt Lake City at 7:05 p.m. with fireworks scheduled after the game. Tickets are $15 to $25. Visit tinyurl.com/lv51s.
STRIP FIREWORKS SHOWS
At 9 p.m. fireworks are scheduled at both ends and the middle of the Strip.
The Stratosphere, 2000 Las Vegas Blvd. South, is set to host its Fun on the Fourth extravaganza. Most of the events are scheduled from 6 to 10 p.m. A number of viewing venues are offered at the hotel depending on patrons' desires, needs and budgets.
For families with children, Level 108 and 109 are set to be open from 6 to 10 p.m. for $28 per person.
One floor below, in the newly remodeled Level 107 lounge, adults can enjoy happy hour specials before and after the event. There is no cover charge, but there is a two-drink minimum after 6 p.m. After the fireworks, visitors can dance to music played by DJ Shy and the live band Treasure from 11 p.m. to 4 a.m.
A little closer to the ground, an adult pool party is scheduled from 6 to 10 p.m. at the hotel's eighth-floor rooftop pool. The party features food and drink specials and a concert by Zowie Bowie. Tickets are $10 for this 21-or-older event.
Visit stratospherehotel.com/4th-of-july or call 702-380-7777.
On the south end of the Strip, Fourth of July festivities are scheduled starting at 8 p.m at Mandalay Bay Beach, 3950 Las Vegas Blvd. South. The all-ages event is set to feature music by classic rock band Phoenix and fireworks. Tickets are $20 and family four-packs are available for $60.
"It's a terrific venue and a great place to see the fireworks," said Mandalay Bay spokeswoman Kristen Cadenhead. "You can sit back on our beach and kick back or let the waves wash over your feet while you listen to the band and watch the big show right overhead."
Visit mandalaybay.com, ticketmaster.com or call 800-745-3000.
One of the newest attractions on the Strip, The LINQ, is being touted as the place to watch fireworks displays. At 9 p.m. Caesars Palace is set to launch its fireworks across the street from the LINQ. Another set of fireworks is set to be touched off in the parking lot for the High Roller, the 550-foot tall observation wheel that is the centerpiece of the LINQ.
The prices for the High Roller will be bumped up between 8:30 and 9:30 p.m., prime fireworks viewing time. Individual tickets are $49.95, or a private cabin for up to 25 people with an open bar is $2,500.
To book a reservation, call 702-322-0537 or email highrollersales@caesars.com.
For more Independence Day festivities valleywide, visit viewnews.com.
Contact East Valley View reporter F. Andrew Taylor at ataylor@viewnews.com or 702-380-4532.