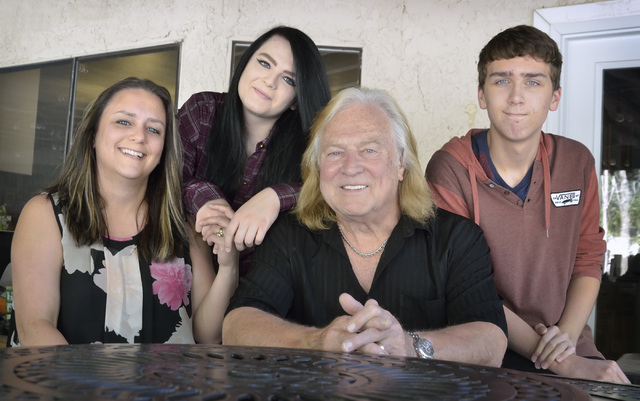 Until January, east valley resident Glenn Smith had been performing on stage all of his adult life. That's when his son took ill, and he stopped performing to take care of him.
"I've got a severely handicapped boy, and he took a turn for the worse," Smith said. "He's had pneumonia and needs to be taken care of pretty much 24/7, but that's my boy. That's what you do when you're a father."
His first son, Christopher, was born with Down syndrome and two holes in his heart.
"The doctors told us not to keep him, to institutionalize him because he wouldn't live past 3 years," Smith said. "Well, we couldn't do that, and he's 45 now."
Smith came to town at age 18, playing with a rock band. For six years, that band performed at the Fremont Hotel. It performed on a rotating stage that would turn between sets so the other act, two brothers, was always set up also. Eventually, one of those brothers, a guy named Wayne Newton, made a name for himself and got Smith and his band a long-term gig at the Flamingo.
Smith eventually segued from rock to become a classic Las Vegas entertainer, working the lounges and the big stages.
Because of Christopher, Smith became involved with Opportunity Village, founding the Concert of Love benefit, an annual event that ran for 29 years. His connections to the Strip and its performers allowed him to draw big names to the shows. He watched the organization grow from a small building to the sprawling campus it occupies today.
"We raised millions of dollars over the years," Smith said. "With that money, Opportunity Village has been able to help so many people to help themselves."
Emily, Smith's second wife, met him when they were working together at a New Year's Eve concert in 1996. At the time, she was playing bass, but she is currently the executive director of the Nevada Blind Children's Foundation.
"The bass was a long time ago," Emily said. "I've always known Glenn as an entertainer with people announcing him onto a stage, but for the last six months, he's been around the house with the kids."
The performer, who is used to working cruise ships and performing all over the world, spends a lot of his time sitting around drinking tea and hanging out with his eldest son and the two children he had with Emily. His other son has married and has a career of his own, although it's likely all four will be around on Father's Day.
"At home, he's just down to Earth. He likes to sit down with his kids," Emily said. "He's into whatever they're into, and he wants to know what they're doing and how they're doing it and how they feel. He's a really good dad."
Christopher is not out of the woods yet, but his father is hopeful and said he'll do what it takes to help him get better. For the time being, the stage will have to wait.
"It's been an interesting time for Glenn," Emily said. "He's used to standing ovations and applause, but there's no standing ovations for making lunch and driving the kids to school. It's a big change, but he never complains."
To reach East Valley View reporter F. Andrew Taylor, email ataylor@viewnews.com or call 702-380-4532.