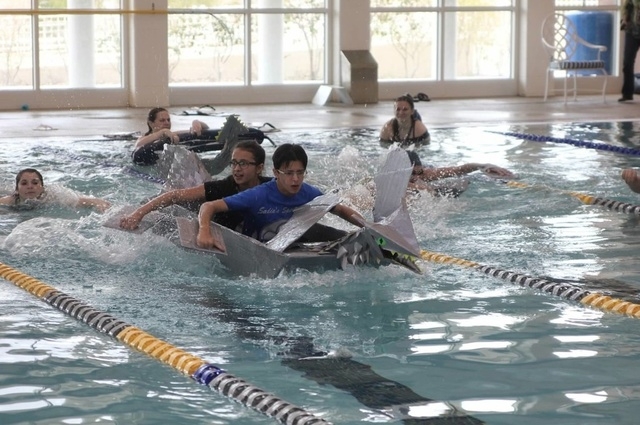 PUBLIC EDUCATION FOUNDATION KICKS OFF GIVING WITH PURPOSE FUNDRAISING CAMPAIGN
The Public Education Foundation has kicked off its annual fundraising campaign, Giving With Purpose, with the goal to raise $300,000.
The nonprofit seeks to drive change and improve outcomes through educational programs that support early childhood learning and family engagement, scholarships and leadership.
For more information on the campaign, visit thepef.org.
AFTER-SCHOOL ALL-STARS PARTNERS WITH SMITH MIDDLE SCHOOL FOR ALL-STAR PARENT EVENT
After-School All-Stars Las Vegas partnered with Smith Middle School, 1301 E. Tonopah Drive in North Las Vegas, for its first All-Star Parent event on March 6.
Parents of all Smith students and the community were invited to hear state Sen. Ruben Kihuen, who attended Smith, speak about overcoming adversity and the importance of parent involvement. Representatives from College of Southern Nevada Adult Education, TRiO Adult Educational Services and the Clark County School District's English Language Learner program were also on hand to provide information on English classes, GED programs and tips for staying involved in children's education. Smith students from After-School All-Stars' cheer squad and mariachi band performed.
NEVADA STATE BANK ANNOUNCES WINNERS OF BEAUTIFUL NEVADA ESSAY CONTEST
Nevada State Bank has announced the winners of its Beautiful Nevada essay contest for Nevada public school students. Winning students received an iPad Mini and their schools received $5,000 each.
Students in grades kindergarten through 12th grade were asked to answer the question "What Makes Nevada Beautiful to You?" Winners were chosen from school districts throughout Nevada in divisions of kindergarten through fifth grade, sixth through eighth grades and ninth through 12th grades.
In Southern Nevada, the winning essays were written by Fiona Mobley, a fifth-grader at Manse Elementary School in Pahrump; Perri McGillivray, a seventh-grader at Cadwallader Middle School, 7775 Elkhorn Road; and Skye Maynard, a 12th-grader at Foothill High School, 800 College Drive in Henderson.
To read the essays, visit nsbank.com/beautifulnv.
UNITED WAY'S YOUNG PHILANTHROPIST SOCIETY VISIT SCHOOL FOR NEVADA READING WEEK
Members of United Way of Southern Nevada's Young Philanthropists Society visited Bracken Elementary School, 1200 N. 27th St., March 4 to read to second-grade students for Nevada Reading Week. The group also provided new books to more than 500 students.
The Society launched the Piggy Bank program at the school, which teaches students about savings and lets them save money in their own bank accounts. The program has helped more than 500 children learn how to save and raised more than $32,000. Society members volunteer on Fridays to help the students deposit their savings.
In addition to the Bracken programs, the society also has provided holiday gifts, books and candy canes to more than 700 children at Hollingsworth Elementary School, 1776 E. Ogden Ave., and helped more than 150 children learn the importance of dental hygiene through United Way's Brush at Lunch program. Immunizations were provided during National Infant Immunization week to ensure that children stay healthy. The society is in the process of making sure every child at Hollingsworth receives a special celebration for his birthday.
LAS VEGAS PROM CLOSET COLLECTING DRESSES
The Las Vegas Prom Closet is collecting new and gently used prom dresses and accessories for its Operation Glass Slipper program. The dresses will be distributed to local high school students who wish to attend prom but cannot afford the expense.
Dresses are set to be given out from 10 a.m. to 3 p.m. March 22 at Stitch Factory, 300 Las Vegas Blvd. North, Suite 120. Students will be required to show a valid student ID to pick out a dress.
For more information, call 702-900-7766.
SMITH MIDDLE SCHOOL TO GET FACELIFT
Smith Middle School, 1301 E. Tonopah Ave., is set to host a cooperative effort involving staff members, students, and organizations such as the Boy Scouts and local artists March 22. The project will consist of painting stripes of school colors throughout the grounds, interjected by murals designed and produced by local artists from groups including the Las Vegas Artists' Guild and ThinkArt, a nonprofit art networking and support organization.
For more information, call Carrie McEntire at 702-799-7080, ext. 4201.
CSN PLANS SPRING CAREER FAIR APRIL 8
The College of Southern Nevada Career Services plans to host a Spring 2014 Career Fair from 10 a.m. to 1 p.m. April 8 in the Charleston Campus Building D lobby, 6375 W. Charleston Blvd.
The event is free and open to the public. For more information, call 702-651-4700.
EARTH DAY ART CONTEST OPEN TO STUDENTS THROUGH APRIL 11
Clark County School District students are invited to enter the fourth annual Earth Day Every Day art contest sponsored by Keep Las Vegas Beautiful in partnership with the school district's Community Partnership Program and Republic Services.
Contest entries must be received by 4:30 p.m. April 11. An award ceremony is planned for April 26 at Town Square Las Vegas, 6605 Las Vegas Blvd. South. Cash prizes provided by Republic Services will be awarded to the top three students of each age group and their teachers. Submitted artwork from winners and runners-up will be part of a Youth Earth Day art display at Town Square and later displayed at Las Vegas City Hall, 495 S. Main St.
The theme is Earth Day Everyday. Each piece of artwork should include a title and a brief summary explaining the drawing. Artwork should focus on celebrating the Earth and depict ideas about how students can protect and preserve the planet. The contest is open to students in grades 4-12. Drawings must be two-dimensional, including paint, watercolor, marker, crayon, collage, photography or a combination. Entries must be 8.5 inches by 11 inches on 40 lb. or heavier paper.
To enter the contest, label artwork with the student's name, grade, teacher's name, school, art title and description and send to: Attention: Cheryl Wagner, School-Community Partnership Program No. 145 c/o Western High School, 4601 W. Bonanza Road, Las Vegas, NV 89107.
Teachers will be notified of the finalists by April 16. For more information, contact Lisa Campbell at 702-229-5406 or email lcampbell@lasvegasnevada.gov.
CLARK COUNTY PARKS AND RECREATION OFFERS DAY CAMPS FOR KIDS
Clark County's Parks and Recreation Department is offering spring break day camps for children 6 to 12 April 14-18.
The cost is $15 per day or $70 per week per child. Activities vary at each location but include group games, arts and crafts, sports and recreational activities. Campers bring their own lunch and snacks (no food requiring refrigeration).
For the registration form or more information, visit clarkcountynv.gov. Parents should fill out the application and mail it or drop it off in person with payment to the center their children will attend. Camps fill up on a first-come, first-served basis. Mail-in registration is underway, and walk-in registration beings March 24 at participating centers.
Camps are being offered at the following centers: Desert Breeze Community Center, 8275 Spring Mountain Road, 702-455-8334; Hollywood Recreation and Community Center, 1650 S. Hollywood Blvd., 702-455-0566; Paradise Recreation Center, 4775 S. McLeod Drive, 702-455-7513; and Walnut Recreation Center, 3975 N. Walnut Road, 702-455-8402.
SONS OF NORWAY TO HAND OUT SCHOLARSHIPS
The Sons of Norway's Vegas Viking Lodge is seeking applicants for its eighth annual scholarship for post-high school studies.
To be eligible, applicants must be of Norwegian descent, legal residents of Clark County or Alamo or a member of the Vegas Viking Lodge or a child or grandchild of a lodge member and at least a high school senior or ongoing full-time student.
The scholarship is at least $500. Last year the lodge gave away six $500 scholarships. Winners will be chosen based on grades, financial need, extracurricular activities and an essay expressing appreciation for their Norwegian heritage.
Applications must be postmarked by April 19. Applications are available at vegasviking.com/scholarship.html.
Tax-deductible contributions to the scholarship fund, including naming gifts, are welcome. To donate, mail a check payable to Vegas Viking Sons of Norway Scholarship Fund to treasurer Warren Halvorsen, 830 Kingston Springs Way, Las Vegas, NV 89123-3643.
For more information, call Suzan Sibert at 702-645-6666.
EDUCATION NONPROFITS PLAN SPLASHDOWN FOR KIDS AT WET 'N' WILD
Communities In Schools of Nevada and After-School All-Stars Las Vegas plan to host a weekend of summer entertainment at their first Splashdown For Kids, set for April 26 and 27 at Wet 'n' Wild, 7055 S. Fort Apache Road.
Proceeds will benefit the nonprofit groups. Pre-sale tickets are $20 at wetnwildlasvegas.com. Tickets at the door are $35. Children 2 or younger will be admitted with no fee. For one-day tickets, use the promo code CISASASday.
For event sponsorship information, contact Brittany McCoy at brittanym@cisnevada.org or Ranna Daud at ranna@asaslv.org.
PARENT-CHILD CLASSES PLANNED AT CAMBRIDGE COMMUNITY CENTER
The University of Nevada Cooperative Extension is offering a series of parent-child classes for children 3 to 5. The three-program series at the Cambridge Community Center, 3900 Cambridge St., features All 4 Kids, Family Storyteller and Little Books and Little Cooks.
All 4 Kids is a 12-week interactive program that focuses on activities to promote physical activity, healthy eating and living healthy at any shape or size. The program is set for Mondays and Wednesdays.
Family Storyteller is a six-week program that trains parents to play a role in early literacy development. Beginning April 7, each class will have parents and their children participate in reading and language activities together.
Little Books and Little Cooks is a seven-week program designed to promote healthy eating, family literacy, positive parent-child interaction and the child's school readiness skills. Beginning June 25, each class will have parents and children learning about nutrition, reading children's books and cooking and eating together.
For more information or to register, call 702-948-5942 or email all_for_kids@unce.unr.edu.
FREE PROGRAM TO OFFER HEALTHY LIVING TIPS FOR PRESCHOOLERS AND FAMILIES
All 4 Kids, a program of the University of Nevada Cooperative Extension, is offering a 13-week program for preschoolers (ages 3 to 5) and their parents. Families will be provided interactive experiences that promote healthful habits regarding physical activity and eating. Free materials will be given to families to continue activities at home.
Classes are taught in English and Spanish. The program is free and is scheduled to be offered at the Pearson Community Center, 1625 Carey Ave. in North Las Vegas, from 11 a.m. to noon Tuesdays and Thursdays.
Space for the program is limited. To register, call 702-948-5942 or email all_for_kids@unce.unr.edu.
UNLV OFFERS CONTINUING EDUCATION CLASSES
The UNLV Office of Continuing Education is offering courses this spring and summer for those interested in personal or professional development.
Professional certificate programs include paralegal, legal secretary, medical assistant, design, public relations, nonprofit management, human resources, fashion design, grant writing, personal training and more.
Continuing Education also offers courses in language, cooking, music and recreation.
The Osher Lifelong Learning Institute at UNLV offers student-led classes to more than 1,300 retired and semiretired adults.
For full course listings or to register, visit continuingeducation.unlv.edu. For a copy of the course catalog, call 702-895-3394.
SCHOOL DISTRICT RELEASES 2014 GRADUATION SCHEDULE
The Clark County School District has released its 2014 high school graduation schedule, which can be found at tinyurl.com/ccsdgrad2014. Graduations are scheduled June 2-14, most of them at The Orleans or the Thomas & Mack Center.