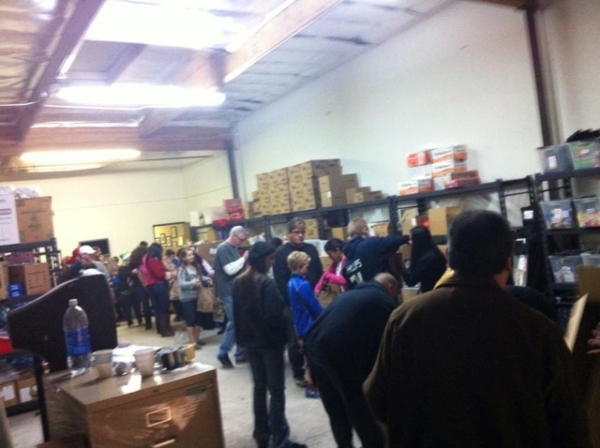 Dance team to travel to San Diego: WorldStrides OnStage programs has invited the dance team from Southeast Career Technical Academy, 5710 Mountain Vista St., to perform at the Holiday Bowl. Under the direction of Nicalia Marie Enna, the Southeast Tech Dance team will travel to San Diego to rehearse with nationally acclaimed choreographers. To help the Southeast Tech team's fundraising efforts, email nmenna@interact.ccsd.net or call 786-473-9487.
Middle school lab makeover: Teacher Denise Romonoski nominated Hyde Park Middle School, 900 Hinson St., to win a $100,000 science lab makeover through the Fab School Labs contest sponsored by the Northrop Grumman Foundation. The school is now among 20 semifinalists from across the country. The school lab makeover contest provides public middle schools with an opportunity to make their dreams of a state-of-the-art science lab a reality, with grants up to $100,000 available to each of the five winning schools. Visit fabschoollabs.com.
Project 150 holiday meals: Project 150 members are set to work on assembling holiday meals Dec. 16 and 17 to provide Christmas food for homeless high school students and their families, ultimately providing 12,000 holiday meals. To contribute and join the effort to Feed it Forward, contact Project 150 at 702-721-7150 or visit project150.org.
McDonald's donation: On Nov. 18, McDonald's owner/operators from across Southern Nevada donated $60,000 to 120 local teachers through the McDonald's Make Activities Count Grants program. Individual grants of up to $500 were provided for each teacher to directly fund unique educational programs and tools for the 2015-16 school year.
Winter Dreams: The Refined Agency, Ladies Who Dine LV, UNLOKT and Raw Fitness are set to sponsor the inaugural Winter Dreams from 8 to 10 p.m. Dec. 5 at Surrender at Encore, 3131 Las Vegas Blvd. South. Participants can help in providing academic and wellness after-school programs to enrich Clark County School District students who participate with After-School All-Stars. The event, featuring host NBC Channel 3 News anchor Jessica Moore is set to offer Bronze Bites from Andrea's, an open bar, live entertainment, a silent auction and more. Event proceeds from sponsorship and ticket sales will benefit the local After-School All-Stars Las Vegas. Event tickets are $49 and may be purchased at winterdreams.eventbrite.com or at any Raw Fitness Location. VIP tickets will include a table for eight people with bottle service and will be priced at $1,250. Additionally, the first 100 attendees will receive gift bags from Candles for a Purpose. Email Lin Jerome at lin@therefinedagency.com for sponsorship packages and additional details.
Drawing competition to honor Leif Erikson: Las Vegas-area children in first through fifth grades are eligible to win $875 in gift cards for submitting winning drawings that depict Viking explorer Leif Erikson's legacy. The winning drawings must be submitted on 11-by-8½-inch or 11-by-17-inch paper using any medium. The winning students in each grade will win Wal-Mart gift cards valued at $100, $50 and $25 for first, second and third place, respectively. Entries must be postmarked by Dec. 14 and mailed to the attention of Christian Schoyen, Leif Erikson drawing competition, 1930 Village Center Circle, No. 3-211, Las Vegas, NV 89134. All entries must include the child's name, address, grade, home phone number and school. The fourth annual contest, sponsored by the Vegas Viking Lodge of the Sons of Norway and Schoyen, should depict the Viking Leif Erikson and his men traveling to America. The four key traits of Erikson and his men should be incorporated into the drawings: imagination, vision, collaboration, and fearlessness. Visit leiferiksonday.com or email organizers at drawingcompetition@leiferiksonday.com.
Summit on Nevada Education: The UNLV College of Education's Summit on Nevada Education is planned from 9 a.m. to 5 p.m. Dec. 7 in the Student Union Ballroom at UNLV, 4505 S. Maryland Parkway. The event is a policy summit on the education initiatives derived from the 78th legislative session with particular focus on the important roles community constituents must play in ensuring the quality of education in Nevada. Tickets start at $65 for general admission and $30 for UNLV students. Registration includes entry into the summit, continental breakfast, lunch and parking. Visit eventbrite.com/e/summit-on-nevada-education-registration-18562610267.
Finance Park open house set: Parents, school officials and members of the community are invited to see eighth-graders learn how to pay bills, manage their mortgages, determine child care for their "kids" and much more at Capital One/Junior Achievement Finance Park. The interactive park immerses students in real-life scenarios to learn the importance of financial literacy. Sponsored by Capital One Financial Corp., 16 Clark County schools are participating during the 44-day simulation run, which will host up to 100 students daily and involve more than 800 volunteers guiding students through the personal budgeting simulation. Junior Achievement is inviting the public from 11 a.m. to 1 p.m. Dec. 10 at the Las Vegas Library, 833 Las Vegas Blvd. North. Breakfast or lunch will be hosted, followed by a brief presentation and concluding with observing and interacting with students in the Park. Visit jalasvegas.org.
New veterans scholarship: WGU Nevada has launched a new scholarship program to help veterans and their spouses go back to school and earn their bachelor's and master's degrees. The WGU Nevada Salute To Veterans Scholarship, valued at up to $2,500 per student, will be applied at the rate of $625 per six-month term, renewable for up to four terms, toward WGU Nevada's tuition of about $3,000 per term for most programs. WGU Nevada will award at least five scholarships to new students throughout the state. Applications will be accepted through Jan. 31 at nevada.wgu.edu/veterans. Additional military scholarships are available for active-duty personnel and their families at nevada.wgu.edu/militaryappreciation.
Scholarship deadline approaching: The application deadline for The Meadows School Founders' Scholarship, a four-year, need-based scholarship that covers a portion of a student's tuition to TMS Upper School, is 4 p.m. Jan. 4. The scholarship is intended for students who have impressive academic qualifications and have engaged in extracurricular activities. Applicants must be an eighth-grade student not currently enrolled at TMS and must have completed Algebra 1 by the time they start ninth grade. To be considered, students must complete the school's online application and family statement, as well as submit the necessary recommendation and transcript forms. Also needed are a copy of the student's most recent report card, a recommendation from an extracurricular teacher or coach and a 300-word personal essay. TMS will contact the 20 finalists who will continue the admission process, which involves testing and interviews, prior to the testing date on Jan. 9. The five scholarship recipients will be announced Feb. 1. Interested families should contact Susan Harrison, Upper School registrar, at 702-797-5849. Visit themeadowsschool.org/pdf/FoundersScholarship.pdf.
Heart of Education Awards: The Smith Center for the Performing Arts and The Rogers Foundation are planning the inaugural Heart of Education Awards to highlight deserving teachers in the Clark County School District. The awards focus on educators with at least three years of experience in the district who go above and beyond the classroom. Nominations will be accepted through Jan. 29. Nominations must have a name, contact information, a 500-word statement of commitment and a 200-word letter of recommendation. A celebratory evening with a red carpet, swag bags and entertainment is planned May 7 at The Smith Center. To nominate, visit theheartofeducation.org.
Coral Academy accepting applications: Coral Academy of Science Las Vegas is accepting applications for the 2016-17 school year. The academy selects its students by a random lottery system. Parents are notified via mail of the results within five business days. Applications are due by noon Feb. 28. Those received after that date will be subject to an additional lottery, if applicable. The lottery will be held Feb. 29. Students whose parents have completed an application form electronically via the school website will be eligible to be entered in the lottery. The academy does not base admission on intellectual ability, measures of achievement or aptitude, athletic ability, or discriminate on the basis of ethnicity, race, religion or disability. Visit coralacademylv.org/admission/admissionprocess.aspx.
Rogers Foundation scholarship: The Rogers Foundation announced it is offering $100,000 in scholarships on an annual basis to graduating seniors of the Clark County School District. The Rogers Foundation Achiever Scholarship is for students wishing to pursue higher education both within the state of Nevada and nationwide. The scholarships will support students attending any institution of higher education, including vocational or technical schools, community colleges or state universities. Scholarships include at least one $25,000 scholarship, multiple $10,000 scholarships and multiple $5,000 scholarships. For application criteria, application materials and other instructions, visit therogers.foundation/applicants/students.html.
Host families sought for exchange students: International Experience USA, a nonprofit high school student exchange organization approved by the U.S. Department of State, is seeking host families in the Las Vegas Valley to provide room and board, help with transportation and provide emotional support to exchange students. The students provide their own insurance and personal spending money. Visit ie-usa.org or contact Carol Myint at 507-301-3615 or c.myint@international-experience.net.