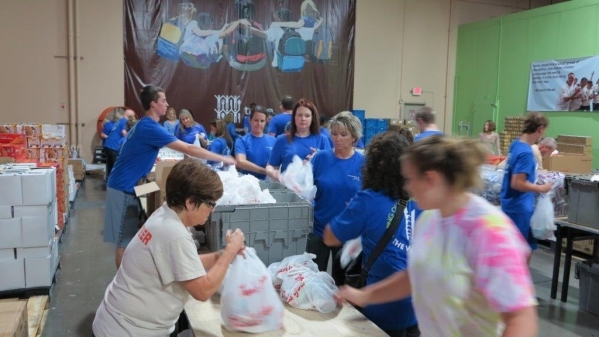 UN-Gala to celebrate 20 years of After-School All-Stars: Local nonprofit After-School All-Stars is set to host the UN-Gala Oct. 3, a day filled with sports and activities for the program's children, dubbed the 20th Anniversary All-Star Games. Rather than a traditional gala, ASAS will commemorate the anniversary with an UN-Gala with no dresses or black ties. The students will march in an Olympic-style opening ceremony hosted by inspirational leaders and dignitaries including Las Vegas Mayor Carolyn Goodman, Clark County Commissioners Chris Giunchigliani and Lawrence Weekly, NFL Hall of Famer Franco Harris, NFL veteran Lydell Mitchell and mistress of ceremonies Punam Mather, before lighting a torch to start the day's activities. With a minimum $150 sponsorship, guests are invited to attend the casual VIP All-Star Pre-Show Breakfast from 9 to 10:30 a.m. honoring ASAS founder Elaine Wynn and other 20-year honorees, including John Pucci, Kathy Harney, Jim Jimmerson and Susie Lee. Visit asaslv.org or call 702-770-7601.
The Public Education Foundation plans awards: The Public Education Foundation plans to honor John Guedry, Myron Martin and Dr. Beverly Mathis at its 19th annual Education Hero Award Dinner Oct. 3 at the Mandarin Oriental, Las Vegas, 3752 Las Vegas Blvd. South. Guedry is to be honored as the Education Hero Award for his significant charitable and civic contributions to public education and his dedication to the advancement of educational opportunities for all. Martin will be recognized as the Champion of Children, an award that honors individuals dedicated to supporting children and improving their future by championing children's issues. The foundation is also set to honor Mathis with its Lifetime Education Achievement Award for her enduring commitment to improve public education. Tickets are $750 per person. Visit thepef.org.
College night workshop set in Henderson: The city of Henderson Blue Ribbon Commission on Educational Excellence and Youth Opportunity is set to host its annual College Night workshop for parents and students from 6 to 8 p.m. Oct. 6 at the Henderson Multigenerational Center, 250 S. Green Valley Parkway. Participation is free. College Night is geared toward college-bound students and their parents. It features resources and recommendations to help students prepare and plan for college, including application techniques, resume writing tips and how to find available grants and scholarships. RSVP by calling 702-267-4016. Walk-ins are also welcome. For more information, call 702-267-4016 or visit cityofhenderson.com.
Business strategy classes offered: The city of Las Vegas Redevelopment Agency is partnering with SUMNU Marketing to sponsor a series of business strategy classes this fall at the Urban Chamber of Commerce Business Development Center, 1951 Stella Lake St. Classes are planned from 9 a.m. to noon Wednesdays. The topic for Oct. 7 is Business & Marketing Development; and for Oct. 14, Project Pitches & Certification. Class size is limited. To sign up, contact Darren Harris at 702-229-6862 or dmharris@lasvegasnevada.gov
50th Western reunion set for Oct. 16-17: Western High School's class of 1965 plans to host its 50th reunion Oct. 16 and 17 at the Elks Lodge, 4100 W. Charleston Blvd. Call Kathy Keller at 702-736-3155 or e-mail westernclassof65@gmail.com.
Drawing competition to honor Leif Erikson: Las Vegas-area children in first through fifth grades are eligible to win $875 in gift cards for submitting winning drawings that depict Viking explorer Leif Erikson's legacy. The winning drawings must be submitted on 11-by-8½-inch or 11-by-17-inch paper using any medium. The winning students in each grade will win Walmart gift cards valued at $100, $50 and $25 for first, second and third place, respectively. Entries must be postmarked by Dec. 14 and mailed to the attention of Christian Schoyen, Leif Erikson drawing competition, 1930 Village Center Circle, No. 3-211, Las Vegas, NV 89134. All entries must include the child's name, address, grade, home phone number and school. The fourth annual contest, sponsored by the Vegas Viking Lodge of the Sons of Norway and Schoyen, should depict the Viking Leif Erikson and his men traveling to America. The four key traits of Erikson and his men should be incorporated into the drawings: imagination, vision, collaboration, and fearlessness. Visit leiferiksonday.com or email organizers at drawingcompetition@leiferiksonday.com.
Think Green & Clean Contest accepting entries: Yes! Air Conditioning and Plumbing is partnering with the Clark County School District to encourage students to participate in its third annual Think Green & Clean Contest. Eligible participants, who must be legal U.S. citizens and enrolled in kindergarten through 12th grade in the school district, are invited to submit ideas on how to conserve water, energy or both in their community. Entries are due by 5 p.m. Oct. 16. Minor entrants are required to submit with a parental consent form. Winning entries will be awarded cash prizes. Written essays, drawings or models will be accepted. Projects must be submitted to the participant's teacher, by email to yesthinkclean@boltpr.com, or via mail to 501 Elm St., Suite 450, Dallas, Texas, 75202. For details, visit yesairconditioningandheating.com or call 949-701-3443.
Recycled art contest planned: The Nevada Recycles program has partnered with The Venetian and the Palazzo to support a statewide recycled art contest to increase Nevadans' awareness and interest in recycling. Entrants must be Nevada residents, and projects must be composed of used recyclable materials. Submission of an entry form and photos of artwork are due by Oct. 25. In addition to a $200 prize to the first-place class project, The Venetian and the Palazzo will provide first, second and third ($250, $100, and $50, respectively) prizes in four categories: kindergarten through grade 5, grades 6 through 8, grades 9 through 12, and adult. Materials that can be used include, but are not limited to: tires, electronics, appliances, plastic bags, bottles, batteries and aluminum cans. Fastening materials may include tape, glue and/or string. Winners are to be announced prior to America Recycles Day, Nov. 15. Visit nevadarecycles.nv.gov.
CSN receives distinction: Achieving the Dream recently announced that the College of Southern Nevada earned Leader College distinction, a national designation awarded to community colleges that commit to improving student success and closing achievement gaps. CSN has shown how data can inform policy and practice to help community college students achieve their goals, resulting in improved skills, better employability, and economic growth for families, communities and the nation as a whole. Visit achievingthedream.org or csn.edu.
We R Community program kicks off: The Public Education Foundation held a Sept. 22 kickoff at Las Vegas City Hall for the eighth year of the We R Community program, the foundation's service-learning initiative that aims to turn teens into philanthropists. Among those who spoke at the event were Clark County School District Superintendent Pat Skorkowsky; Robert Ulmer, dean of UNLV's Greenspun College of Urban Affairs; Dr. Brian Myli, the foundation's vice president of leadership and innovation; Lisa DenBleyker, vice president of Strategic Operations for the foundation; Susan Stern of The Stern Family Foundation; and high school students and teachers. Students in We R Community learn how to create a mission statement, conduct a needs assessment, research nonprofit organizations, review grant applications, and fund grants of up to $5,000. Visit thepef.org.
School celebrates milestone: The Nevada System of Higher Education Board of Regents and UNLV brought state and community stakeholders together Sept. 21 to celebrate UNLV medical school's milestones, especially the successful scholarship drive netting 135 student scholarships in less than 60 days.
Nonprofit to offer interactive nutrition education lessons: Create A Change Now, a local nonprofit teaching at-risk students to plant, grow and cook fresh, healthy meals in order to prevent childhood obesity, has partnered with the Clark County School District to develop interactive nutrition education lessons and materials made available to teachers throughout the district in support of Nevada Academic Content Standards in various subjects such as health and science starting in the fall of the 2016 school year. Molly Michelman, registered dietitian and co-owner of The Food Connection and faculty member of UNLV's Nutrition Science program, will develop interactive nutrition education-based lessons for kindergarten through fifth-grade students. The supplemental lessons will feature topics such as growing strong and healthy bodies, eating for energy, reading food labels to understand what is beneficial or potentially harmful, and packing produce into meals and snacks, which district teachers can use to help and assist in implementing the curriculum. Michelman and select teachers will work in collaboration to provide insights to ensure lessons are age-appropriate and support Nevada Academic Content Standards and school district curriculum. Visit createachangenow.org or call 702-300-7399.
Nevada Title Co. delivers school supplies: Nevada Title Co. and its affiliate Nevada Construction Services delivered school supplies to Earl Elementary School, 6650 W. Reno Ave., as part of a 16-year partnership with the Clark County School District Focus School Project. The company collected hundreds of much-needed items through employee and community donations, including backpacks, paper, erasers, pencils, binders and crayons. Travel-size toiletries for the students, such as toothpaste, toothbrushes, shampoo, deodorant and lotion, also were collected. This initiative is undertaken each year by the Nevada Title Co. team with the understanding it's much more difficult for students to achieve success without the proper tools.
Volunteers clean up school: More than 500 volunteers from TELUS International participated in the Keep Las Vegas Beautiful program by working to enhance Vegas Verde Elementary School, 4000 W. El Parque Ave., Sept. 26. The volunteers revitalized the school's gardens and playgrounds, built and painted benches, and painted a mural.
Author visits Apple Core reading program sites: Mayor Carolyn Goodman was joined by children's author Michael Dahl to kick off the annual Apple Core reading program at city of Las Vegas Safekey sites Sept. 17 at Kelly Elementary School, 1900 N. J St. The program is a partnership between the city, the Clark County School District and community resource providers to promote literacy efforts. Safekey students and sites that have the most books read during the course of the year can win prizes. Call 702-229-3399 or visit lasvegasnevada.gov/safekey.
Scholarship applications sought: The Meadows School offers a private grant scholarship for five students entering kindergarten who are from underprivileged households, with all-expenses-paid tuition from pre-kindergarten through 12th grade, amounting to nearly $260,000 per child by the time each one graduates. The scholarship deadline is Nov. 2. Call 702-254-1610..
Host families sought for exchange students: International Experience USA, a nonprofit high school student exchange organization approved by the U.S. Department of State, is seeking host families in the Las Vegas Valley to provide room and board, help with transportation and provide emotional support to exchange students. The students provide their own insurance and personal spending money. Visit ie-usa.org or contact Carol Myint at 507-301-3615 or c.myint@international-experience.net.
4-H membership drive: The 4-H youth development program plans its annual membership drive during October. The program, offered throughout the Las Vegas Valley, focuses primarily on positive youth development and is open to all youths 5 to 19. Visit http://www.unce.unr.edu/4H/.