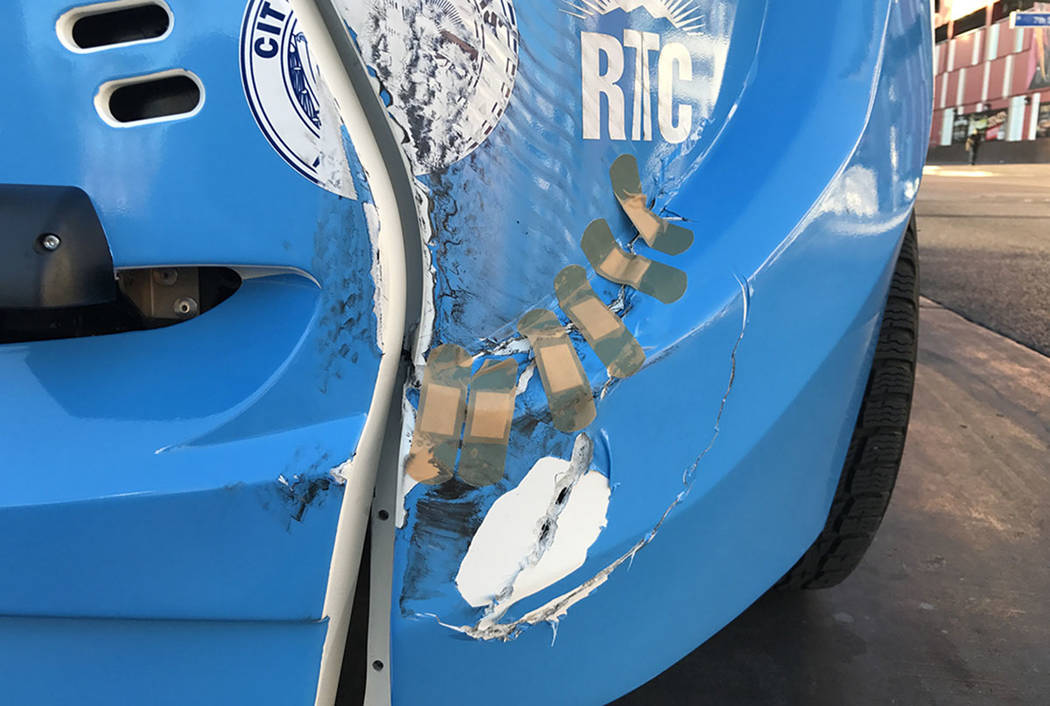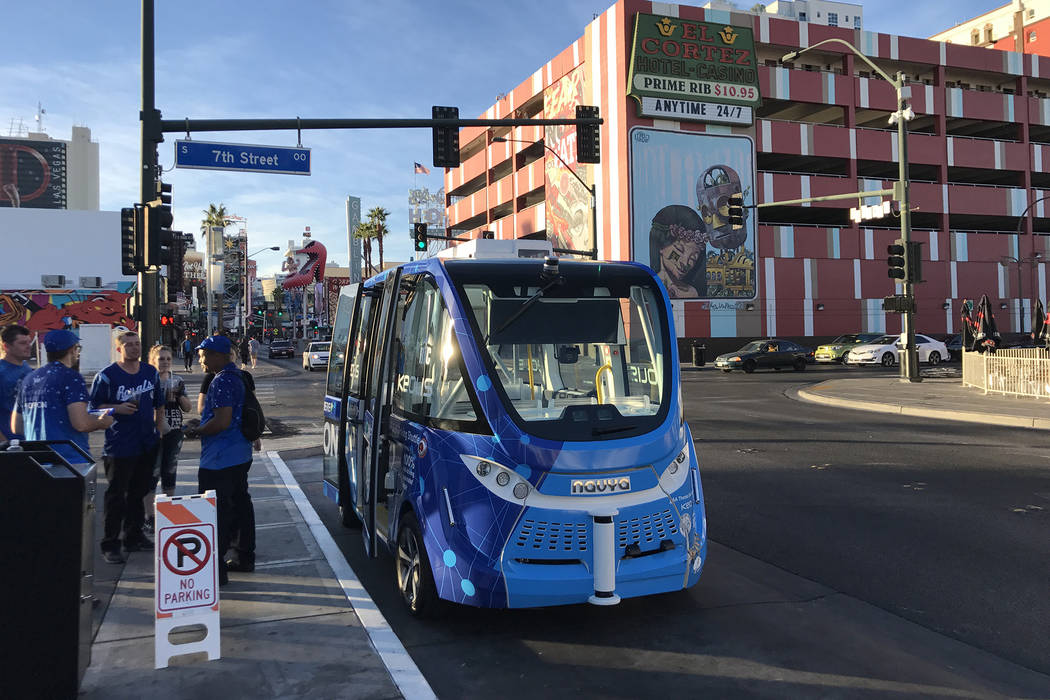 The bus is back.
The driverless electric shuttle bus that was involved in a minor mishap within hours of its Wednesday morning debut in downtown Las Vegas was back up and running by Wednesday night. It's expected back on the road Friday.
The Metropolitan Police Department said the shuttle bus's minor crash happened at 12:07 p.m. Wednesday, when it collided with a delivery truck on the 100 block of South Sixth Street, near Fremont Street. Damage was minor, and no one was hurt, police said.
The truck's driver was found to be at fault. Police determined that the shuttle stopped when it sensed a truck was trying to back up. But, the truck continued backing up until its tires touched the front of the shuttle.
The truck's driver was cited for illegal backing, police said.
Maurice Bell, vice president of mobility solutions for Keolis Transit America, a partner on the shuttle bus project, said there was a full diagnostic check on the vehicle. Everything passed after a couple of laps and a final run with AAA, the shuttle bus' sponsor, Bell said.
By 7 p.m., the shuttle bus was operating normally, he said.
"The vehicle was operating in the manner in which it was designed," Bell said. "It's designed to be reactionary. It's not designed to be evasive."
AAA has partnered with Keolis, the city of Las Vegas and the Regional Transportation Commission of Southern Nevada on the shuttle project, which offers free rides for up to 11 passengers as it travels a half-mile loop in the Fremont East neighborhood.
The shuttle bus, which can talk to traffic signals, share the road with other vehicles and stop for pedestrians, is expected to run again from 11 a.m. to 5 p.m. Friday. It will be taken out of service Saturday to Monday to repair the fiberglass from where the truck's tire struck the vehicle, Bell said.
Shuttle service will resume as usual Tuesday, from 11 a.m. to 7 p.m.
Contact Briana Erickson at berickson@reviewjournal.com or 702-387-5244. Follow @brianarerick on Twitter. Staff writer Amelia Pak-Harvey contributed.