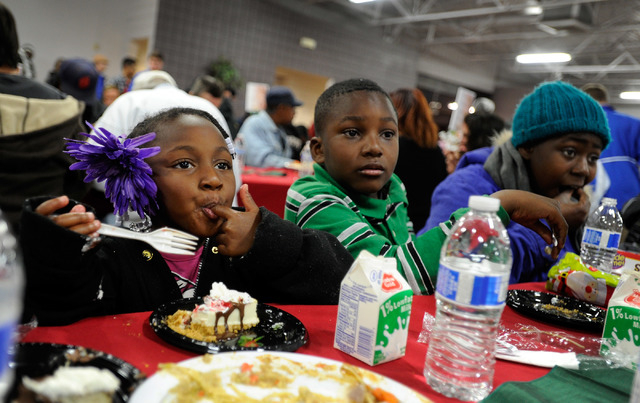 There are many places in the east valley where people can volunteer to help for Thanksgiving and where the hungry can enjoy a free meal.
— At the St. Vincent Lied Dining Facility, 1502 N. Main St., feeding the hungry is an everyday thing, with free community meals served from 10 to 11 a.m. Monday through Friday and 11 a.m. to noon weekends. It also serves inexpensive meals at other times in the day. From Monday through Friday, $3.50 will buy breakfast from 8 to 9 a.m. or lunch and dinner from noon to 4 p.m.
For the holidays, the charity is extending its program. Free meals are set to be served from 1 to 3 p.m. Nov. 25 and the usual 10 to 11 a.m. Nov. 27.
— Next Step Ministries plans to serve Thanksgiving dinner to the homeless at 9:30 a.m. Nov. 27 at Sunset Park, 2601 E. Sunset Road. The charitable ministry seeks to bring its message to the community without operating out of a church.
"We minister in three parks on the east, west and central parts of the valley," the Rev. Walter Kwasniewski said. "We're out on Tuesday, Thursday, Saturday and Sunday, and on Mondays, we take them to a place where they can get a shower."
Next Step Ministries is seeking people to help cook and serve food at the event. For more information, visit tinyurl.com/nsmfood or call Kwasniewski at 702-741-7540.
— The Nevada Partnership for Homeless Youth plans its eighth annual Plastic Food Drive through Nov. 25, collecting fast food and grocery gift cards for homeless teens in the valley.
"These gift cards mean no homeless youth has to go without a hot meal for the holidays, regardless of their living situation or access to a kitchen," said Arash Ghafoori, the nonprofit's executive director. "A $5 gift card provides one meal for a homeless teen; $10, two meals; and $25 at a grocery store provides meals for several days. With the growing number of homeless youth in Southern Nevada, the community's support for the Plastic Food Drive is more important this year than ever before."
The charity is seeking $5 and $10 fast food gift cards and $25 grocery store gift cards. Information on donating online or starting an employee or customer Plastic Food Drive is available at nphy.org. There is also a GoFundMe site for the drive at tinyurl.com/nphyfund. Gift cards or other donations can be offered between 9 a.m. and 6 p.m. Monday through Friday at the group's drop-in center, 4981 Shirley St.
— Help of Southern Nevada has partnered with 8 News Now, 97.1 The Point, Sahara Coins & Precious Metals and America First Credit Union to host a food drive at six valley Smith's locations. People can donate turkeys, canned foods, nonperishable food items, cash and gift cards for local families and military service families at the following Smith's locations.
— 6 a.m. to 7 p.m. Nov. 20 at 7130 N. Durango Drive and 10616 S. Eastern Ave.
— 6 a.m. to 7 p.m. Nov. 21 at 6855 Aliante Parkway and 10100 W. Tropicana Ave.
— 8 a.m. to 5 p.m. Nov. 22 at 4600 E. Sunset Road and 2211 N. Rampart Blvd.
Donations will also be accepted between 7 a.m. and 5 p.m. Monday through Thursday at the charity's offices, 1640 E. Flamingo Road. For more information, call Abby Quinn at 702-836-2130.
Contact East Valley View reporter F. Andrew Taylor at ataylor@viewnews.com or 702-380-4532.