Exchange center helps Las Vegas teachers get much-needed supplies, resources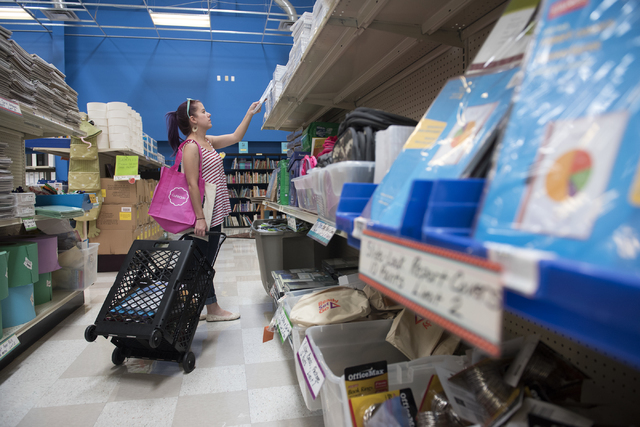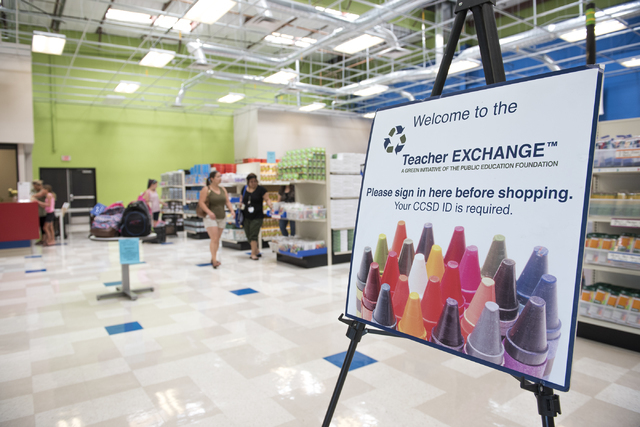 A resource center for all Clark County School District teachers is open for the new school year, created by the Public Education Foundation and dubbed the Teacher Exchange, 4350 S. Maryland Parkway.
It started in 2002 when the foundation saw an opportunity for the re-use or re-purpose of items that trade shows and conventions were discarding. In the beginning, it was mostly a green initiative, and now "we have a lot of unique things that may be donated that teachers might not be able to find anywhere else. These things are great for treasure boxes and incentive for the students," said Tim McCubbin, vice president of the Teacher Exchange program.
Hotels, casinos, other businesses and retired teachers also donate to the effort.
An average teacher needs 60 pencils to supply a classroom for a month, according to classroomcentral.org, and pencils are one of the most popular items at the Exchange's resource center. The center receives all sorts of items, including books from manufacturing and convention overruns that originally would have ended up in the landfill.
Not everything is used — the center also has surplus items that teachers can take with their point system. A teacher gets 100 points automatically by becoming a new member of the Exchange. If the teacher spends those initial points and wants more materials, he can make a donation of $25 and be rewarded with 500 points.
Teachers are potentially saving hundreds of dollars as opposed to shopping at supply stores.
Shari Exber-Scheele, senior vice president of development and community relations for the Public Education Foundation, said, "we have four satellite warehouses because we have so much stock, and we do not want to say no to a donation because we want to continue getting them."
A couple of years ago, the Exchange received donations from a restaurant equipment supplier and used all of the items to cater to the teachers that run culinary programs. Everything the program receives is put to good use or given to other nonprofits for their use.
The resource center is available for all district teachers and all other teachers that are sponsored by charter schools or the state; it is open year-round. The location's hours vary.
Tiffanie Peterson, 25, a third-grade teacher at Fong Elementary School, 2200 James Bilbray Drive, shopped at the Exchange for the first time recently.
"I love it. There are so many things here; it's really affordable," she said. "I just got a bunch of books for one point, which comes out to a couple of cents, and they are brand new. At the store, they'd be $10 or $20."
There is also an online store that ships items to schools directly, and it covers 7,910 square miles.
For schools with bigger needs, there is a direct-to-school giving program that donates school supplies to the children who most need them.
Visit tinyurl.com/teachexcal.
Teacher Exchange
Address: 4350 S. Maryland Parkway
Hours: Year-round; hours vary.
Visit tinyurl.com/teachexcal.