Faith Lutheran breaks ground on athletic complex, plans multi-phase expansion
December 18, 2013 - 4:58 pm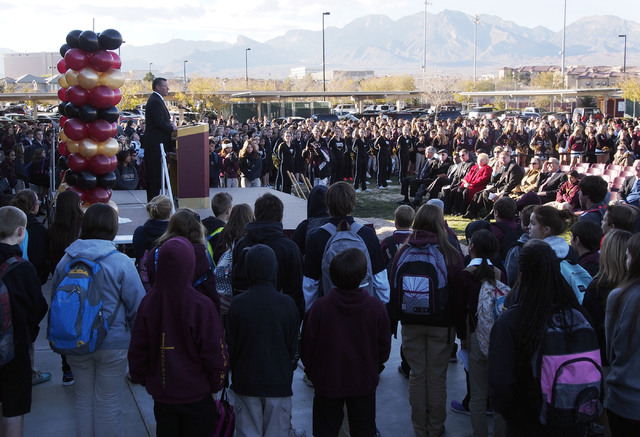 Faith Lutheran Middle School and High School broke ground Dec. 5 on an $8.75 million athletic complex at its facility, 2015 S. Hualapai Way.
The ceremony came during a week when temperatures dipped to freezing at night, and the city canceled events such as Cowboy Christmas and Bluegrass in the Park.
Students and faculty members huddled in the open area to the north end of the property. Cheerleaders in zippered warm-up suits did their best to enthuse others as they shook metallic gold pompoms.
Steve Buuck, CEO of Faith Lutheran, took the platform and thanked everyone for enduring the weather.
"It's hard to believe that here in 1979, 43 very brave sixth- and seventh-graders began Faith Lutheran, and here we are 35 years later," he said. "… this is the next step in an unfinished story here at Faith Lutheran Middle School and High School. God has called you and me at such a time as this to make our imprint on the history of this school. And it starts today, as we break ground on the new Crusader Competition (Complex) that will serve not only some of you who will return next year but generations after generations of students."
The athletic complex comes at a price, roughly $6.5 million, with an additional $2.25 million spent on land for later phases of the project.
About $2.5 million of it already has been raised, Buuck said. That did not include the latest donation — a $50,000 check was handed to him as he was making his way to the groundbreaking ceremony. The school's capital campaign flies under the banner "Build Faith."
The campaign's first phase will total $8.75 million to build the Crusader Competition athletic complex. Plans include a 1,150-seat gym, a weight room, locker rooms, offices, concession stands, bathrooms and storage areas.
A stand-alone middle school, a science, technology, engineering and math (STEM) building, a science lab, an administration complex, tennis courts, an aquatic center and additional parking will be built in later phases. Current portable classrooms will be discarded when the new buildings come online.
Currently, the school has 1,476 students enrolled. The ultimate goal is to grow to 2,700 students, Buuck said, adding that a student body that size ensures Faith will remain the largest private school in Nevada.
Kevin Orrock, president of Summerlin, said that more important than the residential and commercial development in the area was building the educational component of the community.
"If you look back at the history of Summerlin, the very first transaction was to a private school, The Meadows School, so there's always been an underpinning of the Summerlin community that education was going to be one of the most important aspects," Orrock said.
The Howard Hughes Corp., developer of Summerlin, has offered to sell 10 acres across Homestretch Drive, and Faith Lutheran plans to purchase the land in early 2014 to complete the expansion.
"If it was only about money, it could have sold it to a home builder in a heartbeat and for a big number," Orrock said. "So, we sat back as stewards of the community and saw what (Faith) had done here and went, 'You know what? We need to make a call to Dr. Buuck and see if there's an interest in acquiring that land because your growth potential is obviously very limited. We did that. It was, obviously, a short conversation."
Stuart Engs, a benefactor whose son, Stuie, was a starter on Faith Lutheran's basketball team, recalled going to his son's first game at the school.
"And it was held in the cafeteria. And I said, 'You know what, this isn't good enough. These boys, these girls, this community, deserve better, our children deserve better,' " he said. "So that planted a seed and …. lo and behold, four years later, here we are. It is a huge day.
"I can't wait to see you play and practice and misbehave in this gym," Engs told the students. "I only ask one more thing. You kids, when you go home tonight, tell your parents how wonderful this place is and how expensive this gym and this land is and have them reach out to me, please. We've got a lot of money to raise, folks. We will do it, you have my word."
"It's exciting to see the school grow," said Lynsey Poser, 16, a junior. "I've been here since sixth grade, and it's exciting to see new stuff happen to benefit the students."
Don Reed is on the board. How did he feel when other school projects took precedence over the athletic department's needs?
"Education, of course, comes first, but when Dr. Buuck talked about all the kids that were not able to participate in the gymnasium, not being able to do what it was designed to do, it was obviously time to expand or build a new one," Reed said. "I think the plan to have a second one that is equivalent, the same size as this one adjoining the front, with the trophy rooms and everything, is a brilliant idea. The prospects of having tournaments and things here, maybe even the high school tournaments, the NBA … players who play games in the summer, could possibly come here because we'd be equipped for it. That would be something."
He and his wife, Arlene, were involved in raising funds when the school was on the east side on Robin Street.
"I think the hardest part was raising the funds to get this building off the ground, and they're still in the fundraising stage," Arlene said. "When a school grows, when anything grows, you have to have money to back it up to get it off the ground."
Contact Summerlin/Summerlin South View reporter Jan Hogan at jhogan@viewnews.com or 702-387-2949.