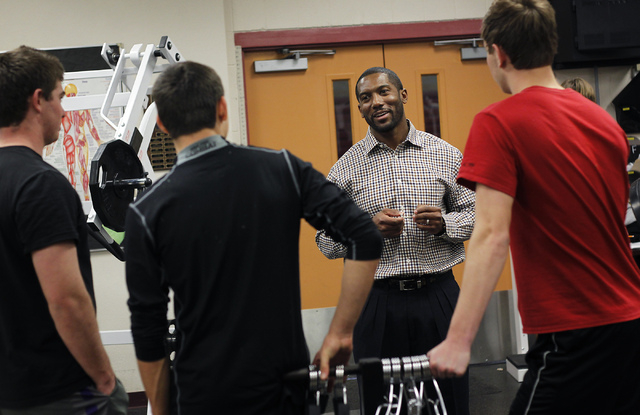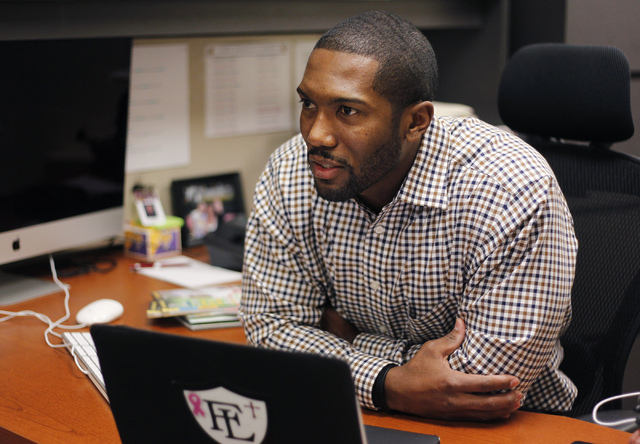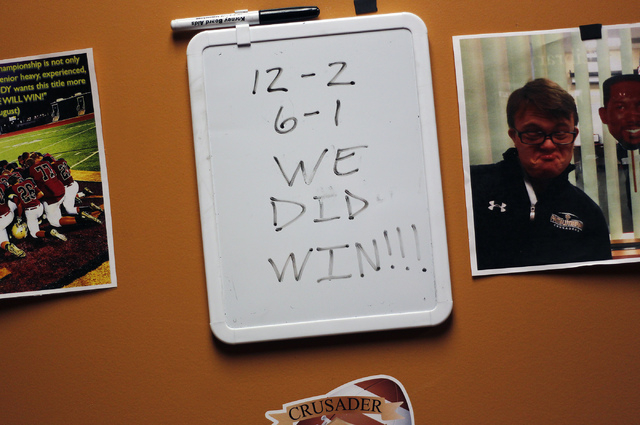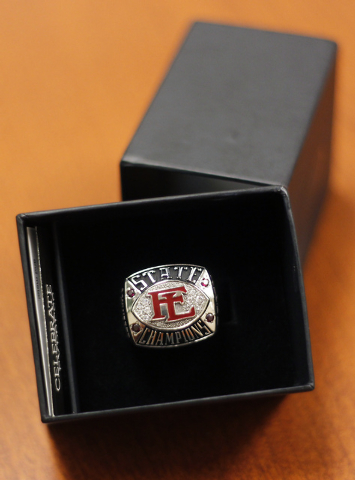 It's been quite a ride for Faith Lutheran head football coach Vernon Fox.
The former NFL player came to Faith Lutheran Middle School and High School with no coaching experience, but he molded the formerly lackluster Crusaders into state champions in November.
"It's a lot different being a player than being a coach," Fox said. "Even if you're a good player, (it) doesn't mean you can coach. I learned a lot on the job this year. I didn't know what I was doing all the time. I didn't always make the best decisions."
Faith Lutheran player Danny Otuwa, 17, said he had no idea Fox felt that way.
"He was very put together. If that was going through his head, he covered it up," Otuwa said. "That's surprising (to hear) because when he first met us, he was so composed. We always thought he had a plan."
The school's first two games were dismaying. Both pitted them against teams they'd easily defeated in the past. But the first game of the season saw the Crusaders lose 35-7 to a team from Parker, Colo. In the second game, they showed improvement, taking it to overtime but losing to Virgin Valley, 26-20.
With Fox's faith a cornerstone of his life — he became a Christian minister about five years ago — he took three simple words, "We will win," and made them the team's mantra with a "one game at a time" approach. If they believed it internally, it would come to fruition on the field, he said.
Preparation was crucial, and workouts and nutrition were stressed. That was backed up with watching films of opponents in action and dissecting how they operated. Perseverance was also key, something Fox learned as a teen when he was a running back on the football team at Cimarron-Memorial High School under the late Greg Spencer.
"He pushed me in ways that no one else could," Fox said. "He motivated me in a way that challenged me."
Fox took what he learned from college at Fresno State, where he switched positions, and his NFL careers to Faith Lutheran, 2015 S. Hualapai Way. The 5-foot-10-inch Fox started with the San Diego Chargers as a 205-pound defensive back, and over the next eight years, he joined the Detroit Lions, Washington Redskins and Denver Broncos. In 2001, the National Football Foundation and the College Football Hall of Fame named him a National Scholar Athlete. He became a standout special teams player, receiving honors as a captain and special teams MVP in 2005. That same year, he was a semifinalist for the Draddy Trophy, given to the player with the best combination of academics, community service and on-field performance.
He said the Faith Lutheran players had talent but needed the mental attitude necessary to succeed, the belief that they could do it. He spent a lot of time praying for guidance on how to change that.
The third game saw them turn things around with a 31-6 win over Sunrise Mountain, and from there it was a 12-game winning streak.
Hayden Solis, 18, played varsity all four years. What did Fox do differently?
"We've always done, like, prayers, but he started tying more religion into the program," he said. "… Hearing the word of God helped give us strength and courage and helped us keep pushing."
Vinny DeGeorge, 18, said the team's performance in the first two games was sobering.
"To be honest, it felt like the prior seasons we'd had," DeGeorge said. "But then we started to get on the winning stretch; we started believing. Most of it was mental. We got the mind-set that we were going to win because we had the ability."
Not all of Fox's focus was on the game.
"One thing I recognized right away was that there was a large majority of these young men who will never play football again after high school," Fox said. "And if all I do is make them a better football player and not a better young man and prepare them for society, for the future, then I've done them a disservice."
The championship rings were delivered to Faith Lutheran the day View was there. Fox said he planned to call the team together for an official ceremony that included the families "rather than just opening up the office and saying, 'Drop in when you get a chance.' "
Dr. Steve Buuck, CEO of Faith Lutheran, said he was elated when the team took the state championship.
"The minute you meet Vernon Fox, you know that he is a leader of men," Buuck said. "I had never heard of him until I met him, and I knew within the first two minutes that he was the guy for us. He exudes that unique blend of confidence and humility. … We interviewed a lot of coaches, and Vernon had what I called 'missional fit.' He fit our mission. We wanted to win, but we wanted to win in the right way … For 34 years, we'd never progressed very far in the playoffs, and then Vernon (came on board). For those kids to rally around the cause and win 12 straight games … you (normally) don't see that quick of a turnaround."
Fox said it was the players who took ownership of their abilities that led to the championship.
"They got into some tough games, and they found a way to win," Fox said. "It wasn't coaching; it was just heart."
Contact Summerlin/Summerlin South View reporter Jan Hogan at jhogan@viewnews.com or 702-387-2949.