Fashion, friendship combine at The Links' annual fundraiser
December 31, 2015 - 2:45 pm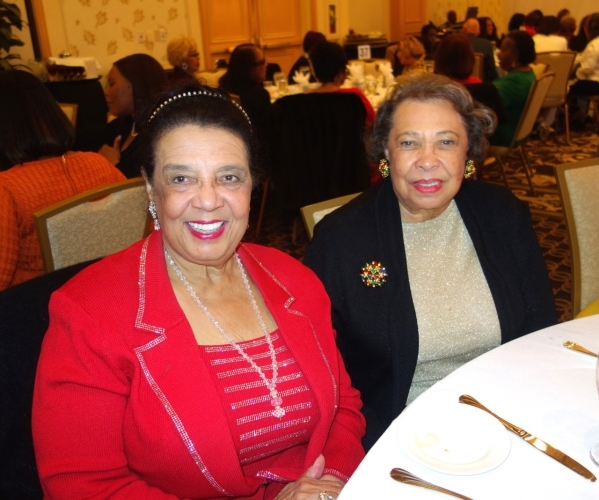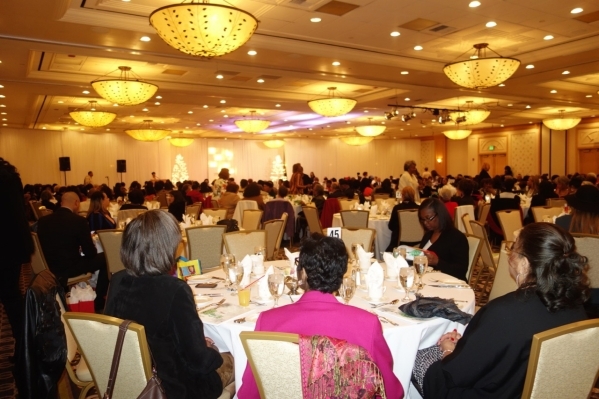 The Links, Incorporated is a familiar name to many black women in Las Vegas.
A friendship and service organization, The Links is almost 70 years old nationally and made its debut in Las Vegas in 1976.
However, a newcomer not familiar with The Links and invited to his first White Christmas Jazz Luncheon and Fashion Extravaganza fundraiser — held this year on Dec. 12 at the Gold Coast — had to be impressed.
The 500-plus crowd filled the hotel-casino's Nevada Ballroom, and each person seemed to know that this particular luncheon fashion show was actually a first-class gala. In an era where informality reigns, a room full of well-dressed women and some men was one of the event's pleasures. Cellphone photos were the order of the day, particularly as longtime friends reconnected.
The afternoon began with remarks by Fund Development Chairwoman E. Lavonne Lewis, followed to the podium by Kathleen C.A. Knight, president of the Las Vegas chapter. In addition to welcomes, Knight paid special tribute to Lewis as event chairwoman, calling her "an Energizer Bunny." She also recognized all the club members who sold tickets for the event, paying particular attention to "fundraiser extraordinaire Hannah Brown, who gets money from God knows where."
Brown is known for securing sponsorships from major businesses in the community.
Before lunch was served, part one of the fashion show began, organized and announced by Crystal Ball of So Crystal Designs in Las Vegas. The fashion show event is 8 years old, but this was the first year Ball had worked with The Links organization as show director.
A long runway and stage gave most audience members an excellent view of the fashions and the models, most of whom were trained by Ball and some of whom were volunteer Links models drawing particular applause. One of the nonmember models, dancer Iesha, added particular pizzazz to her presentations, drawing laughter from the audience. Designs by Kyler Baltimore were noteworthy. The Las Vegas designer is 11, and all of her clothing displayed had been hand-sewn by the designer.
The jazz part of the afternoon was provided by jazz guitarist and vocalist Calvin Brooks, formerly of Detroit but now living in Las Vegas.
Part two of the fashion show began following lunch and ended with glamorous evening wear. Tuxedo-sporting gentlemen were particularly popular, especially as they gave that "call me" look to women in the audience.
Designers for the show each provided 12 to 15 designs. Along with Kyahana Refined by Kyler and So Crystal Designs, other designers featured were: Jo David by JD Noble; Vintage Couture by Jon Gheri Couturier; Vegas Couture by Wanda Potter-Merritt; Just Wright Designs by Glenn Wright;and designs bySylvia Taylor, Miss Nevada United States. Also featured were tuxedos from Tuxedo Junction and furs from Zlata's LV Fashion 4 Change. Jewelry was provided by A Little Bling by Dale, and Baker-Wood Design.
Makeup and hair styling for the event were provided by the Rikashadz Glam Squad (Sharrod Ridgeway, Jaslynne Jones, Ashley Ellis and Tiana Walker). Ball's team producing the show included Trachelle Wynn, production assistant; George Jackson (Dee Jay Cofi), music director and Debi Dixon, stage director.
As fundraising was the idea behind the event, a silent auction was part of the festivities as well.
The Links Las Vegas has 52 active members and 31 alumni members. To date, the Las Vegas chapter has given local youths more than $160,000 in scholarships and has provided a multitude of other community services through its programs.
A large color program for the afternoon featured ads from individuals, businesses, candidates for local offices and best wishes from Sen. Harry Reid, Clark County Commissioner Lawrence Weekly, Mayor Carolyn Goodman, City Councilman Ricki Barlow, city of North Las Vegas Mayor-Pro Tempore Pamela Goynes-Brown, and Clark County Recorder Debbie Conway. In attendance at the event were state Senators Aaron D. Ford and Kelvin Atkinson.
The public officials paid tribute in their ads and attendance to the Links' service to the community. Among those services are: scholarships; student mentoring programs; anti-bullying workshops in targeted schools; health education fairs; organ and bone marrow transplant education; obesity programs; voter registration drives; children's dental check-up programs; Haiti and Kenya eyeglass projects; training in the cultural arts via programs such as Blacks in Hollywood and Film; workshops that highlight the contributions of blacks in the arts; and Thanksgiving baskets for senior residents in collaboration with other community service organizations.
Visit thelinksinclv.org.