Father of Lorenzi Park: Oasis in the desert began as French farmer's vineyard dream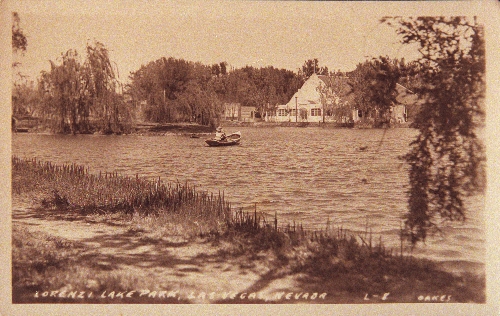 A Frenchman wanted water for farming.
Thus, Lorenzi Park was born.
David Lorenzi had heard that the new town of Las Vegas was supposed to have unlimited artesian well water suitable for farming.
He came to the valley in the fall of 1911 and purchased an 80-acre site two miles from the railroad tracks, according to the 1999 book "The First 100, Portraits of Men and Women Who Shaped Las Vegas."
By drilling his newly purchased land, Lorenzi found one of the most remarkable water wells in the valley at that time.
He built arbors to encourage the growth of native grapevines — apparently wanting to create a giant desert vineyard that produced European-quality wines.
But Las Vegas was a beer and whiskey town. There wasn't much demand for his wine and grapes.
However, water was abundant. Lorenzi had discovered an oasis in the desert.
So, he created two lakes to irrigate the fields. The first lake was completed by 1921. It was 3 acres long and 10 feet deep. Each lake had an island; one was connected by a wooden bridge to the mainland.
It was a place were Las Vegas socialites could ignore prohibition. A trap door in the floor of a building (covered by a rug) hid the booze if authorities showed up uninvited.
The lakes were stocked with fish that eventually made their way to Lake Mead when it was formed behind the Hoover Dam.
With all of the development, Lorenzi's Resort was formed. He charged little money to get in but offered rowboats, ice cream, fireworks, prize fights, horse races, dance contests, beauty pageants, a band shell that doubled as a movie screen and other entertainment.
Eventually, Lorenzi built an ice manufacturing plant. In 1931, police discovered a steam brewery at the icehouse and 2,500 gallons of beer. Lorenzi claimed his innocence, and he told police he leased the icehouse to a man who changed the locks.
He was arrested. Two months later, the charges were dropped. Authorities had no evidence that proved Lorenzi was a bootlegger or sympathetic to their causes.
Lorenzi wanted his land to become a public park and offered it to the city for $70,000 in 1936. It was a price Las Vegas city officials said they couldn't afford at the time. The city ended up paying $750,000 for it in 1965.
Lorenzi died in 1962.
For now, Lorenzi Park houses what's left of the Nevada State Museum as workers move exhibits from the old location to its new 70,000-square-foot location in the Springs Preserve, 333 S. Valley View Blvd. The original location is not charging admission. The public is encouraged to view exhibits that remain on display, visit the library, research photographs and shop in the museum store, according to the museum's website.
"Originally the park was meant for farmland, but he decided to turn it into a fun place for people to hang out," said Crystal Van Dee, the museum's curator of manuscripts. "It was the center for recreation in Las Vegas for a long time."
That is still somewhat true today.
The park also houses the Sammy Davis Jr. Festival Plaza, four baseball and softball fields, two basketball courts, a concession stand, two dog runs, a fitness course, a walking path, three playgrounds , 10 tennis courts, 15 picnic areas, three restroom facilities and other open spaces, according to the city's parks and recreation website.
The 60-acre park is undergoing renovations on the western half that are expected to be completed by summer 2012. It's the second phase of a $10 million project that includes the reconstruction of the lake and islands this summer along with new basketball courts, a historic loop trail, a new playground and water play area for children, additional picnic shelters and more trees.
The Derfelt Senior Center, housed inside the park, is temporarily closed in anticipation of construction, and its programs have been relocated to other facilities. The Sammy Davis Jr. Festival Plaza and the Garden Club Center are scheduled to remain open until construction begins. For more information about the renovations, visit lasvegasnevada.gov and search for Lorenzi Park renovations.
Contact Downtown and North Las Vegas View reporter Kristi Jourdan at kjourdan@viewnews.com or 383-0492.