Favorite Sons & Daughters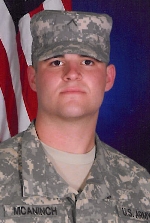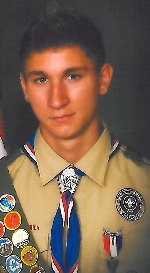 Tyler McAninch graduated July 1 from Army basic training at Fort Sill in Oklahoma.
After advanced training, he plans to continue studies at the College of Southern Nevada and serve in the Nevada Army National Guard.
A 2009 graduate of Centennial High School, McAninch is the son of Terry and Theresa McAninch of Las Vegas.
Dalton Mack, 17, has achieved Eagle Scout status in the Boy Scouts of America.
Mack, a junior at Centennial High School, painted two 30-foot world maps at Goynes Elementary School for his Eagle project.
He has attended the National Youth Leadership Forum on National Security in Washington, D.C., and Nevada Boys' State, a high school civic leadership conference.
Mack is the son of Jim and Donna Mack of Las Vegas.
Spencer Cross, a senior at Bishop Gorman High School, joined 47 other high school students from across the country and the world at Oklahoma Christian University in Oklahoma City to debate whether the 50 states should adopt a system of school choice for private and public primary and secondary schools.
The program, which was from July 10-15, included a visit to the General Tommy Franks Leadership Institute and Museum. The program was hosted by the National Center for Policy Analysis, the Academy of Leadership & Liberty at Oklahoma Christian University and the General Tommy Franks Leadership Institute.
Christopher Lyons graduated from basic military training at Lackland Air Force Base in San Antonio.
A 2002 graduate of Green Valley High School, Lyons is the son of Kelli Albright of Henderson.
Zachary Cox, 14, has achieved Eagle Scout status in the Boy Scouts of America.
A member of Troop 849, he painted fences at the Arroyo Grande Sports Complex for his Eagle project.
A student at Foothill High School, he plays volleyball and is a member of the marching band and wind symphony.
He enjoys reading and music and hopes to become a doctor.
Zachary is the son of Jeffrey and Tamera Cox of Henderson.
Elizabeth Fildes of Las Vegas has been named to the dean's list at Westminster Choir College of Rider University in Princeton, N.J.
Fildes is a voice performance major at the university.
Julian Glasser and Sarah Thomas, both of Henderson, participated in the Coca-Cola Champions Challenge, a five-hole golf competition featuring six Champions Tour stars paired with six junior golfers from different chapters of The First Tee.
The competition took place July 7 at the Pebble Beach Golf Links in Pebble Beach, Calif.
Jeremy Thomas Rhizor graduated from the Eastman School of Music at the University of Rochester in Rochester, N.Y., on May 15 with a Bachelor of Music degree in applied music. Rhizor, a graduate of Las Vegas Academy, is the son of Sharon and Steven Rhizor of Las Vegas.
Five local teens were selected for Bank of America's Student Leaders Program and received paid, eight-week summer internships at Boys & Girls Clubs of Las Vegas.
They are: Karina Gaytan, Christopher Glaser, Nicole Snytsheuvel and Paloma Altman, all of Las Vegas, and Quanisha Holloway of North Las Vegas.
In addition to the internships, they attended the Bank of America Student Leadership Summit July 10-15 in Washington, D.C.
Alexandra Chide of Las Vegas was named to the distinguished students list at Tarleton State University in Stephenville, Texas, for the spring 2011 semester. Chide is majoring in animal science.