FAVORITE SONS & DAUGHTERS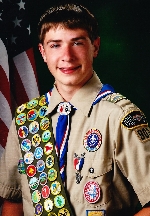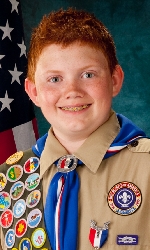 Matthew Ryan Kindell, 14, has achieved Eagle Scout status in the Boy Scouts of America.
A member of Troop 903, he organized volunteers to help prepare more than 900 pocket flags to be sent to active military troops in Afghanistan and Iraq for his Eagle project.
Matthew, a student at Coronado High School, plays rugby for the Las Vegas Aces Rugby Football Club.
He is the son of Chris and Annette Kindell of Henderson.
Tyler Jenkins, 18, has achieved Eagle Scout status in the Boy Scouts of America.
Jenkins, a second lieutenant in the Junior Reserve Office Training Corps, is a member of its marching band.
He enjoys writing and hopes to become a doctor or a teacher.
Jenkins is the son of Kimberly Royal and Kevin Jenkins of Las Vegas.
Kyle Johnson, 14, has achieved Eagle Scout status in the Boy Scouts of America.
An eighth-grader at Becker Middle School, he is a member of National Junior Honor Society and plays lacrosse.
He enjoys reading, video games and swimming and hopes to become an architect.
For his Eagle project, he painted picnic tables, stained benches and painted shutters and arrows for Opportunity Village.
Kyle is the son of Jared and Jennifer Johnson of Las Vegas.
Justin Lefever, 16, has achieved Eagle Scout status in the Boy Scouts of America. He is a member of Troop 848.
A junior at Southeast Career and Technical Academy, Lefever has been named student of the month and made the A-B honor roll.
He enjoys camping, geocaching, chess and bowling and hopes to pursue a career in 3-D animation and gaming.
Lefever is the son of Eric Lefever and Rita Lefever.
Samantha L. O'Brien graduated from basic military training at Lackland Air Force Base in San Antonio.
She is the daughter of Nadja Robbins of Las Vegas and Patrick O'Brien of Lynn Haven, Fla.
Fallon Smythe of Las Vegas has been selected as Miss Junior Teen Nevada 2011.
She will compete for the national title of Miss Junior Teen United States 2011 July 13-14 at The Orleans.
Fallon was diagnosed with type 1 diabetes in October 2010 and hopes her presence in the competition will make a difference in the lives of other children coping with the disease.
Kelsey Kinsel, a senior at Arbor View High School, has received a $1,000 scholarship from The National Federation of Independent Business Young Entrepreneur Foundation.
Alexis Ranallo of Henderson received a doctor of chiropractic degree April 21 from the College of Professional Studies at National University of Health Sciences in Lombard, Ill.
Kellie Cluff of Henderson was selected as a member of the Peer Jacks Mentoring Program for Northern Arizona University for the fall 2011 semester.
Peer Jacks are mentors who work with out-of-state students to get them connected to the school campus, its resources and the community.
Cluff is a sophomore business management and marketing major.
Garielle Martinez of Las Vegas has graduated from the University of Southern Nevada College of Nursing with a Bachelor of Science in nursing degree.