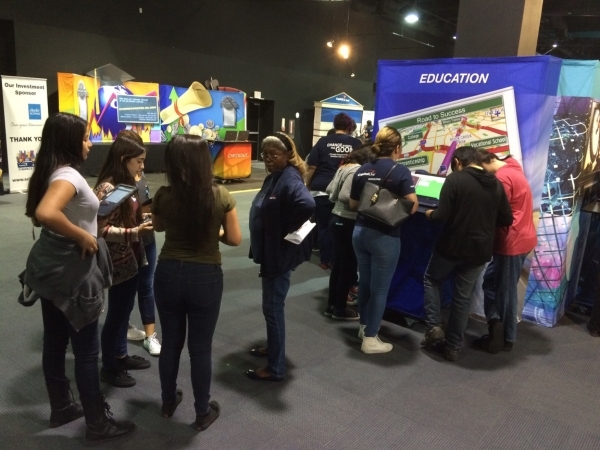 In Nevada, it's easy to be an eighth-grader and get a mortgage loan and just as easy to get a car loan.
But with these things come financial responsibilities — paying them off on time and protecting one's credit score.
It's all part of the Junior Achievement of Southern Nevada's Finance Park, which is set up at 833 Las Vegas Blvd. North, where the Lied Discovery Children's Museum once sat.
This year, 4,000 students are in the 3-year-old program, coming from various middle and junior high schools, including Becker, 9151 Pinewood Hills Drive; The Alexander Dawson School, 10845 W. Desert Inn Road; Sawyer, 5450 Redwood St., and West Preparatory Academy, 2050 Sapphire Stone Ave.
The students spend 12 weeks in classroom study, learning about the financial responsibilities they will face as adults. Lessons include how to balance a checkbook; the value of saving; investing; risk management; and budgeting, among other skills that increase their financial literacy and business skills. The students received a debit card loaded with mock money to "spend" as they saw fit.
The end of the course included sending students to the Finance Park. On this day, Oct. 12, the first day that students would visit the park, approximately 60 were bused to the facility. They were seated at tables with an adult, a volunteer from partner Capital One, as their guidance monitor.
The presentation began with interesting facts about how location affects one's earning power. An elementary teacher in the Midwest, the students were told, could expect to make $55,000 a year. But if that same person lived on the West Coast, their salary average was $70,000.
The type of industry could also affect one's wages, as could the amount of schooling they had.
In 2011, according to the U.S. Bureau of Labor Statistics, the average salary for a college graduate was $41,000.
The students were given tablets, each preloaded with an occupation and an annual salary.
Angelo York, a student at Smith Middle School, 1301 E. Tonopah Ave., was given a profile as a deli worker who made $36,000 a year.
He said that in real life he wanted to be a rapper. Barring that, he said he would join the military for a four-year stint and follow that with college to study law.
"The most important thing I learned here is how to handle my money," he said, "because even if you have plans in life, knowing how to budget will always come in handy, knowing how much you can spend and how much you can save. … What shocked me is how much money you waste just paying bills and all that stuff."
Virginia Reyes, who also attends Smith, wanted to work in law enforcement.
She said her parents taught her "to only spend what's needed and keep to a budget." When they showed her their budget, she said she was unaware that they had to pay taxes, both local and federal.
She was given a life scenario as an analyst who made $64,500 a year.
Other details of student profiles included whether they were a parent, their credit score and if they had attended college using student loans. According to studentdebt.org, the total student debt in the U.S. is currently $1.2 trillion.
The fun part was when the students got to "shop." They visited booths set up to address various aspects of an adult's financial responsibilities, including groceries, transportation, clothing, gas and other utilities, housing, insurance, education, childcare, investments, health care, banking, entertainment and home improvement. One booth was called "That's life" and spelled out different scenarios: the car needs a new transmission; your daughter's baseball smashed out a neighbor's window; the dishwasher broke; Billy needs braces.
At the transportation booth, the students looked at what types of vehicles they could buy. The monitors spoke of other considerations such as whether a luxury vehicle or a more modest car cost more to insure and what kinds of vehicles got the best gas mileage.
"What type of person would consider buying a minivan?" a monitor asked.
"Someone with a family," a student called out.
At the entertainment booth, one monitor pointed out that Las Vegas has plenty of free concerts on Fremont Street, which could save money. Another suggested that instead of eating out for one fancy dinner, that money could buy a week's worth of groceries instead.
Christian Dennis, with Capital One, was one of the monitors and said she learned the kids didn't get a lot of financial instruction in school.
They need to "learn about checking and savings; of course, nowadays they have debit cards," she said. "But when you tell them they need to balance their checkbook, they go, 'What's a checkbook?' "
Since the program debuted in 2013 in Southern Nevada, the number of participating students has more than doubled from the initial 16-day program with 1,899 students. Across the country since 2006, more than 130,000 students have participated in JA Finance Park, assisted by more than 12,000 Capital One associate volunteers.
Michelle Jackson, president of Junior Achievement of Southern Nevada, said the course was also about making school a priority.
"It's critical to teach them at this age because they haven't gotten to high school yet," she said. "There, your grade point average is critical. … A 3.0 GPA and a 4.0 GPA; the difference could determine which college you get into or what scholarship you receive. So, we focus on eighth grade because we want them to get an idea how important their education is, to make it a priority. With their life scenarios, they see very quickly that the kids who stayed in school longer stand to make more money."
An open house is planned from 11 a.m. to 1 p.m. Dec. 10 for the public at the park. Along with food, a brief presentation is planned, along with time to observe and interact with students visiting the park. Visit jalasvegas.org/programs/finance_park.
— To reach Summerlin Area View reporter Jan Hogan, email jhogan@viewnews.com or call 702-387-2949.