Firefighters battle 3-alarm blaze in central Las Vegas
November 17, 2017 - 9:16 pm
Updated November 17, 2017 - 10:18 pm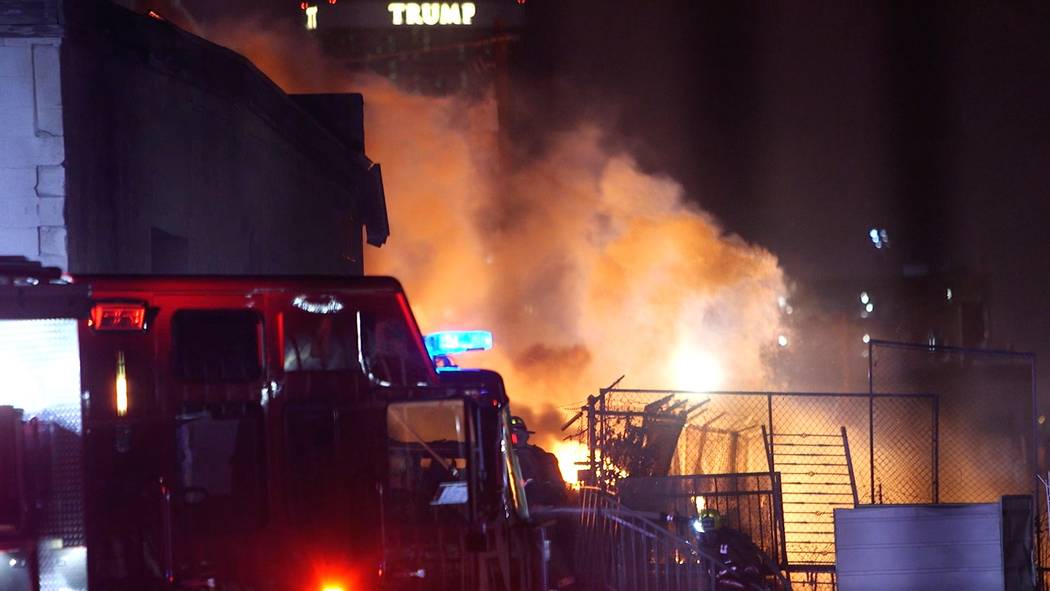 Las Vegas fire crews battled a three-alarm fire near downtown for nearly two hours before finally extinguishing it Friday night.
High winds fanned what began as a small brush fire into a three-alarm fire at a towing lot near Wyoming Avenue and Industrial Road, Las Vegas Fire Department spokesman Tim Szymanski said.
Crews received the call about 6:30 p.m. and had doused the flames about two hours later.
ABC Towing employee Mikee Felehey said he saw a small brush fire near the business, 1414 Industrial Road. He and several other employees fled the property and stood near the corner of Fairfield and Utah avenues Friday evening.
"Next thing you know, it jumped over into our yard and caught one of the cars on fire," Felehey said. "And that was it from there."
He said the fire reached their yard before they could call 911. As the fire spread, thick black smoke eliminated any remaining visibility.
The tires began to pop, he said, sounding like an "explosion after explosion after explosion."
"It was nonstop," he said.
No buildings were involved, and no injuries were reported, but many vehicles in the impound lot caught fire, Szymanski said. Sparks leaped up higher than the surrounding fence Friday night, marking where firefighters worked with each of the cars. Fire crews and ABC Towing employees estimated there were roughly 150 vehicles in the lot.
Fire crews called in the second and third alarms to allow firefighters who had worked a while to rest, he said. Firefighters were concerned the winds would blow to nearby buildings or fuel tanks and set up their crews accordingly.
"They did a great job," Szymanski said.
Resident Josefina Martinez wore a surgical mask around her mouth as she stood at the corner of Wyoming and Industrial and faced the emergency crews. She saw the red sky and smelled burning tires, grabbed the mask and walked from her nearby house to the intersection.
"It was very heavy smoke," she said.
Contact Mike Shoro at mshoro@reviewjournal.com or 702-387-5290. Follow @mike_shoro on Twitter.