First Friday listings, Oct. 2, 2015
September 29, 2015 - 1:01 pm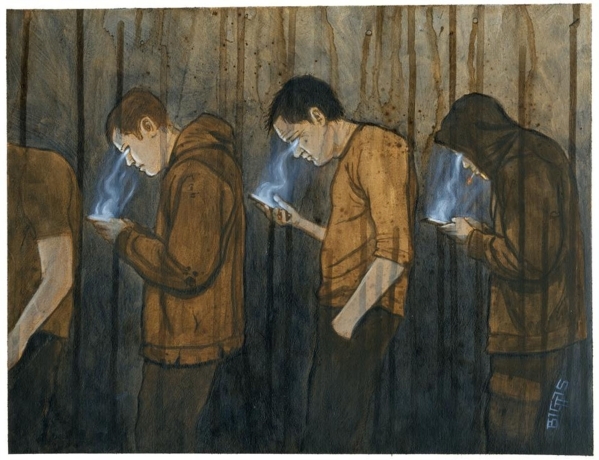 The First Friday arts festival is scheduled from 5 to 11 p.m. Oct. 2 at venues throughout the 18b Arts District in downtown Las Vegas, near the intersection of Charleston Boulevard and Main Street. Live entertainment, artists' booths, food vendors and more are planned. The event is set to return to nearly its full footprint this month. Admission is free on-street, and paid parking is available close to the event, but spaces fill up early. Visitors are cautioned to avoid parking in unauthorized parking areas, such as vacant lots, as they may be subject to towing.
This month, First Friday is set to once again celebrate Las Vegas' cultural diversity with the return of the theme "One World Through Art." The organizers hope to emphasize the established inclusiveness of the event by inviting groups from all religions, cultures, races, genders and sexual orientations to come together for an evening of mutual respect and understanding.
In celebration of the event's 13th anniversary, a large mural is planned on the Mission Building, 1001 S. First St., with 13 mentors working with 13 13-year-olds.
Although the main events are scheduled at the 18b Arts District, organizers note that First Friday exists all over downtown Las Vegas, and the sense of wonder and creative energy has expanded to the Fremont East area before and after each First Friday event with arts, crafts, bands, and food and drink specials.
For information on artists, music and more, visit firstfridaylasvegas.com.
Preview Thursday, set from 6 to 9 p.m. Oct. 1, offers a more low-key event before streets are closed and booths are set up. The preview presents an opportunity to see many of the galleries and shows before the crowds on Friday.
Galleries planning to participate in October's First Friday include:
The Arts Factory, 107 E. Charleston Blvd.
— 303 North Gallery
— Jana's Red Room. Small works by local artists in the Salon Gallery. Visit janasredroom.com or call 702-454-3709.
— Sin City Gallery: "Seductive Simplicity," works by Francois Dubeau. Visit sincitygallery.com or call 702-608-2461.
— PeaceNArt Studio: Works by Alexander P. Huerta.
— Eden Art Studio and Gallery: "With Impossibility's Happen," works by Bobby Wysocki, and "Celestial Bodyscapes: The Tabletop Group Show," curated by Eric Medlin. Visit edenartstudioandgallery.com.
— 17 Moons Art Studio: "The Planets," assemblages by Michael Delacruz. Visit 17moons.com.com or call 702-245-7725.
— Dray Studio & Gallery: New and classic works by artist Dray. Visit instagram.com/draydizzle1 or call 415-748-0713.
— EKlectica Gallery: Works by Lynn Adamson Adrian, Kat Tats and Debbie "Jane" Sussman. Visit tinyurl.com/eklectica or call 702-686-4010.
— Twisted Artists Gallery: "Day of the Dead," group show and ink sketches and paintings of women. Visit twistedartistgallery.com or call 702-813-8428.
— R. Cline Gallery, 8 E. Charleston Blvd.: "Third Quarter Exhibit," a two-person show with work by Joseph Kucinski and Abraham Abebe. Visit tinyurl.com/rcline or call 702-577-8627.
— Reclaimed Art Suppliez, 1114 S. Casino Center Blvd.: Live art demonstrations and galleries featuring work by local artists. Visit reclaimedart.org or call 702-241-8926.
— City of the World, 1229 S. Casino Center Blvd.: Work by Gayle Nathan. Visit cityoftheworldlasvegas.org or call 702-523-5306.
— Clay Arts Vegas, 1511 S. Main St.: "What Goes Bump in the Night," a Halloween-themed show juried by Robert Lawarre III. Visit clayartsvegas.com or call 702-375-4147.
— Blackbird Studios, 1551 S. Commerce St.: "Spirit Away," by Su Limbert. Visit blackbirdstudioslv.com or call 702-782-0319.
Downtown Spaces, 1800 Industrial Road, plans to celebrate First Friday from 6 to 10 p.m. Oct. 2. Visit dtspaces.com for details. Confirmed activities include:
— Wasteland Gallery: "Crucible," the pen and ink work by Barbara Loveless.
— Spectral Gallery: "Dark Allure," all new work by Jska Priebe, Mike Biggs and Dasha Biggs.
— Live painting and glass blowing demonstrations.
— Music on the outdoor Stagecoach starts at 9 p.m.
— Common Ground is scheduled to perform across the street at The Hard Hat Bar & Lounge, 1675 S. Industrial Road, for a First Friday after-party.