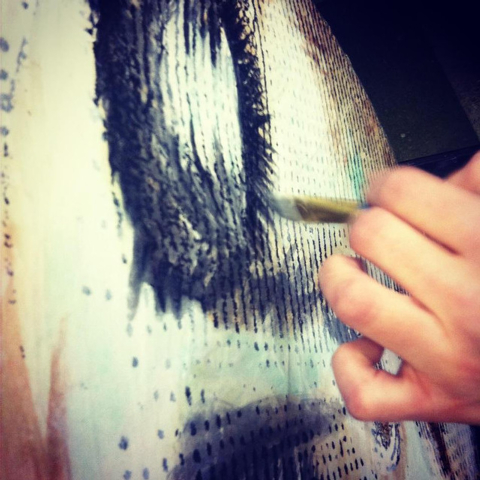 The First Friday arts festival is scheduled from 5 to 11 p.m. Feb. 6 at venues throughout the 18b Arts District in downtown Las Vegas, near the intersection of Charleston Boulevard and Main Street. Admission is free. Live entertainment, artists' booths, food vendors and more are planned. Street parking fills up quickly, and there are several temporary paid lots nearby. Parking is available at Symphony Park for $3, and a shuttle goes to the festival.
The event features several special areas, including a KidZone; Green Street, which focuses on environmentally friendly products and practices; The Hub Stage; and Shuffle Zone, which showcases a variety of artists.
In February, First Friday's theme is Carnivale, featuring works and events with brightly colored costumes and dance. Mardi Gras-style parades are planned at 6:30 and 9 p.m. at Charleston and Casino Center boulevards. Attendees are welcome to wear Mardi Gras-themed attire and bring beads for a bead exchange.
For information on shuttle services, artists, music and more, visit firstfridaylasvegas.com. Preview Thursday is slated from 6 to 9 p.m. Feb. 5 and offers a more low-key event, before streets are closed and booths are set up. The preview offers an opportunity to see many of the galleries and shows before the crowds on Friday.
Galleries planning to participate in First Friday include:
THE ARTS FACTORY, 107 E. Charleston Blvd.
— The Jerry Misko Gallery is set to feature works by Misko. Visit jerrymisko.com.
— Jana's Red Room plans to show small works by local artists. This is the last month the gallery will be at its current location before it moves across the hall to the space vacated by Trifecta Gallery. Visit janasredroom.com or call 702-454-3709.
— Sin City Gallery is slated to feature "Desert Bound," a curated selection of recent photographs by Marshall Bradford. The works are a mixture of haute couture photography and sexuality. Visit sincitygallery.com or call 702-608-2461.
— The Eden Art Studio and Gallery is set to exhibit "Dreamt Reflection," featuring dreamlike work informed by anime style with works by Jef Logan. Work by other artists also will be on display, including Mowgli Art, Justin Lepper, Sky Alexander, Shye Bunnysuit and Julia De Vince.
DOWNTOWN SPACES,1800 Industrial Road
Downtown Spaces plans to celebrate First Friday from 6 to 10 p.m. Confirmed activities include:
— Skin City Body Painting is set to offer live body painting and "Caio's World" by former Cirque du Soleil performing artist Julia Parrot. Parrot created a series of paintings made from projections of her child's favorite drawings.
— SolSis Gallery/EQLD Creations Art Studio plans a closing reception for "Abstract Illusions," featuring new works by Chris Kennedy.
— Wasteland Gallery is set to display "Bubblegum Nightmare," new works by Leslie Ann Farrell, and a hand-painted babydoll group show.
— Spectral Gallery is set to feature work by Jska Priebe and Mike and Dasha Biggs, live digital painting demonstrations and an extended holiday sale featuring discounted art, T-shirts, stickers and more.
— Urizen Gallery plans a closing reception for "Meditation," featuring paintings by husband-and-wife team Benito and Kortnie Colon.
— Visitors to Downtown Spaces on First Friday can also enjoy offerings at Beloved Relics, Toyboxx Las Vegas and the Glorified Hallway. An after-party is scheduled across the street starting at 9 p.m. at the HardHat Lounge, 1675 Industrial Road, featuring the SINdicate Birthday Extravaganza.
OTHER LOCATIONS
— The Cockroach Theatre in Art Square, 1025 S. First St., is scheduled to present "Two Dollar Ten Minutes," a monthly 10-minute play presentation at Art Square Theatre twice an hour from 7 to 10:30 p.m., featuring plays produced by the Cockroach Theatre Company and other local talent. Visit cockroachtheatre.com.
— Reclaimed Art Suppliez, 1114 S. Casino Center Blvd., is slated to feature live art demonstrations and work by local artists. Visit reclaimedart.org or call 702-241-8926.
— City of the World, 1229 S. Casino Center Blvd., plans to display "The Carnivale/Heart Art Group Show," which features a variety of mediums. A reception celebration is scheduled from 6 to 8 p.m. Feb. 14. Visit cityoftheworld.org or call 702-409-7549.
— Clay Arts Vegas, 1511 S. Main St., is scheduled to feature functional work by Shana Salaff and Thomas Bumblauskas. Salaff is scheduled to teach a two-day workshop Feb. 6 and 7. Visit clayartsvegas.com or call 702-375-4147.
— Blackbird Studios, 1551 S. Commerce St., is set to display "Regarding the Moon," works by Gina Quaranto. Visit blackbirdstudioslv.com or call 702- 782-0319.
Contact East Valley View reporter F. Andrew Taylor at ataylor@viewnews.com or 702-380-4532.