Foundation helps disabled vets experience underwater freedom
February 11, 2016 - 3:30 pm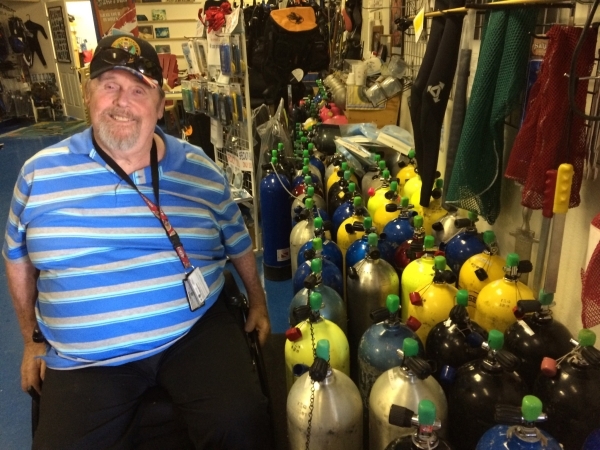 Retired Army helicopter mechanic Ben Keechler, who served in Korea, was enjoying life, working as an equipment manager at a golf course and running his one-man business sharpening industrial mowing equipment when his life turned upside down. It was March 6, 2013, and he was getting ready for bed when he realized couldn't move his hands.
"From the wrist down, they were dead," he said.
There was also pain in his chest. His wife, Julie, was alarmed and asked him if she should call 911. Ben said yes.
"You know it's serious when your husband, a guy, tells you that," she said.
By morning, Ben was completely paralyzed.
Hospital tests were run, and a diagnosis emerged: transverse myelitis. Never heard of it? Not many have. In the U.S., approximately 33,000 Americans have some type of disability resulting from the disorder, according to the National Institute of Neurological Disorders and Stroke.
Transverse myelitis is a neurological disorder caused by inflammation across both sides of one segment of the spinal cord. The damage causes scars on the myelin of the nervous system that interrupt communications between the nerves in the spinal cord and the rest of the body.
Since that day, Ben, an east valley resident, has been in a wheelchair. Through therapy, he has regained some of his motor skills, but it's been a long, slow process. His left hand — and he is left-handed — is constantly closed. Julie wedges a pen in between his fingers so he can sign papers or a fork so he can eat. He is considered an incomplete quadriplegic.
When he undergoes water therapy at the city pool at Bonanza Road and Las Vegas Boulevard, he is able to maneuver through the water.
"I was surprised to learn I could still swim," he said. "The restrictions I have with my body seem to go away."
So when he saw a flier for the Dive Pirates Foundation, he immediately thought: Sign me up.
"Then I thought, 'How am I going to be able to put the equipment on?' But you're not allowed to go by yourself," he said.
Now, Ben has been chosen to fly to the Cayman Islands on June 18 to go scuba diving with the group, which trains those with disabilities to scuba dive and experience the freedom of a sport they can do with their friends and loved ones for years to come. The foundation focuses its efforts on injured military, encouraging a lifelong activity that adds to their quality of life.
Dive Pirates derives its name and philosophy from the combination of diving adventure and the traditional code of pirates. Pirate crews cared for injured crew members by making them peg legs, hooks, eye patches, etc. Then they were given new tasks that they could perform and be useful to the rest of the crew. Dive Pirates continues that spirit by including disabled veterans as part of the crew.
Julie will travel with her husband, and she'll get to scuba dive, too. But it will be the specially trained dive instructors who will be within arm's length of Ben when he's in the water.
Mario Alfonsi is a dive instructor affiliated with GR8 DIVN, 101 S. Rainbow Blvd., Suite 11, and plans to be on the trip, as will fellow instructors Lee Craver and Kelly McLaughlin. Alfonsi participated in the program in 2015 when he took two veterans on the trip. They had such a good time, they booked two more trips.
"There's a real sense of fulfillment to see them enjoy being underwater," he said. "… It was a freedom they hadn't enjoyed in a long time. The Dive Pirates, their whole thing is, 'Leave the chair behind.' "
GR8 DIVN joined forces with Concerned Veterans for America-Nevada Chapter, Battle Arms Development, Red Rock Harley-Davidson, Battlefield Vegas, Lock N Load Tactical, New Frontier Armory, Salient Arms International and the North Las Vegas Police Officers Association to raise funds to support Ben Keechler, its third recipient.
Visit divepirates.org. To reach GR8 DIVN, call 702-367-3484.
— To reach Summerlin Area View reporter Jan Hogan, email jhogan@viewnews.com or call 702-387-2949.