Free legal aid offered by area firms, agencies
February 26, 2013 - 12:00 am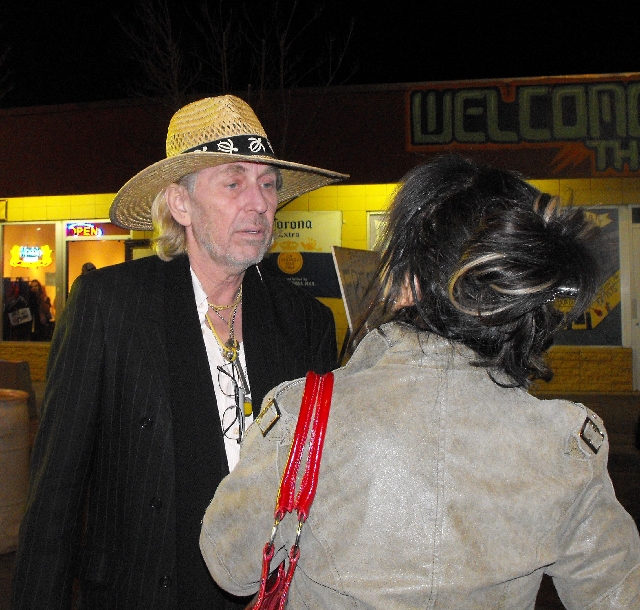 A downtown law firm is offering a different kind of art to the streets of First Friday: the art of law.
Callister & Associates dispenses free legal advice once a month to the revelers of 18b Arts District's monthly festival, something lead attorney Matthew Callister said is sorely needed.
"More than any other time, people in this city are in need of legal services," Callister said, citing the state's unemployment rate, the highest in the nation, and housing crisis. "It's what the community needs and deserves right now."
The five-man firm sets up its booth on Casino Center Boulevard, just south of Charleston Boulevard, at around 4 p.m.
"We have vastly enjoyed it," Callister said. "It's been great interacting with people on a face-to-face level."
The questions run the gamut, from what government programs people can qualify for to gay rights.
The firm pays to be there, and although some seeking advice become clients, Callister considers the work pro bono.
A number of other private firms around the valley also offer pro bono services.
Lawyers are "strongly encouraged" to perform at least 20 hours of direct legal services for free, 60 hours of legal services at a "substantially discounted" rate or contribute a minimum of $500 to an organization that provides such services yearly, according to the State Bar of Nevada's rules of professional conduct.
"We usually talk to maybe 50 people, and about 10 usually want to make an appointment to come into our office," Callister said. "People are nervous about approaching a lawyer to begin with so we're trying to make the law more accessible."
Working at First Friday has given him a fresh look at the purpose of an attorney, he said.
"It has changed me and my approach to interacting with clients," Callister said. "One of the biggest complaints people have with attorneys is a lack of communication. I understand how crucial it is to simply talk to clients."
Other entities also offer free legal services. The Legal Aid Center of Southern Nevada, 800 S. Eighth St., offers classes and information on a variety of legal topics, including bankruptcy, foreclosures, student loans, divorce and immigration. Classes are offered in English and Spanish.
The Clark County Family Law Self-Help Center in the Family Court and Services Center at 601 N. Pecos Road hosts the Ask A Lawyer program from 2 to 5 p.m. Thursdays. The program offers self-represented people a free, 15-minute consultation with a lawyer regarding family law matters.
Nevada Legal Services, 530 S. Sixth St., provides free legal services and advice to low-income Nevadans and often negotiates on behalf of clients in order to avoid litigation, according to the nonprofit's website.
The Southern Nevada Senior Law Program is a nonprofit representing Clark County seniors 60 or older. Sugar Vogel has been the program's director for 25 years and said a resource such as this is important to the community.
"We are the trusted resource in Clark County for seniors facing the legal challenges of aging," Vogel said of the program, formerly run by the city of Las Vegas under the name Senior Citizens Law Project. "It was requested by seniors in the community that we become a free-standing nonprofit."
The American Civil Liberties Union of Nevada is not a general legal aid agency but advises on cases involving constitutional law.
The State Bar of Nevada provides a lawyer referral and information service, connecting Nevadans to an attorney who meets their needs. The service is available 24 hours a day on its website, nvbar.org, and via phone between 8:30 a.m. and 5 p.m.
Callister is not the only member of his firm positively impacted by the work done at First Friday.
"Some people in the office who are usually buttoned-up, tucked-in folks loosen up when they're on the streets," he said.
One such person, he said, is senior associate attorney Matthew Pawlowski.
"We want to reach out to the community and provide a certain level of guidance because most people just don't know where to start," Pawlowski said. "First Friday is a relaxed environment where people feel comfortable, which allows the dialogue to proceed in a productive fashion."
Pawlowski agreed that the work his firm is doing on First Friday is important.
"We act as a guiding light for people in the dark about what they can and can't do," he said. "The best skill anyone can have is knowing their rights."
Every month, the group puts on a short lecture about a specific aspect of law. February's topic was marital law. Previous topics have included copyright law and estate law.
The firm also partners with area contemporary artists, a requirement of First Friday.
Callister said he is proud of his firm's work and he plans to continue the service.
"We've committed to every month, and we'll keep coming as long as they'll have us," he said. "Our free legal clinic is growing every month, and we expect it to continue growing."
Contact Paradise/Downtown View reporter Nolan Lister at nlister@viewnews.com or 702-383-0492.
AGENCIES THAT OFFER
FREE LEGAL AID
– ACLU of Nevada, 601 S. Rancho Drive, 702-366-1226,
aclunv.org
.
– Clark County Family Law Self-Help Center, 601 N. Pecos Road, 702-455-1500,
clarkcountycourts.us/shc
.
– Legal Aid Center of Southern Nevada, 800 S. Eighth St., 702-386-1070,
lacsn.org
.
– Nevada Legal Services, 530 S. Sixth St., 702-386-0404,
nlslaw.net
.
– Southern Nevada Senior Law Program, 310 S. Ninth St., 702-229-6596,
tinyurl.com/snslp
.
– State Bar of Nevada lawyer referral service, 600 E. Charleston Blvd., 702-382-0504,
nvbar.org
.