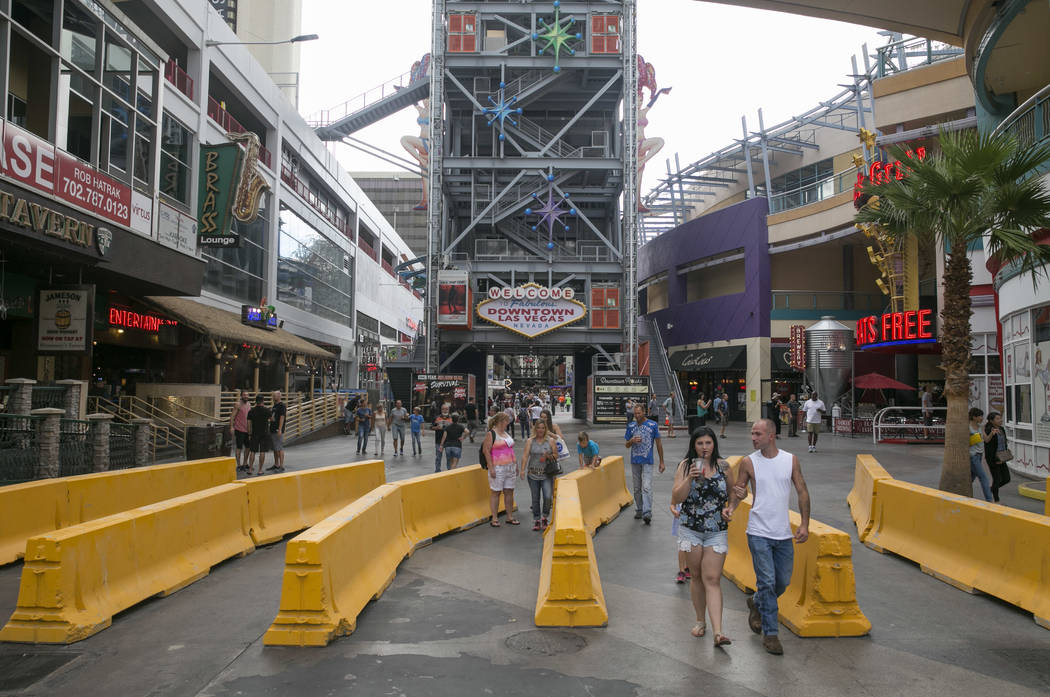 Last week's deadly attack in Barcelona, Spain, triggered new security measures along the Fremont Street pedestrian mall this week.
Entrances to the busy pedestrian mall have been fortified with yellow K-Rail barriers, accelerating security plans for new permanent features that were already in the works, Fremont Street Experience President and CEO Patrick Hughes said Wednesday.
"We've been working with the city for quite a while to determine what kind of security features we should put in. In light of recent worldwide events, we decided to escalate that process," Hughes said. "We've implemented a three-phase plan to protect the area. It's our job to protect our tourists."
The jersey barriers began going in at 2 a.m. Tuesday along segments of the Fremont pedestrian mall where vehicles flow next to busy pedestrian areas. The city is supplying the barriers, which it already owned and placed along the pedestrian mall this week.
The pedestrian mall is public space, but the city has a contract with the Fremont Street Experience to manage the tourist attraction, including the overhead canopy light show.
The barriers lined Fremont Street at Main Street, Las Vegas Boulevard and behind the Fremont Street Experience stages on Wednesday. Several of the yellow barriers also sat at Third Street near Ogden Avenue.
Where downtown streets cut through the five-block pedestrian mall, metal posts already line the sidewalks.
Las Vegas Mayor Carolyn Goodman called the installation of the barriers as an immediate reaction to deadly attacks in other cities "proactive, sensitive and responsible."
"We really wanted something that was impenetrable," she said. "They're very, very heavy. You can't get anything through."
On Aug. 17, a van hurtled through Barcelona's bustling Las Ramblas thoroughfare, killing 14 people and injuring more than 120 others. Fremont Street Experience officials requested that law enforcement vehicles be placed at some of the entrances to the pedestrian mall later that day, Hughes said.
Clark County is expediting new security features along the Strip in response to recent deadly attacks in both Barcelona and Charlottesville, Virginia, where cars drove into crowds. About 700 steel bollards are expected to go in by early October along the sidewalk between Tropicana Avenue and Spring Mountain Road, county officials said last week.
In December 2015, a car plowed through a crowd of pedestrians on the Strip, killing one person and injuring 35 other people.
The temporary barriers along Fremont Street pedestrian mall entrances will be in place for a few months, making time to identify permanent security features, Hughes said.
Future permanent security features that are installed along the Fremont Street pedestrian mall will be funded by the private Fremont Street Experience, which is planning a large-scale renovation of the attraction.
In the meantime, the barriers will be beautified by local artists over the next few weeks, Hughes said.
Las Vegas City Councilwoman Michele Fiore suggested local students could showcase their artwork on the new barricades, rather than "hiring outside artists," she said.
"I think it was smart, preventative," Fiore said of the barriers. "Anytime something happens outside the city, we learn from that. We don't want to be a target."
Contact Jamie Munks at jmunks@reviewjournal.com or 702-383-0340. Follow @JamieMunksRJ on Twitter.