From galleries to curious theater, downtown Vegas has it all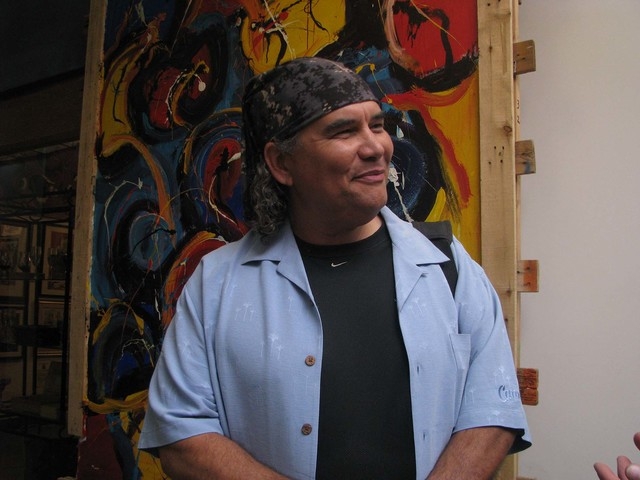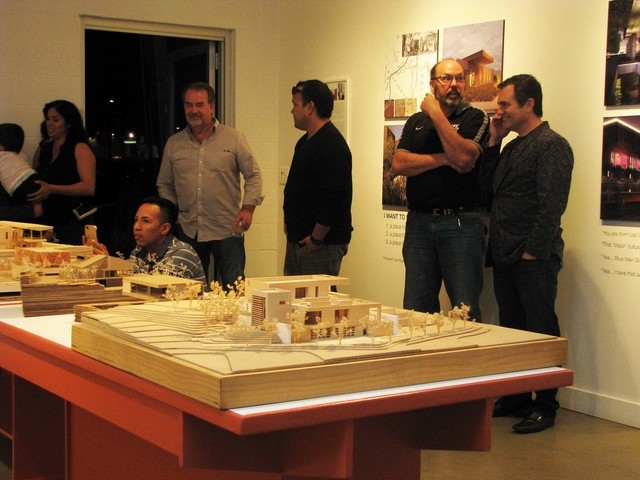 It's no surprise that downtown is considered by many to be the cultural core of Las Vegas. The largest and most well-known monthly arts event, First Friday, is scheduled at the 18b Arts District on the first Friday of each month. Visitors more interested in the art and the artists without the pomp, circumstance and food trucks visit from 6 to 9 p.m. the day before, during an event dubbed Preview Thursday. But just because the event is popular, it is by no means the only culture downtown. Here are a few of the offerings in the area.
The 18b Arts District is a loosely defined area originally comprising 18 blocks near The Arts Factory, 107 E. Charleston Blvd. Galleries have come and gone, but the core remains that building and the Art Square, 1025 S. First St. Both buildings have full-time galleries with regular hours and are active during the times between First Fridays.
The action has shifted north in the last year with a few locations left south of Charleston Boulevard, notably City of the World Gallery, 1229 S. Casino Center Blvd., a collective with many artists each occupying a wall or a portion of a wall in a nearly century-old home. Union House, 917 S. First St., is one of the newest galleries and has a similar setup with community galleries, a dance studio and plans for special events.
Neither the 18b nor the First Friday website keep a current list or map of the galleries, so some exploration is necessary for visitors, usually starting at The Arts Factory or Art Square.
Visit ffflv.org or 18b.org.
The Smith Center for the Performing Arts, 361 Symphony Park Ave., opened in 2012, bringing culture and entertainment to town with touring solo acts, Broadway musicals and critically acclaimed experimental theater. The building is striking in a city that is known for unusual structures. It maintains a classical look, borrowing from the iconography of the Boulder Dam. Recent performances have included "ELF The Musical," "Riverdance — The 20th Anniversary World Tour," Nevada Ballet Theater presents "Cinderella" and "The Bridges of Madison County."
Upcoming performances include Kristin Chenoweth at 7:30 p.m. March 25, Alan Parsons Live Project at 8 p.m. March 26 and "Clifford The Big Red Dog — Live!" at 6:30 p.m. March 30.
Visit thesmithcenter.com or call 702-749-2012.
The Inspire Theatre, 107 Las Vegas Blvd. South., is an unusual venue with a wide stage and theater that is only 12 or so rows deep. Every seat is within 40 feet of the stage, so there are no bad seats. The theater plays host to a hodgepodge of varied performances and lectures. Recent shows have included WE Funny, a night of stand-up comedy; The Downtown Vegas Improv Festival; and the weekly recording of the Downtown Podcast on Thursdays. The stage has also hosted the debut of a locally produced farce, step percussion group Molodi and TED conference-style talks.
Visit inspirelasvegas.com or call 702-489-9110.
Las Vegas City Hall, 495 S. Main St., is open from 7 a.m. to 5:30 p.m. Mondays through Fridays.
The site is home to two galleries: City Hall Chamber Gallery, on the second floor, which overlooks the Grand Gallery on the first floor. The work presented is never controversial, but it is usually higher-end. The Grand Gallery often features nonrepresentational 3-D work, and the Chamber Gallery has displayed many themed shows.
Visit artslasvegas.org or call 702-229-1012.
The Writer's Block, 1020 Fremont St., is open from 10 a.m. to 8 p.m. Mondays through Saturdays and 11 a.m. to 6 p.m. Sundays.
In a year and a half, the business has managed to host myriad cultural events. The bookstore also serves as a seminar and event center while at the same time being one of the locations extending the footprint of the fashionable section of downtown to 11th Street. The store isn't large enough to carry everything, so instead owners Scott Seeley and Drew Cohen have brought in a selection of quality and unusual tomes, while at the same time hosting writer's workshops, seminars, book signing events and authors' readings.
"We were just trying to create a place where the kinds of things we wanted to be involved with could happen," Seeley said. "We're delighted we could bring the kinds of authors and events here that we have, and we're looking forward to seeing what else we can bring in."
Visit thewritersblock.org or call 702-550-6399.
To reach East Valley View reporter F. Andrew Taylor, email ataylor@viewnews.com or call 702-380-4532.