From shoehorns to trash can cleaning, 'Shark Tank' hopefuls pull ideas from everyday life for Summerlin audition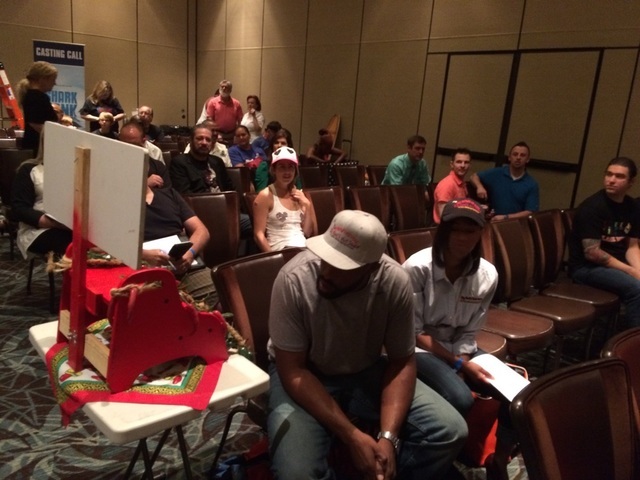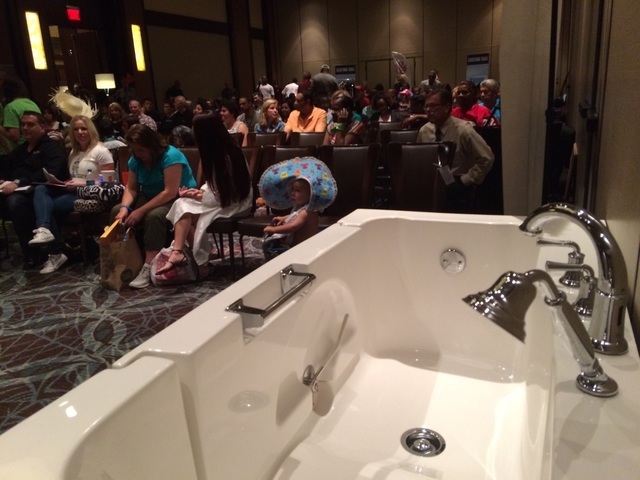 "Shark Tank" regulars Mark Cuban, Barbara Corcoran and Daymond John were nowhere in sight May 19 when the popular television show visited Red Rock Resort, but it seemed everybody else was.
At least 200 people showed up to apply to be on ABC's reality show that matches would-be entrepreneurs with millionaires and billionaires looking for solid investment ideas.
Come up with a good idea — past "Shark Tank" success stories include the CitiKitty Cat Toilet Training Kit and ReadeRest Magnetic Eye-Glass Holders — and you too may catch the interest of one of the show's "sharks," who also include Kevin O'Leary, Lori Greiner and Robert Herjavec. To get their investment, an idea has to be innovative, notable and something with wide appeal.
The line of inventors at the show's auditions at Red Rock Resort, 11011 W. Charleston Blvd., snaked along the main hallway and around two corners, with everyone shuttled behind velvet ropes. They carried boxes, pulled suitcases, carried marketing posters and, of course, their inventions. One woman came prepared with another item: her own folding chair.
Summerlin-area residents Marnel Estepa and Roy Sanchez were there to tout the Hat Rider, an idea they came out with a couple of years ago. It's a hat holder that attaches to the headrest of most vehicles.
Estepa said the idea came to him after working security at the Hard Rock Hotel. He had nowhere to put his hat where it wouldn't be in danger of getting crushed. He was looking for an investment of $150,000 for a 15 percent share.
He had his eye on John — best known for pioneering the clothing brand FUBU — as a potential "Shark Tank" investment partner.
"I like Daymond," said Estepa, "because we can relate to him, to his story. He shows that you can be nothing and then become (successful) if you work hard."
But he thought Cuban — owner of the Dallas Mavericks NBA team — might make the best partner, as the Hat Rider could be sold to sports fans.
"But it can (apply) to lots of things — construction workers, cowboys. The product sells itself," Estepa said, obviously pulling from his prepared pitch.
Anthony Sanchez of Henderson has been running restaurants for most of his life and said he "wanted to do something for myself." His idea was Clean Cans, a service that comes to your home on a regular basis and steam cleans your trash cans after Republic Services empties them. He started the company about seven months ago and has accounts in Henderson.
He said he got the idea from learning it was already a regular service in Europe and New Zealand. He said Herjavec or Cuban might show interest, as "both like subscription services." If he could get a $100,000 deal for 33 percent, he said he could buy a second unit and start servicing Summerlin.
His wife, Kandy, was key to selling the Clean Cans. She bought a full-body skunk costume to wear as the company's mascot, Stella the Skunk.
Henderson resident Len LaRue, 82 and a retired mechanical engineer, invented a shoehorn that can be used while standing up. At first glance, it looked like a miniature golf club. He said he got the idea when his knees went bad.
"It's the first shoehorn you use in front of you," he said. "And you can be either right- or left-handed. It doesn't matter."
He slipped off his shoes and demonstrated, complete with a little "ta-dah" at the end. LaRue said his invention had a good chance of being picked up by one of the Sharks as "everybody wears shoes."
He wanted a $100,000 investment for 50 percent of the company. He said Greiner — known as the " Queen of QVC" — would be a good match.
Las Vegas resident Nick Grammends intends to make the recent legalization of medical marijuana the staple of his business, which is an app. He already works for a cannabis-related glassware company that makes cannabis delivery systems (water pipes) and is a medical marijuana patient himself. He also works with a group called Cannavets, a nonprofit division of #GlassMapsCorp.
He said the app was not yet developed, but when it was, it would "bring the cannabis-related glassware out from behind the counter onto people's cellphones and enhance the selling experience."
Grammends was looking for a $500,000 investment for 15 percent. The money would go for app development and marketing, he said.
Las Vegas is a betting town. What did he see as his odds?
He gave a big smile and said, "I consider myself the favorite."
"Shark Tank" supervising casting producer Scott Salyers said he and his preliminary round crew visit about six cities each season to find people for the show. He ticked off cities on his hand: Raleigh, N.C.; Honolulu, Chicago and Philadelphia.
"Their job is to stand out. I always tell them, 'Whatever you're pitching, we've seen it before,' " he said. "Nothing we'll see is truly unique. So, tell me why would we pay attention to yours, which is the same as we saw in Nebraska last week? The good thing about Las Vegas is, it's a destination city. So, people will fly here from Washington or New York or Miami because it's a fun city to come to and then they try out for 'Shark Tank.' "
He had one another piece of advice once people were herded into the room, 100 at a time: If you're afraid the guy standing next you is going to steal your idea, don't go on a TV show.
To reach Summerlin Area View reporter Jan Hogan, email jhogan@viewnews.com or call 702-387-2949.