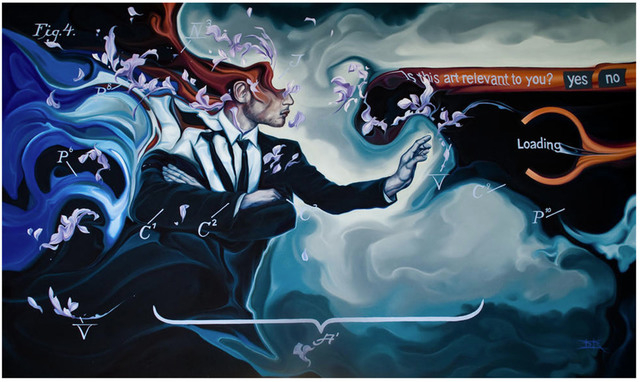 The First Friday arts festival is set from 5 to 11 p.m. March 6 at venues throughout the 18b Arts District in downtown Las Vegas, near the intersection of Charleston Boulevard and Main Street. Admission is free. Live entertainment, artists' booths, food vendors and more are planned. Street parking fills up quickly, and there are several temporary paid lots nearby. Parking is available at Symphony Park for $3, and a shuttle goes to the festival.
The event features several special areas, including a KidZone; Green Street, which focuses on environmentally friendly products and practices; The Hub Stage; and Shuffle Zone, which showcases a variety of artists.
First Friday's theme for April is Wavelengths, embracing the intersection of science and art. Visitors are encouraged to wear costumes while enjoying an oversized kaleidoscope, music and biofeedback.
Artist Ruzo Logic plans to continue the Guerrilla Kage Art project, which brings groups of artists from UNLV, the Las Vegas Academy of Arts and other local artists to work together on painted panel art.
For information on shuttle services, artists, music and more, visit firstfridaylasvegas.com.
Preview Thursday is set from 6 to 9 p.m. April 2 and offers a more low-key event, before streets are closed and booths are set up Friday.
Galleries planning to participate in April's First Friday include:
THE ARTS FACTORY, 107 E. CHARLESTON BLVD.
— Jana's Red Room: The annual Elite Artists show features artists selected by the gallery owner to represent the gallery for the year. The small works gallery and a larger space feature works by established and emerging local artists. Visit janasredroom.com or call 702-454-3709.
— Sin City Gallery: "Incognito" features art by Cass Fuller. Visit sincitygallery.com or call 702-608-2461.
— Peace N art Studio: "Vintage Urban Space" includes new works in black and white and color by Alexander Huerta.
— 17 Moons Art Studio: "Angels and Insects" offers new assemblages by Michael Delacruz. Visit 17moons.com.com or call 702-245-7725.
— Dray Studio & Gallery: "Year of the Buddha" features selection of Buddha paintings that artist Dray has created in the last year. Visit instagram.com/draydizzle1 or call 415-748-0713.
DOWNTOWN SPACES, 1800 INDUSTRIAL ROAD
Downtown Spaces plans to celebrate First Friday from 6 to 10 p.m. April. 3. Visit dtspaces.com for details. Confirmed activities include:
— Skin City Body Painting: A group art show curated by Dr. Lepper, body painting demos by Robin Slonina and music by David Oliveri are scheduled.
— Wasteland Gallery: An opening reception is set for "panem et circenses section I: love is a product of habit" by Brent Holmes.
— Spectral Gallery: New art by Mike and Dasha Biggs and Jska Priebe is planned.
— Urizen Gallery: Benito Colón-Contreras and Tony Castillo are set to feature new work.
OTHER LOCATIONS
— Brett Wesley Gallery, 1025 S. First St., Suite 150: "Spring Remix" features work by Danny Roberts, Kevin Chupik, Nathan Douglas, Melissa McGill and more. Visit brettwesleygallery.com or call 702-433-4433.
— Unhinged, 1025 S. First St., Suite 155: "Once Upon a Time" offers art by Marlene Reid using and celebrating books. Visit unhingedlv.com or call 702-586-7967.
— R. Cline Gallery, 8 E. Charleston Blvd.: "The Unmasking" includes photography by Nancy Good. Visit tinyurl.com/rcline or call 702-577-8627.
— Reclaimed Art Suppliez, 1114 S. Casino Center Blvd.: A lounge singer, live art demonstrations and galleries featuring work by more than 20 local artists are planned. Visit reclaimedart.org or call 702-241-8926.
— Clay Arts Vegas: 1511 S. Main St. "Ethereal/Whimsy" displays functional pottery and figurative sculpture by Rebecca Lowery. Visit clayartsvegas.com or call 702-375-4147.
—Blackbird Studios, 1551 S. Commerce St.: "Babylon The Great Harlot" includes photography by Eva Steil and a UNLV thesis show, featuring work by Shelbi Schroeder, Camilla Quinn, Rebecca Pugh and Lisa Rock. Visit blackbirdstudioslv.com or call 702-782-0319.