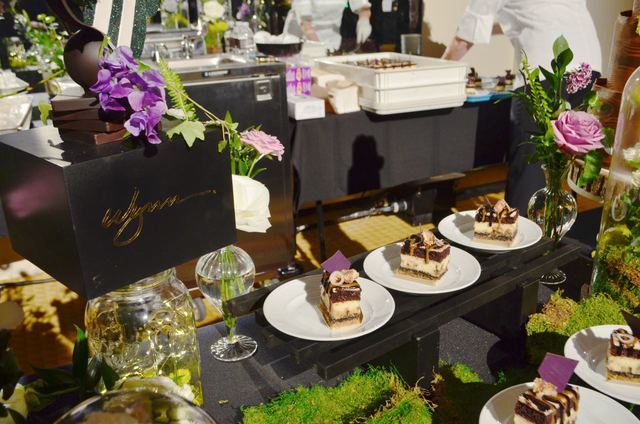 Firefighters are usually heroes with hoses. But at the annual Girl Scouts of Southern Nevada Dessert Before Dinner gala Sept. 10 at Caesars Palace, a firefighter offered more than his firefighting skills to bring in $30,000 for the cause.
Jonathan McBreen and his team at Clark County Fire Department Station 34, 4480 W. Oquendo Road, offered a package with dinner for a group of six for the gala auction. Master of ceremonies Robin Leach and auctioneer Christian Kolberg encouraged bidders to win the prize for themselves or, better yet, win it for their favorite Girl Scout troop. When the bidding stalled at $2,000, McBreen took the mic and extended his dinner invitation to the winning bidder, their favorite troop and anyone else they wanted to bring.
"The hero we're talking about is going to be who bids," he said, pointing out that troop members may be inspired to join the ranks of firefighter. "You could change a little girl's life, and they could change your life. They could save your life. No limits. Just bring you, your friends, your daughters, their friends. It's open to whoever wants to come."
The race took off with at least three bidders driving the prize to $10,000. After a few moments of discussion, McBreen — thinking of his 8-year-old daughter Ava — announced that he was willing to put on dinners for all three top bidders at the winning bid price.
"I saw all the other prizes and thought, 'I don't know if we're offering enough,' " he said. "I think we need to do more."
McBreen was but one of the evening's heroes. Eleven chefs representing 10 restaurants or resorts gave their time and talents in the Dessert Before Dinner competition, each crafting an original dessert with the Caramel deLites Girl Scout cookie as inspiration. The event began with guests sampling the desserts dished out from elaborately decorated booths as they sipped the signature cocktail Oh What a Girl Can Do! created by Southern Glazer's Wine & Spirits executive director of mixology Francesco Lafranconi. Guests cast votes for their favorite desserts.
Leach thanked the chefs for "feeding our hunger and our souls with some of the most amazing versions of Girl Scout cookies that I've ever seen. In fact, all 11 of the chefs that were here this evening deserve to have been winners."
Leach said 600 votes were cast. Denise Elliott and Kimberly Vitou of MGM Resorts International came in first with 156 votes for their Camp Cake in a Can featuring a warm chocolate cake, Caramel deLite crumble, toasted coconut ice cream and salted caramel sauce, all served in a tiny aluminum can.
Second place went to chef Elizabeth Stolarick from Wynn Resorts with 86 votes, and third went to chef Michelle Flores of Caesars Palace with 73 votes.
The other participating chefs, many former Girl Scouts, were Tammy Alana of Alizé at the Top of the Palms and Andre's at the Monte Carlo, Brigette Contreras at STK at The Cosmopolitan of Las Vegas, Kaiulani Delgado of Kailava, Kyurim Lee of the Aria, Kaori Scott of Bellagio, Samara Sulin of Andiron Steak & Sea, Kimberly Vitou of MGM Grand, and Cynthia Werth of the Stratosphere.
In addition to the chefs, the Girl Scouts of Southern Nevada honored seven local female role models with honorary Girl Scout badges.
Diana Bennett, chairman of the board and co-founder of Paragon Gaming, was given the Trailblazing badge; Carrie Carter Cooper, founder of BEST Agency, was given the Think Big badge; Tami Hance, senior vice president at Destinations by Design, was given the Leadership badge; Sonia McTaggart-Anderson, founder of Andson, Inc., was awarded the Financial Literacy badge; noted philanthropist and board member for several local organizations Winnie Schulman was given the Philanthropist badge; Rosemary Vassiliadis, Clark County director of Aviation, was given the Science and Technology badge.
Florence Shapiro, co-founder of the luxury real estate agency Shapiro & Sher Group, died Aug. 4. When her business partner Ivan Sher accepted the Entrepreneur badge on her behalf, the crowd gave Shapiro a standing ovation.
Also applauded in the event program were Girl Scouts who recently earned the highest award in Girl Scouting, the Gold Award: Veronica Beauchamp, Honna Biondo, Sarah Bullock, Angelique Clark, Miranda Contreras, Gabriela Giancola, Stephanie Mevius, Samantha Schuetze, Angela Silva, Sarah Stipek, Victoria Townsend, Quinn Weiner and Jordan Whisler.
Former Las Vegas Mayor Jan Jones Blackhurst, who now serves as executive vice president of government relations & corporate responsibility at Caesars Entertainment, used some of her time at the microphone to honor another Girl Scout hero, former Clark County Commissioner and Girl Scouts executive director Thalia Dondero, who died Sept. 4.
"Thalia was one of the first women to encourage me to run for mayor," Jones Blackhurst said. "Actually, I don't remember any men encouraging me to run for mayor."
Jones Blackhurst said the mission of Girl Scouts, when it was created 100 years ago, was to develop girls of "courage, competence and character, who make the world a better place. By extension, those girls one day become women of courage, competence and character who make the world a better place." Jones Blackhurst said when it comes to gender equality, those girls will have a long way to go. She pointed out that only two women are among the 50 highest-paid executives in Nevada's publicly traded companies, and only three women are senior executives in the 10 most prominent companies in gaming.
"How about zero? That's the number of female CEOs in those same companies," she said. "Those numbers sometimes make me angry. They always make me a bit frustrated, and they make me even more determined to do something about it. Even if the only thing I can do is shine a spotlight on the problem, a problem which is obviously much bigger than Nevada. Look at pretty much any industry anywhere in the country, and you'll find similar numbers. Technology, finance, manufacturing, tourism — the story is the same wherever you look. Just 5 percent of fortune 500 companies are led by women."
Visit girlscoutsnv.org.
Contact View contributing reporter Ginger Meurer at gmeurer@viewnews.com. Find her on Twitter: @gingermmm.