Girl Scouts of Southern Nevada hand out 13 of its highest honors at 100-year anniversary of Gold Awards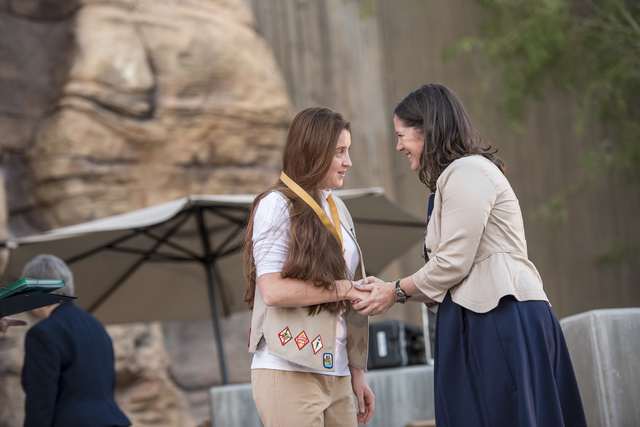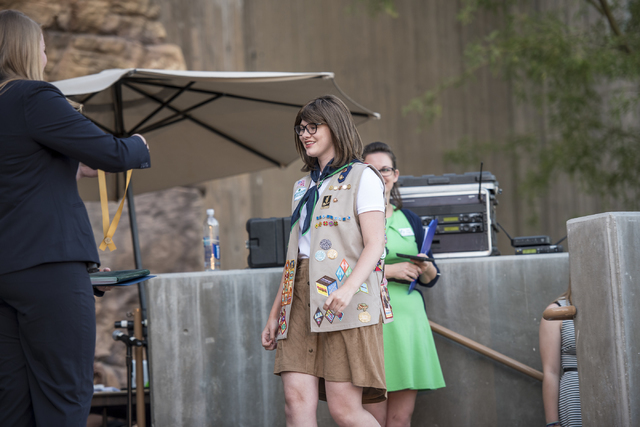 Thirteen young women became part of a 100-year-old tradition through the Girl Scouts of Southern Nevada on May 26.
The group hosted its High Award Banquet and the 100-year anniversary of the Girl Scouts' Gold Award at the Springs Preserve, 333 S. Valley View Blvd. This year's award winners were presented with the Girl Scouts' highest honor, which can be thought of as the equivalent of a Boy Scout becoming an Eagle Scout.
"This is the largest Gold Award set of girls we've had in at least 10 years," said Liz Ortenburger, CEO of the Girl Scouts of Southern Nevada. "It tells me that girls are getting more passionate about the things they want to do to change the community. And they're investing their hours on those projects to do that work."
The evening included a dinner and a live auction, but the main focus was honoring the 13 teenage award winners and their sustainable projects to make a difference for others. Each project tackled a different problem and sought a way to help address it.
Stephanie Mevius' project was Service for Sight. The 17-year-old Coronado High School student collected eyeglasses to donate to people in developing nations who do not have access to quality glasses. She collected about 3,000 pairs, relying on family and friends, boxes at an optometrist's office and word of mouth. They will be distributed by the Lions Club.
Mevius said the idea came to her because she has bad vision herself.
"So I wanted to help people who didn't have as fortunate a life as I," she said. "In these developing countries, eyesight is something you need for working to sustain your family and your own life and live your life in a way that's not inhibited by something that can be so easily fixed."
Mevius plans to attend the University of Washington in Seattle to study business management.
Angela Silva, 17, of Bishop Gorman High School, titled her project Ground Zero. She partnered with the Community Cat Coalition of Clark County (C5) and Heaven Can Wait Animal Society, both animal rescue groups, to trap feral cats that were then spayed or neutered before being released back into their colonies.
Her family has two horses, three dogs, two cats, two birds and two turtles, and all are rescues. She said the hardest part of her project was realizing you can't help everyone.
"(And) that you need to take one step at a time because it's almost impossible to help the whole valley, but even a little bit can go a long way," she added.
Silva plans to attend UNLV to study business.
Miranda Contreras, 19, chose to spread awareness on eating disorders for her project. She said it's a message that schools try to get across, but "in health class, no one pays attention to it; they just get brief definitions of it, and I wanted to bring awareness to the community."
She had a trifold leaflet made up and printed 1,000 copies, which were distributed at her school, Las Vegas Academy. She plans to study sports nutrition at UNLV.
Ortenburger said it was hard to pick one project as a standout.
"We have such a diverse set this year, it's hard to pick just one because when you talk to the girls or see them on video talking about their projects, you see the passion in their eyes," she said. "I always like to applaud the girls who say, 'I'm not beholden to my local community.' We had one who worked on solving a water issue in Haiti, and I think that's so inventive, to say, 'I'm in Las Vegas, but I want to make a difference (in another country). That's when I go, 'Oh boy, you're not letting anything limit you at this point.' "
Other Gold Award-winning projects are:
Sarah Stipek, Got a Pet You Can No Longer Take Care Of?
Stipek, 18, of Green Valley High School, partnered her project with the Las Vegas Valley Humane Society to create a brochure providing resources and solutions for families and individuals who no longer can keep their pets or have lost their pets.
Angelique Clark, Drop for Life
Clark, 17, of Southwest Career and Technical Academy, used her project to print pro-life material and donate baby items to women's resource centers for women who chose to keep their child but can't afford basic baby items.
Victoria Townsend, Operation Help the Homeless
Townsend, 18, of Basic High School, used her project to collect hygiene items and hand them out to the homeless in Henderson through the Eagles Lodge.
Sarah Bullock, H2O for Haiti
Bullock, 19, of Calvary Chapel Christian School, used her project to raise more than $4,000 via GoFundMe to build and drill a water well in Haiti and provide 2,000 vaccines to eradicate cholera in villages. Bullock worked with Healing Hands International to execute the project.
Quinn Weiner, The Humanity Spectrum — LGBTQPI-AU
The 17-year-old Clark High School student's project focused on social acceptance for those who are lesbian, gay, biseuxal, transgender, queer, pansexual, intersex and asexual, which forwarded understanding and acceptance by creating a blog where 500 individuals expressed themselves in words and visual art.
Veronica Beauchamp, Feeding a Zoo
Beauchamp, 16, of Green Valley High School, partnered her project with Smith's Food & Drug to donate quality produce nearing its shelf date to local nonprofit zoos and prevent the produce from becoming landfill waste.
Gabriela Giancola, Learn to Build Your Own Blog!
She created a summer class for teens to learn HTML and CSS programming.
Ilonna Biondo, Rejuvenation Home Renovation!
Biondo, 17, of Valley High School, used her project to take an unused room at the assisted living center Atria Seville, 2000 N. Rampart Blvd., and create a Zen-like area where seniors can relax, get chair massages and practice yoga.
Samantha Schuetze, Helpful Hands Off Kits
Schuetze, 15, of Faith Lutheran Middle School and High School, used her project to create a pamphlet on homelessness statistics and implement a donation drive for care packages for the Shade Tree shelter.
Jordan Whisler, Reading Express!
Whisler, 17, of Silverado High School, used her project to instill good reading habits in young children and teach children ages 6 to 12 at Paradise Recreation Center how to express themselves through the written word.
Visit girlscoutsnv.org.
To reach Summerlin Area View reporter Jan Hogan, email jhogan@viewnews.com or call 702-387-2949.