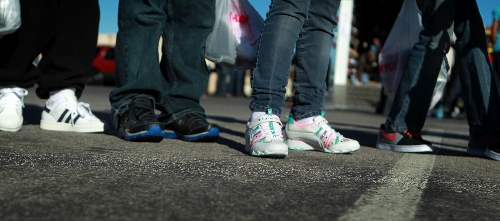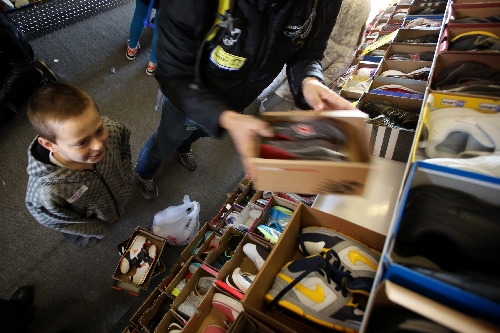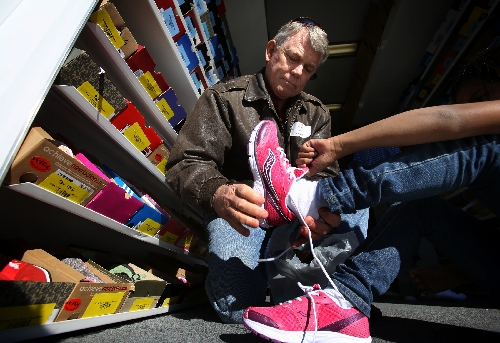 This year marks the 10th anniversary of the Goodie Two Shoes Foundation, a nonprofit group that provides free shoes to children in need.
The woman behind the effort is Nikki Berti. Her husband, Tony, played football for the San Diego Chargers, who had a similar program.
"I grew up in the Midwest in a small town where I didn't have a lot of exposure to poverty," she said, "whereas Tony had grown up in the heart of Denver and would have been one of the kids we served."
The football team was involved in various charity efforts, one of which gave shoes to children in need.
"We saw the impact of a new pair of shoes and were blown away by it, but for very different reasons," Berti said. "Of all the events that we did in the six years that he played, it was the one (charity effort) I kept thinking about. We took the seed of that idea."
In November 2012, GTSF reached a milestone of outfitting 30,000 children in Southern Nevada. This day, Jan. 17, the organization was at McMillan Elementary School, 7000 Walt Lott Drive, where about 30 smiling children lined up at a time. One girl jumped up and down in excitement, peeking around her giggling classmates to see how close she was to the front.
The children were escorted to chairs on a carpeted area one at a time to have their feet measured. Then it was a short wait in their stocking feet. One girl got cold and stood on her jacket.
One little girl said she hoped to get pink Skechers. She said she hadn't gotten new shoes in more than a year.
The next stop was the 48-foot trailer, pulled by a beefy Ford dually. It was a traveling shoe store, holding 3,000 pairs.
"We want to make sure that the kids who go through at the end have just as much of a choice as the ones who went through at the beginning," Berti said.
Once inside the trailer, now with new socks on their feet, each child was paired with a volunteer, who helped select the shoes. The `children exited for one last fitting check before heading back to class.
Victor Dominguez, 8, emerged grinning ear to ear, eagerly telling everyone that he was now a size 3. He chose new blue Skechers.
"I used to like blue, but now I like red," Victor said. "But they didn't have red, so I got blue."
Volunteers said seeing the children's faces light up was worth being there early in the morning and waiting in the cold. This was Kristina Greer's third time helping out.
"Kids are not as well off as you'd think in America," Greer said. "I see the way they're dressed … mismatched clothes and tears in their clothes."
Janice Bruttomesso, a volunteer, said she was there to help for a selfish reason. "It makes me feel great, just seeing the kids and their smiles," she said. "They're excited; they're grateful."
Steve Eskelsen, another volunteer, said the children appreciated being able to select any shoe, with the price being no object.
"It's usually, the mom (says), 'We can afford this type of shoe. Take it,' " he said.
This day's effort cost $10,000. The effort began with just shoes but soon added socks and, sometimes, backpacks and school supplies.
GTSF identifies children through the Clark County School District's Free & Reduced Lunch Program. Not content with that restriction, Berti also has schools choose other children with special circumstances.
The truck and hauler is worth nearly $175,000. It was donated in 2009 by the Engelstad Family Foundation. Ten years ago, Goodie Two Shoes worked out of a storage unit and held one-day events where 1,500 children could be supplied. The trailer changed everything, taking it mobile and streamlining the process. The nonprofit group now hosts about 25 distributions a year and supplies approximately 400 children at each event.
Berti said she never envisioned the effort getting this big.
"Even five years ago, if you had asked me, 'Is this your plan?' I mean, we drew the Goodie Two Shoes trailer over a bottle of wine on a cocktail napkin as a pipe dream," she said.
The organization has 10,000 pairs of shoes in a warehouse, and some are adult sizes for when it visits middle schools. Up until a year ago, Berti had been going to retailers and buying the shoes as needed. Now, she has supply lines worked out and credits Zappos with helping find vendors. The shoes retail for up to $110 a pair. Goodie Two Shoes negotiates a flat rate with various shoe companies, keeping the cost to $25 per child.
The whole operation is run by Berti and her husband out of their home in southwest Las Vegas. The team includes Riley Kelley, director of programming. Each event requires about 75 volunteers. Last year saw 892 volunteers donate more than 6,200 hours, but they can be a challenge to find. Two days before this event, Berti was scrambling for help, sending out an email plea for 30 more people who could devote six hours to the effort.
What does Berti envision for the next 10 years?
"I see lots of opportunities for what we do," she said. "One of my ideas —- if you've ever seen the Tide commercial, they bring in trucks to wash clothes for people at disaster sites —- I think it would be really cool to do disaster response with a mobile unit that has work boots, shovels and gloves."
The foundation is headquartered at 10620 Southern Highlands Parkway. For more information, call 702-617-4027 or visit goodietwoshoes.org.
Contact Summerlin/Summerlin South View reporter Jan Hogan at jhogan@viewnews.com or 702-387-2949.
Goodie Two Shoes Foundation
For more information, call 702-617-4027 or visit goodietwoshoes.org.