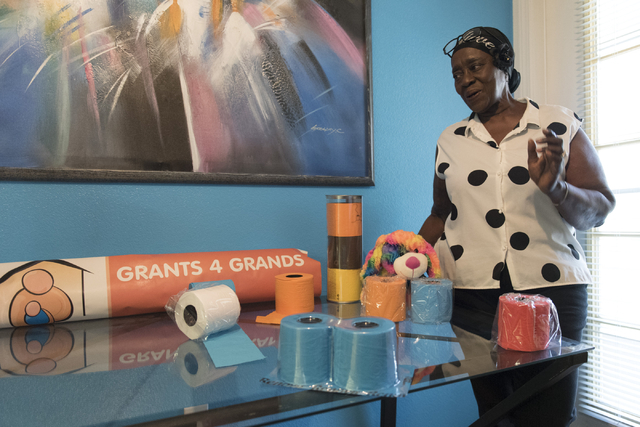 About seven years ago, Joyce Eatman noticed she was receiving a lot of phone calls from grandparents needing assistance — but not for themselves.
"They were needing things for their grandchildren," she said.
It didn't take time for Eatman, a Henderson resident, to realize what was happening. There was a growing trend of grandparents raising their grandchildren.
"It's a growing population that's not being addressed," she said.
With the help of other volunteers, she started the Grants 4 Grands project to provide resources and support for grandparents who need it.
"They are usually dipping into their Social Security or retirement to pay for things," Eatman said. "Our goal is to lessen the burden for grandparents."
Grants 4 Grands has been going strong since attracting interest from around the Las Vegas Valley, including people such as Claudine Robinson, who has benefited from its services for the last few years.
"I think if it wasn't around, we would simply go without," she said of caring for her 13- and 15-year-old great-grandchildren since they were born.
Even when Robinson was diagnosed with breast cancer, she continued to watch them. But it became more expensive, and she could use all the help she could get.
"They've (Grants 4 Grands) helped with everything from food to gas for my car," she said.
Eatman has been running a nonprofit called Ladies Advocating Christian Entertainment (LACE) since the '90s. In the past, the organization has run a food bank and collected other items for donations. The Grants 4 Grands project is an offshoot of LACE.
Eatman said there aren't a lot of resources specifically geared toward grandparents acting as parents. She has worked with other like-minded groups in town, such as Determined Grandmothers, which also provides some support for grandparents.
The reason a grandparent might have custody of their grandchild — or, in some cases, great-grandchild — can vary, according to Eatman.
"Some of their parents are incarcerated," she said. "Some are drug users and unable to take care of their children."
For Robinson, she started caring for her great-grandchildren because their mother was living on the streets.
"She was involved in a different lifestyle, and I didn't think she would be able to take care of them," she said.
Though Robinson said their mother has made some positive changes, it's not enough for Robinson to trust her with the children.
For grandparents who are seniors, most live on a fixed income, whether it's a pension check or Social Security.
"They might be able to apply for food stamps," Eatman said. "But that won't pay for hygiene items. That won't pay for Pampers."
Grants 4 Grands collects items and gives out quarterly gift baskets to clients in need.
When people think of grandparents, Eatman said they automatically think of seniors.
"That's not always the case," she said. "We have grandparents who are 35 or 36. They have a baby young, then their child has a baby."
Though the group relies on donations, Eatman has recently launched a fundraising idea, selling colored toilet paper. She sets up booths at various locations from malls to outside grocery stores. A portion of the proceeds goes to Grants 4 Grands.
"There aren't people selling this," she said.
But the organization relies on other fundraisers and partnerships as well. Eatman gets a range of donations from the Southern Nevada Baptist Association and the U.S. Postal Service and has also gotten donations from employees from MGM Resorts International and Caesars Entertainment Corp.
Right now, Grants 4 Grands partners with churches around the valley. Whenever grandparents call looking for food, the organization sends them to those churches' food pantries. Eatman has also worked with a local thrift store, A Second Chance for WINGS, 2815 W. Lake Mead Blvd. She said it has opened its doors to allow her to distribute baskets each quarter.
But the store goes beyond that.
"If I get a grandparent who calls and can't afford clothes for their grandkids school year, (the thrift store) gives me vouchers," Eatman said.
Vouchers can be between $50 and $100 and allow the grandparents to take the children shopping for new items.
Eatman has also had to help some grandparents with specialized needs.
"If they are living in a senior complex, they might have to move out (if they take in their grandchildren)," she said, adding that the organization has also helped people find money to move into appropriate housing.
Even with the grandparents looking to gain custody of their grandchildren, Grant 4 Grands has tried to connect people to the resources they might need.
Eatman wants the organization to get to a place where it has its own facility with an on-site food pantry.
A few years ago, Eatman said the group's quarterly baskets included monetary donations, but with depleted funds, it hasn't been able to do that in a few years.
"We would love to bring that back," she said. "It was usually around $100. It might not seem like a lot, but to someone in need, that goes a long way."
Visit grants4grands.net or call 702-998-9897.
To reach Henderson View reporter Michael Lyle, email mlyle@viewnews.com or call 702-387-5201. Find him on Twitter: @mjlyle.
Grants 4 Grands
Visit grants4grands.net or call 702-998-9897.