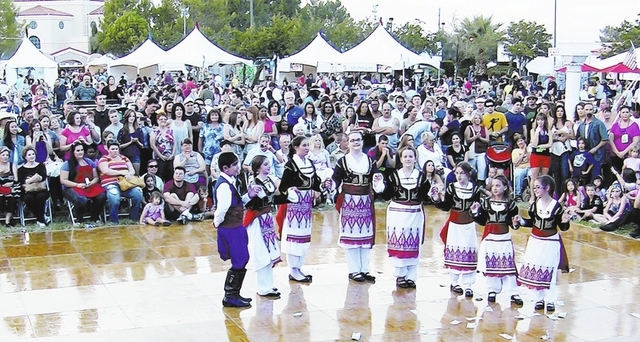 Experiencing Greece this month will not require pricey airline tickets, heavy luggage or jet lag. Opa!
The St. John the Baptist Greek Orthodox Church, 5300 S. El Camino Road, is set to offer the valley a taste of Greece at the 41st annual Las Vegas Greek Festival Sept. 27-29.
"It's a very high-energy event that offers something for everybody in all age groups," said Gus Flangas, chairman of the festival. "It's a lot of fun and extremely family-friendly."
The church spends about 10 months preparing for the event and expects about 25,000 guests this year.
"We have roughly 350 to 500 people working over the course of the three days," Flangas said. "A vast majority of them are volunteers of the church and friends of friends."
According to Flangas, the festival is a celebration of the Greek culture, rather than a specific holiday or occasion.
"It's kind of a tradition with Greek churches all over the country," Flangas said. "The times vary throughout the country, but with outdoor festivals, they're weather dependent."
For more than 20 years, the festival was a one-day event at the Sahara before moving to the church grounds in 1994.
"Our (old) church used to be smaller and downtown," Flangas said. "When we moved to one we're in now, we moved (the festival) because we had enough room to start accommodating it on church grounds."
To kick off the event, a 26-mile torch relay is set to start at 2 p.m. Sept. 27 at Tivoli Village, 440 S. Rampart Blvd. The relay will finish around 7 p.m. at the festival grounds with a torch-lighting ceremony.
Flangas said the runners are secured by Las Vegas police officers that control traffic and provide support throughout the relay.
"We usually have about 30 to 35 people who help carry the torch for portions of the run," he said. "For a lot of people, the run is just 15-20 minutes of their time."
The church will also be raising money in conjunction with the relay to donate to the Wounded Warriors Project, an organization that provides programs and services to severely injured service members.
The festival will be offering a plethora of traditional Greek food, including such as gyros, saganaki, and spanakopitas, for additional fees. Greek pastries, coffee and alcoholic beverages will also be available.
A dinner plate of lamb or chicken, stuffed grape leaves, baked beef pasta called pastitsio, salad and rice pilaf can be purchased for $16.
"You can't find a better dinner plate for $16 anywhere else," Flangas said.
The church prepares roughly 350 legs of lamb, 19,000 stuffed grape leaves and several thousand pounds of meat for the event.
"We also have a Greek salad booth for those watching their waist," Flangas said.
As for entertainment, dance performances by the church's youth dance groups are set for 5:30 and 7:15 p.m. Sept.27-29.
According to Marilyn Flangas, a spokeswoman for the church, Ethos Ellas and The Olympians, two Greek bands, are also set to perform.
"They're two of the best Greek bands in the country," she said.
In addition to food and entertainment, vendors also are set to sell jewelry, clothing, paintings, religious artifacts and other crafts, according to Marilyn Flangas.
"It's a really neat area with lots of different items," she said. "It's like a little bazaar."
Gus Flangas said he plans to set up a children's play area, including activities such as bungee jumping, inflatable slides and rock climbing.
"I try to keep the climbing wall between the adults' side and the kids' side," he said. "I know a lot of adults have fun trying it out."
The church also will host a raffle for a Mercedes-Benz, four big screen televisions, two iPads and 25 other prizes valued at $100 or more.
"We print up 1,000 tickets and sell them for $100 each," Flangas said. "If you win the big prize, you can have your choice of one of three Mercedes."
The money collected at the festival will help sponsor the church and its programs.
"There's a lot of activity going on, a lot of dancing and socializing," Flangas said. "It's to showcase our Greek culture and our church."
The festival is set to run from 3-11 p.m. Sept. 27-28 and noon to 10 p.m. Sept. 29. General admission is $6. Children 11 or younger are free, along with active duty military and their immediate family.
Parking is available on Hacienda Avenue between Torrey Pines Drive and Jones Boulevard. Additional parking is available on Torrey Pines Drive between Tropicana and Hacienda avenues.
Shuttle buses will provide transportation to the festival from Hacienda Avenue. According to Flangas, the buses will make periodic stops along the street.
For more information, visit lasvegasgreekfestival.com. To become a runner in the torch relay or pledge a donation, call Gus Flangas at 702-307-9500.