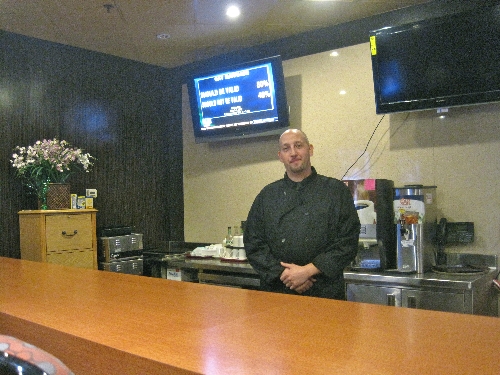 His Fort Haven Thrift Store on Maryland Parkway may have been forced to shut down last fall, but that hasn't stopped Michael Huff from helping veterans find work.
Huff, who was forced to close the veteran-employed thrift store in October because he did not hold a special-use permit for its operations, has moved on to operating a new business. This time, he's running Sixth Street Grill, a 24-hour restaurant inside the Eureka Casino, 595 E. Sahara Ave.
Huff said Ernest Lee, owner of the property, saw potential in his will to help others, especially veterans, and gave him the opportunity to operate the restaurant where he could eventually use some of the profits for donations to local charities.
"I feel very blessed and very endeared to the Lee family," Huff said. "The Lee family offered this location to us. It was mostly Ernie Lee who saw (our potential) right before we lost everything at the store. I think he realized we were doing something good in the community, and we'll continue doing something good in the community."
Huff, who has operated Sixth Street Grill for more than three months, said the restaurant is just starting to bring in a profit. Much as he did with the thrift store, Huff plans to donate to Christ Episcopal Church and the Cambridge Recreation Center for food. He said bouncing back from the thrift store's closure has been difficult, especially for the former employees, but Huff's vision for helping the community has stayed the same.
"I see the possibility that we're going to be back on our feet," Huff said. "I thought it would be a long time to go back to helping the community, but we've been lucky in getting this restaurant (so quickly). We're going to continue to do what we originally set out to do. There are other ways to fund this project."
One way Huff hopes to continue his vision is by hiring veterans to work in the kitchen. The Key Foundation, a nonprofit group that provides housing, job assistance and other services to veterans, is one organization from which Huff looks to hire. He said with financial help from the Lee family, he aims to employ one or two veterans within a month.
Dennis Larson, president of the Key Foundation, said giving job opportunities to veterans, especially in the culinary and hospitality industries, benefits employers.
"These guys learned about teamwork in the Army, and they become extremely loyal," Larson said. "As a business manager, you don't want turnover, and you won't get that with these guys."
David Ambler is one veteran who garnered a job in Sixth Street Grill's kitchen. Ambler said working in the restaurant has helped develop skills that he believes will help with future job opportunities.
"Ever since I got out of the service, finding work has been hard," Ambler said. "Mike gave me a job and trained me, and I'm very grateful for that. Now that I'm getting a new skill (in cooking), I hope I can move my family forward."
Huff focuses on work redevelopment for war veterans by training them with cooking skills that may translate to jobs in casinos and hotels. He connects with Larson to find veterans who are qualified and helps them obtain the proper work licenses.
Huff said employing veterans is the one aspect about operating the Fort Haven Thrift Store that he wanted to maintain going into the restaurant business.
"(Although) I will not (run) a thrift store again, I liked that we had success with a lot of the people we employed," Huff said. "I think we can make a difference here for people who deserve a second chance."
Contact Paradise/Downtown View reporter Lisa Carter at lcarter@viewnews.com or 383-4686.